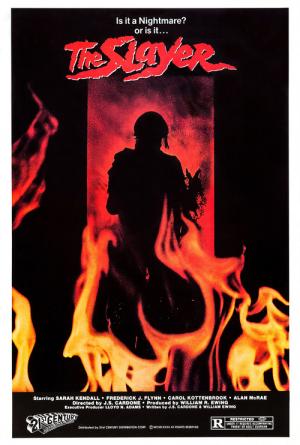 12 Best The Slayer ...
If you liked this one , you will definitely love these too! In this selection we highlight some of the best films that share a very similar mood to 'The Slayer', and are worth checking out.
1h 33m Horror Thriller
Norman Bates is still running his little motel, and he has kept the dressed skeleton he calls 'mother'. One day a nosey journalist comes to see him to ask questions about his past.
1h 21m Horror Thriller
A young woman studying the habits of webcam chat users from the apparent safety of her apartment witnesses a brutal murder online and is quickly immersed in a nightmare in which she and her loved ones are targeted for the same grisly fate as the first victim.
6.
Friday the 13th: A New Beginning (1985)
1h 32m Horror
Homicidal maniac Jason returns from the grave to cause more bloody mayhem. Young Tommy may have escaped from Crystal Lake, but he's still haunted by the gruesome events that happened there. When gory murders start happening at the secluded halfway house for troubled teens where he now lives, it seems like his nightmarish nemesis, Jason, is back for more sadistic slaughters.
7.
Friday the 13th (1980)
1h 35m Horror
Camp counselors are stalked and murdered by an unknown assailant while trying to reopen a summer camp that was the site of a child's drowning.
8.
100 Ghost Street: The Return of Richard Speck (2012)
1h 24m Horror
A group of paranormal investigators sojourned to the Chicago walk-up where deranged drifter Richard Speck systematically slew eight student nurses back in '66, looking for restless spirits. Their unfortunate success gets shockingly documented in this fear-filled found-footage foray featuring a bright young cast.
10.
No Escape Room (2018)
1h 25m Horror Thriller Mystery TV Movie
A father and daughter check out a small town escape room and discover there is something sinister about the place.
1h 50m Horror Thriller Mystery
Found footage helps a true-crime novelist realize how and why a family was murdered in his new home, though his discoveries put his entire family in the path of a supernatural entity.
12.
2 Bedroom 1 Bath (2014)
explore
Check out more list from our community