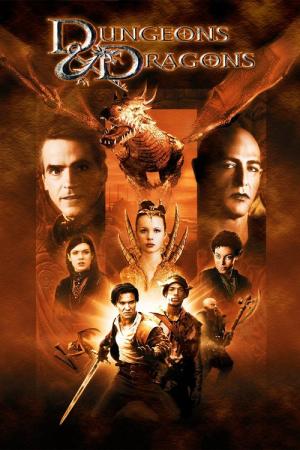 12 Best Movies Like Dungeons And Dragons ...
If you liked this one , you will definitely love these too! In this list we highlight some of the best films that share a very similar premise to 'Dungeons & Dragons', and are worth checking out.
1.
The Dark Crystal (1982)
1h 33m Fantasy Adventure Family Animation
On another planet in the distant past, a Gelfling embarks on a quest to find the missing shard of a magical crystal and restore order to his world, before the grotesque race of Skeksis find and use the crystal for evil.
2h 7m Action Adventure Fantasy
A common thief joins a mythical god on a quest through Egypt.
3.
Masters of the Universe (1987)
1h 46m Action Fantasy Science Fiction Adventure Thriller
The world of Eternia in the aftermath of Skeletor's war on Castle Grayskull, which he has won after seizing Grayskull and the surrounding city using a cosmic key developed by the locksmith Gwildor. The Sorceress is now Skeletor's prisoner and he begins to drain her life-force as he waits for the moon of Eternia to align with the Great Eye of the Universe that will bestow god-like power upon him.
1h 41m Action Fantasy
For nine generations an evil sorcerer has been victorious in hand-to-hand battle against his mortal enemies. If he wins a tenth Mortal Kombat tournament, desolation and evil will reign over the multiverse forever. To save Earth, three warriors must overcome seemingly insurmountable odds, their own inner demons, and superhuman foes in this action/adventure movie based on one of the most popular video games of all time.
5.
Dungeons & Dragons: The Book of Vile Darkness (2012)
1h 30m Adventure Fantasy
A noble warrior must battle dragons and demons while upholding his moral code as he covertly joins a group of villains to rescue his kidnapped father from Shathrax, the Mind Flayer, who threatens to destroy the world.
6.
In the Name of the King: A Dungeon Siege Tale (2007)
2h 7m Adventure Fantasy Action Drama
A man named Farmer sets out to rescue his kidnapped wife and avenge the death of his son -- two acts committed by the Krugs, a race of animal-warriors who are controlled by the evil Gallian.
1h 43m Fantasy Action Adventure
In an ancient time when majestic fire-breathers soared through the skies, a knight named Bowen comes face to face and heart to heart with the last dragon on Earth, Draco. Taking up arms to suppress a tyrant king, Bowen soon realizes his task will be harder than he'd imagined: If he kills the king, Draco will die as well.
8.
Dragonheart: A New Beginning (2000)
1h 24m Action Adventure Fantasy
When Geoff, an orphaned stable boy (Chris Masterson), discovers Drake (voice of Robby Benson), the world's last living dragon, he realizes that his dream of becoming a knight in shining armor can now come true. Together, they soon face challenges that turn them into heroes. But caught up in the excitement of their new lives, Geoff and Drake fail to see the hidden dangers that surround them.
1h 48m Fantasy Adventure
The sorcerer and his apprentice Galen are on a mission to kill an evil dragon in order to save the King's daughter from being sacrificed in accordance to a pact that the King himself made with the dragon to protect his kingdom. A fantasy film from Disney Studios that exhausted all possible visual effects of the time.
10.
The Scorpion King (2002)
1h 32m Action Fantasy Adventure
In ancient Egypt, peasant Mathayus is hired to exact revenge on the powerful Memnon and the sorceress Cassandra, who are ready to overtake Balthazar's village. Amid betrayals, thieves, abductions and more, Mathayus strives to bring justice to his complicated world.
1h 42m Adventure Fantasy
John Gregory, who is a seventh son of a seventh son and also the local spook, has protected the country from witches, boggarts, ghouls and all manner of things that go bump in the night. However John is not young anymore, and has been seeking an apprentice to carry on his trade. Most have failed to survive. The last hope is a young farmer's son named Thomas Ward. Will he survive the training to become the spook that so many others couldn't?
12.
Warcraft: The Beginning (2016)
2h 3m Action Adventure Fantasy
The peaceful realm of Azeroth stands on the brink of war as its civilization faces a fearsome race of invaders: orc warriors fleeing their dying home to colonize another. As a portal opens to connect the two worlds, one army faces destruction and the other faces extinction. From opposing sides, two heroes are set on a collision course that will decide the fate of their family, their people, and their home.
explore
Check out more list from our community