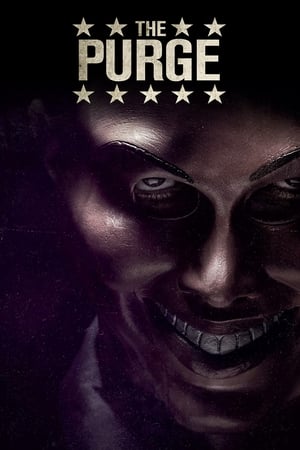 28 Best Movies Like The Purge ...
If you liked this movie , you will for sure love these too! In this collection we highlight some of the best films that share a very similar mood to '', and are worth checking out.
1.
The Purge: Anarchy (2014)
1h 44m Horror Thriller
One night per year, the government sanctions a 12-hour period in which citizens can commit any crime they wish -- including murder -- without fear of punishment or imprisonment. Leo, a sergeant who lost his son, plans a vigilante mission of revenge during the mayhem. However, instead of a death-dealing avenger, he becomes the unexpected protector of four innocent strangers who desperately need his help if they are to survive the night.
1h 26m Thriller Horror Mystery
After returning from a wedding reception, a couple staying in an isolated vacation house receive a knock on the door in the mid-hours of the night. What ensues is a violent invasion by three strangers, their faces hidden behind masks. The couple find themselves in a violent struggle, in which they go beyond what either of them thought capable in order to survive.
3.
The Purge: Election Year (2016)
1h 45m Action Horror Thriller
Two years after choosing not to kill the man who killed his son, former police sergeant Leo Barnes has become head of security for Senator Charlene Roan, the front runner in the next Presidential election due to her vow to eliminate the Purge. On the night of what should be the final Purge, a betrayal from within the government forces Barnes and Roan out onto the street where they must fight to survive the night.
4.
You're Next (2011)
1h 20m Horror Thriller
A young married couple becomes stranded at an isolated motel and find hidden video cameras in their room. They realize that unless they escape, they'll be the next victims of a snuff film.
1h 31m Horror Thriller
Eden Lake is a relentlessly tense and immaculately paced horror-thriller about modern youth gone wild. When a young couple goes to a remote wooded lake for a romantic getaway, their quiet weekend is shattered by an aggressive group of local kids. Rowdiness quickly turns to rage as the teens terrorize the couple in unimaginable ways, and a weekend outing becomes a bloody battle for survival.
7.
The First Purge (2018)
1h 37m Action Science Fiction Thriller Horror Crime
To push the crime rate below one percent for the rest of the year, the New Founding Fathers of America test a sociological theory that vents aggression for one night in one isolated community. But when the violence of oppressors meets the rage of the others, the contagion will explode from the trial-city borders and spread across the nation.
1h 35m Thriller Horror
A young husband and wife must fight to return home in a post-apocalyptic mid-western landscape ravaged by gangs.
1h 53m Crime Horror Thriller Drama
When Ann, husband George, and son Georgie arrive at their holiday home they are visited by a pair of polite and seemingly pleasant young men. Armed with deceptively sweet smiles and some golf clubs, they proceed to terrorize and torture the tight-knit clan, giving them until the next day to survive.
1h 30m Thriller Horror Drama
A family imprisoned by intruders is forced to play a terrifying game of "Kill, Or Be Killed". As the night unfolds, the game's mysterious rules become clear, and the family realizes their nightmare is being streamed live to riveted viewers all over the world, who are compelled to KEEP WATCHING... not knowing if what they're seeing is real, or staged.
11.
When a Stranger Calls (2006)
1h 27m Horror
Far away from the site of a gruesome murder, a teenager named Jill Johnson arrives at a luxurious home for a baby-sitting job. With the children fast asleep, she settles in for what she expects to be an ordinary evening. Soon, the ringing of a phone and the frightening words of a sadistic caller turn Jill's routine experience into a night of terror.
1h 29m Horror Thriller
Mayhem and death follow when an earthquake traps a group of tourists in a Chilean town.
1h 23m Horror Thriller
A young couple's weekend getaway at a secluded mountain ranch becomes an unfathomable nightmare when they discover the truth about the caretaker.
1h 36m Horror Thriller
A couple and their young son retreat to their woodland vacation home, only to face sinister neighbors who intend to kill them and steal their identities.
15.
Texas Chainsaw 3D (2013)
1h 32m Horror Thriller
A young woman learns that she has inherited a Texas estate from her deceased grandmother. After embarking on a road trip with friends to uncover her roots, she finds she is the sole owner of a lavish, isolated Victorian mansion. But her newfound wealth comes at a price as she stumbles upon a horror that awaits her in the mansion's dank cellars.
1h 15m Drama
Five teens from Harlem become trapped in a nightmare when they're falsely accused of a brutal attack in Central Park.
17.
Asylum Blackout (2011)
18.
The Hills Have Eyes (1977)
1h 30m Horror Thriller
On the way to California, a family has the misfortune to have their car break down in an area closed to the public, and inhabited by violent savages ready to attack.
1h 43m Horror Science Fiction Thriller
A horror film told in three parts, from three perspectives, in which a mysterious transmission that turns people into killers invades every cell phone, radio, and television.
1h 24m Horror Thriller
Chris crashes into a carload of other young people, and the group of stranded motorists is soon lost in the woods of West Virginia, where they're hunted by three cannibalistic mountain men who are grossly disfigured by generations of inbreeding.
21.
Don't Breathe (2016)
1h 29m Horror
A group of teens break into a blind man's home thinking they'll get away with the perfect crime. They're wrong.
1h 14m Horror Thriller Science Fiction
In an undefined future, the earth has been destroyed by man, and the air polluted with a mysterious virus that turns humans into zombies. Only a few children are immune to the disease and have adapted to these extreme conditions and survived. Camille, a nine year old girl wanders through these desolate wastelands, protecting herself from zombies and the armed military forces that roam the land killing anyone who might be infected. However, the little girl will find other kids like her that share a recurring dream of: they all have visions of the ocean as their destiny. Together they will try to survive the journey to the ocean in search of an escape from the military who seem to be as determined on their destruction as on the zombies. Written by David Pollison/Solos Website
1h 30m Horror Science Fiction Thriller
Logan Burnhardt is the ego-king of the airwaves, but his unflappable persona is put to the test when a terrorist bio-attack unleashes a plague of flesh-ripping maniacs on Los Angeles.
24.
Teenage Caveman (2002)
1h 30m Comedy Horror Science Fiction
In a post-apocalyptic future mankind is lives in a prehistoric manner. After killing his father for sexually assaulting his girlfriend, the son of a tribal leader runs away with a group of his teenage friends. They are taken in by Neil and Judith who introduce them to the vices outlawed by their tribes namely sex and drugs.Neil and Judith, however, are genetically altered indestructible mutants who have their own plans for the future of the human race.
1h 32m Thriller Drama
Searching for a happy ending to a tale of unimaginable disaster and horror, nine strangers find themselves holed up together in a farmhouse cellar in rural Texas. The United States has hastily become embroiled in World War 3. A young doctor named Hunter survives the nuclear attack and is thrown together by happenstance with a group of wounded and frightened victims, including Elizabeth, a strong-willed confidant to Hunter, Brad - an antagonistic redneck jackass, and Jennifer, a barely coherent young woman suffering from severe post-traumatic stress. Together, they attempt to endure the devastating holocaust as they struggle with claustrophobia and conflicting personalities. In a makeshift shelter, Hunter and his dying companions wait for news from the government while fending off hunger, radiation sickness, and a horde of frightened and dying refugees
1h 25m Action Drama Horror Science Fiction
Open war against humanity rages. For five survivors – lost and on the run – the pursuit is relentless, the bullets are dwindling and the battle is everywhere. This is a 24-hour look into their lives.
27.
Land of the Dead (2005)
1h 33m Horror Science Fiction Thriller
The world is full of zombies and the survivors have barricaded themselves inside a walled city to keep out the living dead. As the wealthy hide out in skyscrapers and chaos rules the streets, the rest of the survivors must find a way to stop the evolving zombies from breaking into the city.
explore
Check out more list from our community