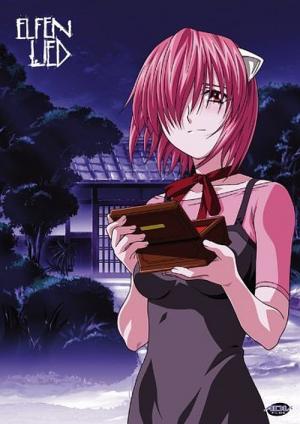 21 Best Shows Like Elfen Lied ...
If you liked this film , you will probably love these too! In this selection we highlight some of the best films that share a very similar mood to '', and are worth checking out.
23m Action & Adventure Animation Mystery
Vampires exist. It is the duty of Hellsing, an organization sponsored by the British government, to hide that frightening fact and protect the blissfully unaware populace. Along with its own personal army, Hellsing also has a few secret weapons. Alucard, an incredibly powerful vampire, has been controlled by Hellsing for years. Although he dislikes being a servant to the Hellsing family, he certainly enjoys his job as Hellsing's vampire exterminator. Seras is a fledgling vampire and a former police woman. Although reluctant to embrace her new self, she is still a valuable member of the organization. Integra Hellsing, the current leader, is usually fully capable of fulfilling her duty, but lately, vampire activity has been on the rise. Unfortunately, the cause is more alarming than anything she could have imagined...
2.
Darker Than Black (2007)
25m Action & Adventure Animation Mystery Sci-Fi & Fantasy
Ten years ago, a mysterious spatial anomaly now known as "Heaven's Gate" appeared in South America, shortly followed by the opening of "Hell's Gate" in Tokyo altering the sky and wreaking havoc on the landscape. The real stars disappeared, replaced by false stars. During this time, people possessing various special abilities — called "Contractors" — emerged, each capable of different supernatural feats. Following the disastrous Heaven's War, the United States lost its dominant position as a superpower to a mysterious organization named the Syndicate. The story revolves around a Chinese contractor codenamed "Hei" as he undertakes various espionage and assassination missions in Tokyo.
50m Animation Crime Action Thriller
Sawa may seem innocent and naive, but don't be fooled. She is a cold-blooded killer, and if you're on the wrong side of the law, you may be her next target. Not content to just watch as the imperfect justice system lets more and more criminals go loose every day, a detective decides to train the young Sawa to be his instrument of justice.
20m Animation Drama Mystery
When Kouichi arrives at his new school, he immediately senses something frightening in the atmosphere of his new class, something that no student wants to talk about and that seems to be related to a mysterious and silent girl.
46m Action & Adventure Animation Sci-Fi & Fantasy
As the nations of the world begin to merge, world peace is threatened by the private armies of individual corporations. The Kuryu Group has just discovered a weapon that will tip world power in their favor. The Genocyber: a nightmarish combination of cybernetics and psychic potential. Many desire to control this monstrosity, but can its hatred be contained... Battle erupts, and the cyberpunk world of the future is about to explode with violence.
6.
The Promised Neverland (2019)
23m Animation Mystery Sci-Fi & Fantasy Action & Adventure Drama
Surrounded by a forest and a gated entrance, the Grace Field House is inhabited by orphans happily living together as one big family, looked after by their "Mama," Isabella. Although they are required to take tests daily, the children are free to spend their time as they see fit, usually playing outside, as long as they do not venture too far from the orphanage — a rule they are expected to follow no matter what. However, all good times must come to an end, as every few months, a child is adopted and sent to live with their new family... never to be heard from again.However, the three oldest siblings have their suspicions about what is actually happening at the orphanage, and they are about to discover the cruel fate that awaits the children living at Grace Field, including the twisted nature of their beloved Mama.
25m Animation Action & Adventure Sci-Fi & Fantasy
If you are chosen by the bizarre black sphere known as the Gantz, you are already dead—yet you might be able to reclaim your mortality. First, the Gantz demands that you undertake brutal missions of madness, killing aliens hidden among the population. It is your only chance and you have no choice. You must play this disturbing game. And if you die again—and you likely will—it's permanent.
24m Action & Adventure Animation Drama Mystery
Ken Kaneki is a bookworm college student who meets a girl names Rize at a cafe he frequents. They're the same age and have the same interests, so they quickly become close. Little does Kaneki know that Rize is a ghoul - a kind of monster that lives by hunting and devouring human flesh. When part of her special organ - "the red child" - is transplanted into Kaneki, he becomes a ghoul himself, trapped in a warped world where humans are not the top of the food chain.
9.
Highschool of the Dead (2010)
24m Action & Adventure Animation
When the world is struck by a deadly pandemic that turns humans into zombies, Takashi Komuro and several of his classmates at Fujimi High School try to survive the apocalypse.
28m Sci-Fi & Fantasy Animation Action & Adventure
Psycho-Pass is set in a futuristic era in Japan where the Sibyl System, a powerful network of psychometric scanners, actively measures the biometrics of its citizens' minds. The resulting assessment is called a Psycho-Pass. When the calculated likelihood of an individual committing a crime, measured by the Crime Coefficient index, exceeds an accepted threshold, he or she is pursued, apprehended, and either arrested or decomposed by the field officers of the Crime Investigation Department of the Public Safety Bureau.
23m Action & Adventure Sci-Fi & Fantasy Animation
Guts, a man who calls himself "The Black Swordsman", looks back upon his days serving as a member of a group of mercenaries. Led by an ambitious, ruthless, and intelligent man named Griffith, together they battle their way into the royal court, and are forced into a fate that changes their lives.
12.
Spirit Devourer: Zero (2008)
13.
Hellsing Ultimate (2006)
49m Animation Drama Sci-Fi & Fantasy
For over a century, the mysterious Hellsing Organization has been secretly protecting the British Empire from the undead. When Sir Integra Hellsing succeeded as the head of the organization, she also inherited the ultimate weapon against these supernatural enemies: Alucard, a rogue vampire possessing mysterious and frightening powers. Now, Hellsing must deal with a more dangerous threat than vampires.
14.
The Future Diary (2011)
24m Action & Adventure Animation Drama Mystery
Reality quickly unravels when antisocial Yukiteru is called into a death match against 11 other mentally scarred individuals. Each player has a prophetic device tuned to their personality, giving them control over their future—and the fate of their foes.
15.
Deadman Wonderland (2011)
24m Action & Adventure Animation Sci-Fi & Fantasy
Ganta is the only survivor after a mysterious man in red slaughters a classroom full of teenagers. He's framed for the carnage, sentenced to die, and locked away in the most twisted prison ever built: Deadman Wonderland. And then it gets worse.
1h 20m Animation Action Thriller
The target of hitgirl Mikura is a wealthy baseball team owner, but he turns out to be a powerful underworld boss. Mikura and her team are beset by countless heavily armed bodyguards and the boss' vicious daughter.
17.
B: The Beginning (2018)
26m Animation Sci-Fi & Fantasy
In a world powered by advanced technology, crime and action unfold in the archipelagic nation of Cremona. Genius investigator Keith Flick rejoins the royal police force just as serial killer "B" emerges. Mysterious youth Koku may be an ally, or a target.
18.
Neon Genesis Evangelion (1995)
25m Sci-Fi & Fantasy Animation Drama
At the turn of the century, the Angels returned to Earth, seeking to wipe out humanity in an apocalyptic fury. Devastated, mankind's last remnants moved underground to wait for the day when the Angels would come back to finish the job. Fifteen years later, that day has come... but this time, humanity is ready to fight back with terrifying bio-mechanical weapons known as the Evangelions. Watch as Shinji, Rei, Asuka and the rest of the mysterious shadow agency Nerv battle to save earth from total annihilation.
24m Animation Drama Action & Adventure
Sakamoto, an unemployed young man, is one of the world's top players of an online fighting game called Btooom! One day, he wakes up on what appears to be a tropical island, although he doesn't remember how or why he got there.
20.
Last Hero Inuyashiki (2017)
23m Animation Drama Sci-Fi & Fantasy Action & Adventure Crime
Inuyashiki Ichirou is down on his luck. While only 58 years old, his geriatric looks often have him written off as a pathetic old man by the world around him and he's constantly ignored and disrespected by his family despite all that he's done to support them. On top of everything else, his doctor has revealed that he has cancer and it appears that he has little time left in this world. But just when it seems things couldn't get any worse, a blinding light in the night sky strikes the earth where Ichirou stands. He later wakes up to find himself unscathed, but he soon starts to notice that there's something… different about himself. However, it turns out that these strange, new changes are just what Ichirou needs to take a new lease on life and now it seems like there's nothing to stop him from being a hero worthy of the respect that he never had before… unless, that is, there was someone else out there with these same changes…
explore
Check out more list from our community