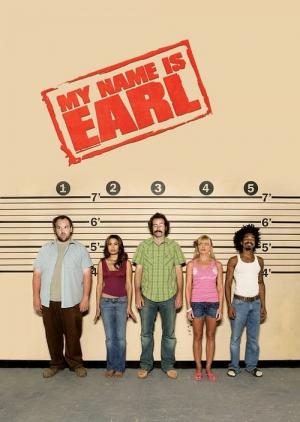 12 Best Shows Like My Name Is Earl ...
If you liked this movie , you will probably love these too! In this selection we highlight some of the best films that share a very similar mood to '', and are worth checking out.
James "Jimmy" Chance is a clueless 24-year-old who impregnates a serial killer during a one-night-stand. Earning custody of his daughter after the mother is sentenced to death, Jimmy relies on his oddball but well-intentioned family for support in raising the child.
22m Comedy
Follow the lives of a group of students at what is possibly the world's worst community college in the fictional locale of Greendale, Colorado.
21m Comedy
The misadventures of three recent college dropouts, roommates, and co-workers at a telemarketing company and their drug dealer.
22m Comedy
Three modern men try to get in touch with their inner tough guys and redefine what it means to be a 'real man.'
5.
It's Always Sunny in Philadelphia (2005)
30m Comedy
Set in the corridors of power and spin, the Minister for Social Affairs is continually harassed by Number 10's policy enforcer and dependent on his not-so-reliable team of civil servants.
23m Comedy
A sitcom about three divorced men sharing an apartment across the hall from their female divorce attorney, who is also their landlord.
23m Comedy
A family man struggles to gain a sense of cultural identity while raising his kids in a predominantly white, upper-middle-class neighborhood.
23m Comedy
Two successful guys in their 30s have their lives turned upside down when their nightmare dads unexpectedly move in with them.
9.
How to Be a Gentleman (2011)
22m Comedy
How to Be a Gentleman, inspired by the book of the same name, is a comedy about the unlikely friendship between a traditional, refined writer and an unrefined personal trainer. Andrew Carlson (David Hornsby) is an etiquette columnist whose devotion to ideals from a more civilized time has lead to a life detached from modern society. Infectiously optimistic, Bert Lansing (Kevin Dillon) is a reformed "bad boy" from Andrew's past who inherited a fitness center, but can still be rude, loud and sloppy. When Andrew's editor, Jerry (Dave Foley), tells him to put a modern, sexy twist on his column or be fired, he hires Bert as a life coach in the hopes of learning to be less "gentle man" and more "real man."
10.
Better With You (2010)
22m Comedy
Maddie and Ben have been dating for nine years and they know each other inside and out. Maddie's younger sister, Mia, has been dating Casey for seven weeks. With a shared c'est la vie attitude, Mia and Casey announce they're getting married and having a baby. It's news that throws Maddie for a loop. Surprisingly, the girls' parents, who have recently adopted a carpe diem sort of philosophy, couldn't be more pleased.
11.
Guys with Kids (2012)
22m Comedy
Three 30-something dads try to hold on to their youth as they face the responsibilities of having kids. Thankfully, Gary, Chris and Nick have each other to help navigate the highs and lows of fatherhood - while still trying desperately to remain dudes.
explore
Check out more list from our community