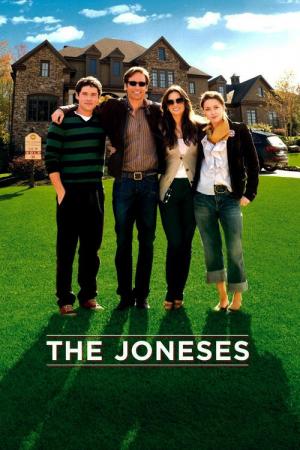 11 Best Movies Like The Joneses ...
If you liked this film , you will definitely love these too! In this collection we highlight some of the best films that share a very similar mood to 'The Joneses', and are worth checking out.
1.
The Upside of Anger (2005)
1h 58m Comedy Drama
After her husband runs off with his secretary, Terry Wolfmeyer is left to fend for herself -- and her four daughters. As she hits rock bottom, Terry finds a friend and drinking buddy in next-door neighbor Denny, a former baseball player. As the two grow closer, and her daughters increasingly rely on Denny, Terry starts to have reservations about where their relationship is headed.
2.
American Beauty (1999)
2h 2m Drama
Lester Burnham, a depressed suburban father in a mid-life crisis, decides to turn his hectic life around after developing an infatuation with his daughter's attractive friend.
1h 30m Comedy Drama
In New York City, a husband and wife butt heads with the granddaughters of the elderly woman who lives in the apartment the couple owns.
1h 37m Comedy Drama
During the final weeks of a presidential race, the President is accused of sexual misconduct. To distract the public until the election, the President's adviser hires a Hollywood producer to help him stage a fake war.
1h 54m Drama
After flying home to L.A. for the funeral of his estranged record-producer father, a struggling man discovers that the will stipulates that he must deliver $150,000 in cash to a 30-year-old alcoholic sister he never knew existed, and her troubled 12-year-old son.
7.
Margot at the Wedding (2007)
1h 31m Comedy Drama
Margot Zeller (Nicole Kidman) is a short story writer with a sharp wit and an even sharper tongue. On the eve of her estranged sister Pauline's (Jennifer Jason Leigh) wedding to unemployed musician/artist/depressive Malcolm (Jack Black) at the family seaside home, Margot shows up unexpectedly to rekindle the sisterly bond and offer her own brand of support. What ensues is a nakedly honest and subversively funny look at family dynamics.
1h 30m Comedy Drama
A newlywed couple cancels their honeymoon and returns to the snowy Midwest to make the funeral arrangements for their best man, who died unexpectedly after their ceremony.
1h 30m Drama Comedy
A slacker hatches a million-dollar idea. But, in order to see it through, he has to learn to trust his attractive corporate counterpart. Based on Max Barry's novel.
1h 36m Comedy Drama
Two sisters return home to care for their aging father.
11.
World's Greatest Dad (2009)
explore
Check out more list from our community