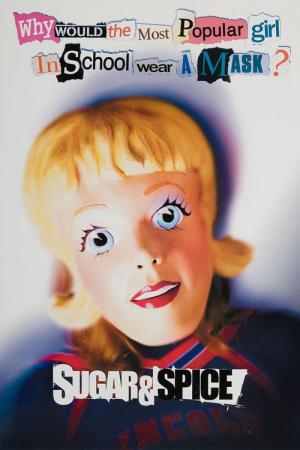 10 Best Movies Like Sugar And Spice ...
If you liked this movie , you will for sure love these too! In this selection we highlight some of the best films that share a very similar mood to 'Sugar & Spice', and are worth checking out.
1h 43m Comedy Crime
A girl who halfheartedly tries to be part of the "in crowd" of her school meets a rebel who teaches her a more devious way to play social politics: by killing the popular kids.
1h 35m Comedy Crime
Three mischievous employees of a bank in a small deserted town all make plans to rob it at the same time, however none of them knows about the others.
3.
Saving Silverman (2001)
1h 30m Comedy Crime Romance
A pair of buddies conspire to save their best friend from marrying the wrong woman, a cold-hearted beauty who snatches him from them and breaks up their Neil Diamond cover band.
1h 44m Action Comedy Crime
Three female employees of the Federal Reserve plot to steal money that is about to be destroyed.
1h 27m Comedy
According to a high school's lore, the "Dirty Deeds" are a daunting list of dares almost no student has ever completed. To win the student body's respect and get noticed by his crush, senior Zach is determined to finish the list in the allotted 24-hour time period. As the school's bullying jocks try to thwart him at every turn, Zach embarks on a wild journey, highlighted by beer swilling, grand theft auto and the snagging of an ex-homecoming queen's bra.
1h 28m Comedy Family
Nerdy high school senior Dizzy Harrison has finally gotten lucky -- after purposely getting expelled, he takes lessons in 'badass cool' from a convict and enrolls at a new school. But can he keep up the ruse?
7.
Not Another Teen Movie (2001)
1h 29m Comedy
On a bet, a gridiron hero at John Hughes High School sets out to turn a bespectacled plain Jane into a beautiful and popular prom queen in this outrageous send-up of the teen movies of the 1980s and '90s.
8.
Slap Her, She's French! (2002)
1h 32m Comedy
Welcome to Splendona High School, Texas, where football players, cheerleaders and beauty queens rule the hallways. And Starla Grady, the most popular girl in school, is on top of it all. That is, at least until Genevieve LePlouff, a French foreign exchange student arrives and turns her life upside down.
1h 37m Comedy Romance
Shallow, rich and socially successful Cher is at the top of her Beverly Hills high school's pecking scale. Seeing herself as a matchmaker, Cher first coaxes two teachers into dating each other. Emboldened by her success, she decides to give hopelessly klutzy new student Tai a makeover. When Tai becomes more popular than she is, Cher realizes that her disapproving ex-stepbrother was right about how misguided she was -- and falls for him.
1h 38m Comedy
The Toro cheerleading squad from Rancho Carne High School in San Diego has got spirit, spunk, sass and a killer routine that's sure to land them the national championship trophy for the sixth year in a row. But for newly-elected team captain Torrance, the Toros' road to total cheer glory takes a shady turn when she discovers that their perfectly-choreographed routines were in fact stolen.
explore
Check out more list from our community