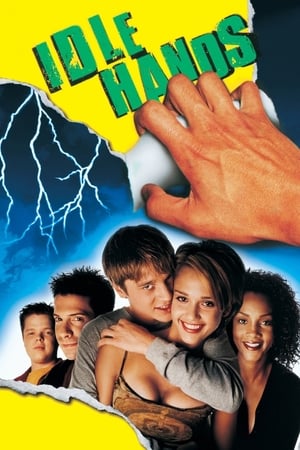 31 Best Movies Like Idle Hands ...
If you liked this one , you will definitely love these too! In this list we highlight some of the best films that share a very similar premise to '', and are worth checking out.
1h 33m Horror Comedy Science Fiction
As a killer named Cinderhella stalks the student body at the high school in Grizzly Lake, a group of co-eds band together to survive while they're all serving detention.
2.
Life After Beth (2014)
1h 30m Romance Comedy Horror
Zach is devastated by the unexpected death of his girlfriend, Beth. When she mysteriously returns, he gets a second chance at love. Soon his whole world turns upside down...
1h 19m Horror Thriller Comedy
A group of college students break into an abandoned convent and become possessed by demonic spirits.
4.
An American Werewolf in Paris (1997)
1h 45m Horror Comedy
An American man unwittingly gets involved with werewolves who have developed a serum allowing them to transform at will.
5.
The Return of the Living Dead (1985)
1h 31m Comedy Horror
When foreman Frank shows new employee Freddy a secret military experiment in a supply warehouse in Louisville, Kentucky, the two klutzes accidentally release a gas that reanimates corpses into flesh-eating zombies. As the epidemic spreads throughout the town, and the creatures satisfy their hunger in gory and outlandish ways, Frank and Freddy fight to survive with the help of their boss and a mysterious mortician.
6.
Night of the Demons (1988)
1h 30m Horror
While conducting a seance during a Halloween party, high-school seniors unlock the demon that remains locked in the crematorium.
12m Animation
A young boy follows his sister into a cornfield as she sneaks out to see her boyfriend.
1h 35m Horror
In Cameron, a group of hunters is attacked by a wild animal, and Charlie Cowley survives, but sees his brother Scott dying. Seven years later, his teenage nephew Derek Cowley steals the key of his stepfather's cabin in the isolated Fire Road 13, and travels with four classmates and his friend Sam to spend the weekend having a party with booze and sex. However, they are attacked by a Beast that kills his friends in a sadistic way. Sam and Derek survive, and they suspect that his stepfather, Mitchell Toblat, is a werewolf. When Charlie meets Derek and Sam, they decide to collect evidence to prove that Mitchell is the Beast and kill him, but Mitchell discovers their plot and chases the trio.
1h 33m Horror Comedy Fantasy
A teenager becomes a werewolf after a family vacation in Transylvania.
1h 32m Comedy Horror Thriller
A horrific Leprechaun goes on a rampage after his precious bag of gold coins is stolen. He uses all of his magical destructive powers to trick, terrorize and kill anyone who is unlucky enough to hinder his relentless search. In a frantic attempt to survive the wrath of the Leprechaun, Tori and her friends scramble to find the only weapon known to kill this Irish monster...a four-leaf clover.
1h 49m Horror
After being sent to the electric chair, a serial killer uses electricity to come back from the dead and carry out his vengeance on the football player who turned him in to the police.
13.
Slumber Party Massacre III (1990)
1h 27m Horror Comedy
After a hard day of volleyball at the beach, a teen whose parents are away decides to have a slumber party with her girlfriends. Their boyfriends predictably show up to scare them, but a stranger from the beach is also seen lurking around the house. Soon the group begins experiencing an attrition problem.
14.
Final Destination (2000)
1h 38m Horror
After a teenager has a terrifying vision of him and his friends dying in a plane crash, he prevents the accident only to have Death hunt them down, one by one.
1h 46m Comedy Horror
Charley Brewster, a high school student, accidentally discovers the true and creepy nature of Jerry Dandrige, his dashing and enigmatic new neighbor; but no one seems willing to believe him.
16.
Prom Night III: The Last Kiss (1990)
1h 37m Comedy Horror Thriller
Mary Lou, the prom queen burned to death by her boyfriend back in the fifties, has escaped from hell and is once again walking the hallways of Hamilton High School, looking for blood. She chooses as her escort in world of the living Alex, an average depressed student with dreams of one day becoming a doctor. As Mary Lou begins to get back into form, the body count starts climbing and the graduating class of Hamilton High is once again smaller than expected.
17.
Student Bodies (1981)
1h 26m Comedy Horror
This zany send-up of teen slasher flicks features a maniacal psycho known as the Breather (played by Jerry Belson), who stalks –and murders– promiscuous students at a suburban high school. The fanatical killer's unusual weapons include paper clips, blackboard erasers and eggplants. Kristen Riter, Matthew Goldsby, Joe Flood, Kevin Mannis and Sara Eckhardt head the cast.
1h 31m Horror Comedy
Darren Mullet, a bullied asthmatic, is driven to suicide by his tormented life - ignored by his parents, ridiculed by his teachers and bullied at school. He returns from the dead to pay his teenage tormentors a final visit.
19.
Bride of Chucky (1998)
1h 29m Horror Comedy
Chucky hooks up with another murderous doll, the bridal gown-clad Tiffany, for a Route 66 murder spree with their unwitting hosts.
20.
A Nightmare on Elm Street 5: The Dream Child (1989)
1h 29m Horror Thriller
Alice, having survived the previous installment of the Nightmare series, finds the deadly dreams of Freddy Krueger starting once again. This time, the taunting murderer is striking through the sleeping mind of Alice's unborn child. His intention is to be "born again" into the real world. The only one who can stop Freddy is his dead mother, but can Alice free her spirit in time to save her own son?
21.
Trick or Treat (1986)
1h 38m Horror Music
Eddie Weinbauer, an '80s metalhead teen who is bullied at school, looks to his heavy metal superstar idol, Sammi Curr, for guidance. When Curr is killed in a hotel fire, Eddie becomes the recipient of the only copy of Curr's unreleased album, which, when played backwards, brings Sammi back to life. As Halloween approaches, Eddie begins to realize that this isn't only rock 'n roll...it's life and death.
22.
A Nightmare on Elm Street 3: Dream Warriors (1987)
1h 36m Horror Thriller
It's been many years since Freddy Krueger's first victim, Nancy, came face-to-face with Freddy and his sadistic, evil ways. Now, Nancy's all grown up; she's put her frightening nightmares behind her and is helping teens cope with their dreams. Too bad Freddy's decided to herald his return by invading the kids' dreams and scaring them into committing suicide.
23.
Seed of Chucky (2004)
1h 27m Horror Comedy
Chucky and Tiffany are resurrected by their innocent son, Glen, and hit Hollywood, where a movie depicting the killer dolls' murder spree is underway.
1h 33m Comedy Horror
Two fraternity pledges go to a sleazy bar looking for strippers to entertain their college friends.
25.
Jason Goes to Hell: The Final Friday (1993)
1h 27m Horror
Jason Voorhees, the living, breathing essence of evil, is back for one fierce, final fling! Tracked down and blown to bits by a special FBI task force, everyone now assumes that he's finally dead. But everybody assumes wrong. Jason has been reborn with the bone-chilling ability to assume the identity of anyone he touches. The terrifying truth is that he could be anywhere, or anybody. In this shocking, blood-soaked finale to Jason's carnage-ridden reign of terror, the horrible secret of his unstoppable killing instinct is finally revealed.
26.
Sorority House Massacre II (1990)
1h 20m Comedy Horror Thriller
Five college women buy the old Hokstedter place for their new sorority house. They got it cheap because of the bloody incidents from five years before. They decide to stay in it for the night so they can meet the movers in the morning, but begin to get the creeps when the weird neighbor Orville Ketchum starts poking around. Shortly after the women take showers and consult a Ouija board they begin experiencing an attrition problem.
27.
The Slumber Party Massacre (1982)
1h 17m Horror
An 18-year-old high school girl is left at home by her parents and decides to have a slumber party. Meanwhile, a mass murderer with a propensity for power tools has escaped from prison, and eventually makes his way to the party where the guests begin dropping off one by one.
28.
Return to Sleepaway Camp (2008)
1h 26m Mystery Horror Comedy
It's summer camp as usual at Camp Manabe where the kids torment each other for fun while the underpaid camp staff provides as little supervision as possible. Greedy camp owner Frank and junior partner Ronnie do their best to keep everyone in line, but something sinister is about to put a slash in the roster. When campers and staff mysteriously begin disappearing and turning into gruesome corpses, paranoid Ronnie can't shake the memory of a series of grisly murders that took place at Camp Arawak. As the paranoia worsens, Ronnie's list of possible killers starts growing just like the body count. Only one thing is for certain, something is carving a bloody new trail at Sleepaway Camp where kids can be so mean and surviving this summer is gonna be a real killer!
1h 21m Comedy Horror Fantasy
A young man and his girlfriend move into the man's old mansion home, where he becomes possessed by a need to control ancient demons.
1h 24m Horror Comedy Fantasy
Ash Williams and his girlfriend Linda find a log cabin in the woods with a voice recording from an archeologist who had recorded himself reciting ancient chants from "The Book of the Dead." As they play the recording an evil power is unleashed taking over Linda's body.
explore
Check out more list from our community