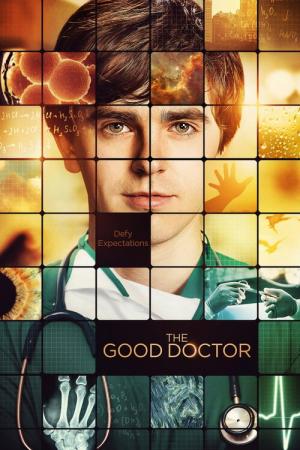 15 Best Shows Like The Good Doctor ...
If you liked this film , you will for sure love these too! In this collection we highlight some of the best films that share a very similar mood to '', and are worth checking out.
42m Drama
A tough, brilliant senior resident guides an idealistic young doctor through his first day, pulling back the curtain on what really happens, both good and bad, in modern-day medicine.
43m Drama
The new medical director breaks the rules to heal the system at America's oldest public hospital. Max Goodwin sets out to tear up the bureaucracy and provide exceptional care, but the doctors and staff are not so sure he can succeed. They've heard this before. Not taking "no" for an answer, Dr. Goodwin's instinctive response to problems large and small is four simple words: "How can I help?" He has to disrupt the status quo and prove he'll stop at nothing to breathe new life into this underfunded and underappreciated hospital, returning it to the glory that put it on the map.
3.
The Night Shift (2014)
42m Drama
The stories of the men and women who work the overnight shift at San Antonio Memorial Hospital. They are an irreverent and special breed, particularly adrenaline junkie T.C. Callahan.
1h Drama
As a child, Park Shi On was sent to a specialized care center, where he discovered genius capacities for his autism. Coupled with an exceptional memory and keen spatial skills, the young savant eventually entered pediatric residency, where he developed into a promising surgeon. However, his mental and emotional development seems to have stopped at 10-years-old, which makes for incredible conflicts in and out of the O.R., especially with the hotheaded surgeon Kim Do Han. Despite warm hearted and fair colleagues like Cha Yoon Seo and Han Jin Wook , it's a fierce and competitive adult world. One cannot simply tell Shi On to "grow up."
Dr. Gregory House, a drug-addicted, unconventional, misanthropic medical genius, leads a team of diagnosticians at the fictional Princeton–Plainsboro Teaching Hospital in New Jersey.
42m Drama
An emotional thrill ride through the day-to-day chaos of the city's most explosive hospital and the courageous team of doctors who hold it together. They will tackle unique new cases inspired by topical events, forging fiery relationships in the pulse-pounding pandemonium of the emergency room.
43m Drama
Dr. Bashir Hamed, a Syrian doctor with battle-tested skills in emergency medicine, makes the difficult decision to flee his country and build a new life in Canada with his younger sister Amira. Bash works to navigate a new environment after earning a coveted residency in the Emergency Department of one of the best hospitals in Toronto, York Memorial.
43m Drama
A young Silicon Valley tech-titan enlists a veteran surgeon with a controversial past in starting a hospital with a cutting-edge, new school approach to medicine.
43m Drama
Inspired by the award-winning documentary, this medical drama is set in the busiest and most notorious ER in the nation where the extraordinary staff confront a challenged system in order to protect their ideals and the patients who need them the most.
1h Drama
Set in downtown New York in 1900, 'The Knick' is centered on the Knickerbocker Hospital and the groundbreaking surgeons, nurses and staff who work there, pushing the bounds of medicine in a time of astonishingly high mortality rates and zero antibiotics.John Thackery is a brilliant surgeon pioneering new methods in the field, despite his secret addiction to cocaine. He leads a team of doctors including his protégé Dr. Everett Gallinger; the young Dr. Bertie Chickering Jr. and Dr. Algernon Edwards, a promising surgeon who's been recently thrust upon him. The lively cast of characters at the hospital also includes Cornelia Robertson, the daughter of its benefactor, Captain August Robertson; surly ambulance driver Tom Cleary; Lucy Elkins; a fresh-faced nurse from the country; the crooked hospital administrator Herman Barrow; and Sister Harriet, a nun who isn't afraid to speak her mind.
1h Drama
Three Rivers is an American television medical drama that debuted on CBS on October 4, 2009, starring Alex O'Loughlin in the role of an infamous transplant surgeon in Pittsburgh, Pennsylvania. On November 30, 2009, after just eight episodes of the season had aired, CBS announced that Three Rivers had been pulled from their schedule with no plans to have it returned, and the series was later officially cancelled. However, the series later returned to the network on June 5, 2010 to burn off the remaining unaired episodes.
Drama series about life on the wards of Holby City Hospital, following the highs and lows of the staff and patients.
46m Drama
Monroe is a brilliant and unusual neurosurgeon. A flawed genius who never lets anyone forget his flaws or his genius. Each episode will feature one compelling story of the week about life or death situations. The drama will focus on the way in which a serious injury or disease cuts across the lives of everyone involved, from hospital staff to patients to relatives. And how that group become, in an intense few days, a reluctant dysfunctional family united by hopes, fears and grief. At the centre of this stands Monroe, his trainees, his anaesthetist and his poker school - and his female colleague, heart surgeon, Jenny Bremner, who has contempt for his cockiness. The series will tell heightened emotional stories and be shot through with dark humour and portray the pressures and pleasures of high-end surgery in a modern urban hospital.
42m Drama
Christina Hawthorne is a compassionate and headstrong Chief Nursing Officer heading up a group of dedicated nurses at Richmond Trinity Hospital on the hospital's front lines. She does everything in her power to help her patients. When necessary, she takes on doctors and administrators who are overworked, distracted or just unable to see the human being behind the hospital chart. But the long days at the hospital and Hawthorne's intense focus on helping others take a toll on her personal life.
explore
Check out more list from our community