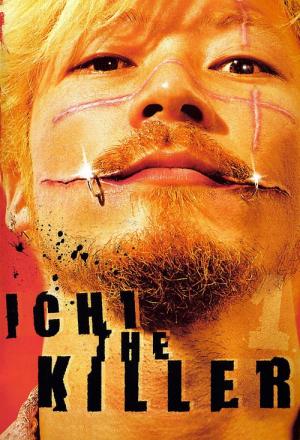 10 Best Movies Like Ichi The Killer ...
If you liked this one , you will probably love these too! In this collection we highlight some of the best films that share a very similar mood to 'Ichi the Killer', and are worth checking out.
1.
The Machine Girl (2008)
The life of a young, Japanese schoolgirl is destroyed when her family is killed by a Ninja-Yakuza family. Her hand cut off, she replaces it with various machines-of-death, and seeks revenge
1h 36m
Director, Screenplay: Noboru Iguchi
Action Adventure Comedy Crime Horror Thriller
Chev Chelios, a hit man wanting to go straight, lets his latest target slip away, then he awakes the next morning to a phone call that informs him he has been poisoned and has only an hour to live unless he keeps adrenaline coursing through his body while he searches for an antidote.
1h 28m
Director, Screenplay: Mark Neveldine
Director, Screenplay: Brian Taylor
Action Thriller Crime
A father, who is a failed former television reporter, tries to mount a documentary about violence and sex among youths. He proceeds to have sex with his daughter who is now a prostitute, and films his son being humiliated and hit by classmates. "Q", a perfect stranger, somehow gets involved and enters the bizarre family whose son beats his mom, who in turn is also a prostitute and a heroin addict.
1h 24m
Director: Takashi Miike
Writer: Itaru Era
Comedy Drama Horror Thriller
After fighting his way through an apartment building populated by an army of dangerous criminals and escaping with his life, SWAT team member Rama goes undercover, joining a powerful Indonesian crime syndicate to protect his family and uncover corrupt members of his own force.
2h 30m
Director, Writer: Gareth Evans
Action Crime Thriller
5.
Dead or Alive 2 (2000)
Two contract killers cross paths in the middle of the same job and realize they are childhood friends. Together they take a break from killing and visit the small island they once called home. After reflecting on their past lives they decided to team up and use their talents in killing for good... much to the upset of the crime syndicates.
1h 37m
Director: Takashi Miike
Writer: Masaru Nakamura
Crime Drama Thriller
6.
The Last House on the Left (1972)
A disturbed gang of youths kidnap, torture and murder two teenage girls; unbeknownst to the gang, the parents of one of the girls live nearby...
1h 24m
Author, Director: Wes Craven
Writer: Ulla Isaksson
Horror Thriller
We follow Ichi during his high school years. Mr. Dai is the best fighter in school... whenever he fights Ichi is there and has a huge smile on his face. Mr. Dai thinks that Ichi is laughing at him but in fact he enjoys watching the violence that goes through the fights. Everyone is bullying, taunting and making fun of Ichi... even little kids from his karate class. Yet Ichi refuses to let go of his anger and fight others. Just when Mr. Dai is about to get Ichi, a new transfer student starts to make his own laws... by beating up everyone and breaking their bones! In a fight with the new student, Mr. Dai ends up on the ground, beaten and broken up from almost everywhere. It seems like this new guy wants to fight Ichi because supposedly he is the only one that could give him some challenge.
1h 23m
Director: Masato Tanno
Writer: Sakichi Satō
Action Thriller Drama
A detective breaks all rules of ethical conduct while investigating a colleague's involvement in drug pushing and Yakuza activities.
1h 43m
Director, Writer: Takeshi Kitano
Writer: Hisashi Nozawa
Action Crime Drama
9.
I Saw the Devil (2010)
Kyung-chul is a dangerous psychopath who kills for pleasure. He has committed infernal serial murders in diabolic ways that one cannot even imagine and his victims range from young women to even children. The police have chased him for a long time, but were unable to catch him. One day, Joo-yeon, daughter of a retired police chief becomes his prey and is found dead in a horrific state. Her fiance Soo-hyun, a top secret agent, decides to track down the murderer himself. He promises himself that he will do everything in his power to take bloody vengeance against the killer, even if it means that he must become a monster himself to get this monstrous and inhumane killer.
2h 22m
Director, Screenplay: Kim Jee-woon
Screenplay: Park Hoon-jung
Thriller Horror
10.
The Blind Swordsman: Zatoichi (2003)
Zatoichi is a 19th century blind nomad who makes his living as a gambler and masseur. However, behind this humble facade, he is a master swordsman gifted with a lightning-fast draw and breathtaking precision. While wandering, Zatoichi discovers a remote mountain village at the mercy of Ginzo, a ruthless gang-leader. Ginzo disposes of anyone who gets in his way, especially after hiring the mighty samurai ronin, Hattori, as a bodyguard. After a raucous night of gambling in town, Zatoichi encounters a pair of geishas--as dangerous as they are beautiful--who've come to avenge their parents' murder. As the paths of these and other colorful characters intertwine, Ginzo's henchmen are soon after Zatoichi. With his legendary cane sword at his side, the stage is set for a riveting showdown.
1h 51m
Director, Screenplay: Takeshi Kitano
Novel: Kan Shimosawa
Adventure Drama Action
explore
Check out more list from our community