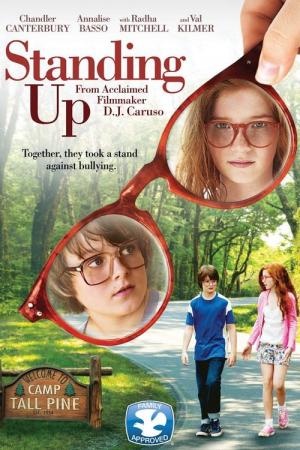 11 Best Movies Like Standing Up ...
If you liked this movie , you will definitely love these too! In this list we highlight some of the best films that share a very similar mood to 'Standing Up', and are worth checking out.
1h 31m Drama
A vivid, dynamic Southern coming-of-age drama, takes place in the transitional space between high school and college, when life seems to be all questions and no answers, and the future is scarily wide open. Set in and around a Charleston, SC Baptist church, weaving through this ensemble piece are three main characters - Brea, an introspective pastor's daughter experiencing debilitating doubt, the hyperactive Laura, Brea's best friend and a devout believer, and Tim, the open-hearted son of a single father, confronting his homosexuality for the first time. Tensions and buried feelings abound, as colleges are chosen and adults behave badly, as Brea, Laura and Tim attempt to hang onto what they have, all the while yearning to break free.
1h 21m Drama
Ten-year-old Jojo lives with his father, a security guard with a volatile personality who drinks to manage the unspoken despair he feels about his wife's absence, which he refuses to discuss with his son. In the midst of so much uncertainty, Jojo finds comfort and happiness in caring for an abandoned baby bird, a jackdaw, who is even more vulnerable than himself.
1h 28m Drama TV Movie
Beautiful Katie Lapp has always felt something missing in her simple Amish existence -- until a mysterious "Englisher" comes to Lancaster County looking for the baby girl she gave up for adoption 19 years ago.
4.
It Felt Like Love (2013)
1h 22m Drama
A gauzy summer in South Brooklyn. Lila, an awkward adolescent girl, passes her time breaking into beach homes and tagging along on dates between her pretty friend Chiara and Chiara's new boyfriend, Patrick. Lila decides this will be the summer she loses her virginity, too—her interest is piqued when she meets Sammy, an older boy reputed to sleep with just about anyone. Yet Lila's attempts at sexual conquest risk taking her beyond her limits, and into dangerous uncharted territory.
6.
The Christmas Bunny (2010)
1h 36m Drama Family
The Christmas Bunny tells the story of a lonely foster child (Sophie Bolen) who finds a lost, injured rabbit in the woods on Christmas Eve. The rabbit is nursed back to health by The Bunny Lady (Florence Henderson), who runs a rabbit rescue in an old barn behind her Michigan farmhouse.
7.
Darker Than Midnight (2014)
1h 34m Drama
Davide is different from the other teenagers. Something makes him look like a girl. Davide is fourteen when he runs away from home. His intuition leads him to choose Villa Bellini, a park in Catania, as a refuge. The park is a world in itself, a world of the marginalized, to which the rest of the city turns a blind eye. But one day the past catches up and Davide has to face the most difficult choice, this time alone.
8.
A Time in Quchi (2013)
1h 49m Drama
Bao stays with his grandfather for the summer and is shocked to see there are no modern appliances.
9.
The Golden Seal (1983)
1h 34m Drama Family
A lonely 10-year-old boy living with his parents in a remote coastal part of Alaksa, spontaneously finds a legendary golden seal and her newborn pup. But the greed for her valuable pelt sets off the hunters, including his own father, the local natives, and an ambitious poacher in pursuit the seal. The golden seal and her cub are hunted for a huge bounty on her head and the mythological legend
1h 47m Drama
A successful artist looks back with loving memories on the summer of his defining year, 1974. A talented but troubled 18-year-old aspiring artist befriends a brilliant elderly alcoholic painter who has turned his back on not only art but life. The two form what appears to be at first a tenuous relationship. The kid wants to learn all the secrets the master has locked away inside his head and heart. Time has not been kind to the old master. His life appears pointless to him until the kid rekindles his interest in his work and ultimately gives him the will to live. Together, they give one another a priceless gift. The kid learns to see the world through the master's eyes. And the master learns to see life through the eyes of innocence again. This story is based on a real life experience.
1h 30m Drama
After an accident in a small Maryland fishing town, 11-year-old Emma begins to question the nature of the adults around her.
explore
Check out more list from our community