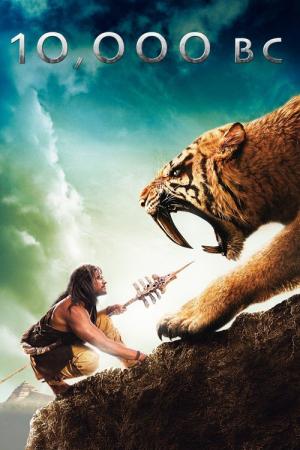 11 Best Movies Similar To ...
If you liked this one , you will for sure love these too! In this list we highlight some of the best films that share a very similar premise to '10,000 BC', and are worth checking out.
1h 45m Action Adventure History Romance Drama
In 79 A.D., Milo, a slave turned gladiator, finds himself in a race against time to save his true love Cassia, the beautiful daughter of a wealthy merchant who has been unwillingly betrothed to a corrupt Roman Senator. As Mount Vesuvius erupts in a torrent of blazing lava, Milo must fight his way out of the arena in order to save his beloved as the once magnificent Pompeii crumbles around him.
2h 19m Action Adventure Drama Thriller
Set in the Mayan civilization, when a man's idyllic presence is brutally disrupted by a violent invading force, he is taken on a perilous journey to a world ruled by fear and oppression where a harrowing end awaits him. Through a twist of fate and spurred by the power of his love for his woman and his family he will make a desperate break to return home and to ultimately save his way of life.
2h 5m History Action Adventure Drama
A falsely accused nobleman survives years of slavery to take vengeance on his best friend who betrayed him.
5.
The Beastmaster (1982)
1h 58m Fantasy Adventure Action
Dar, is the son of a king, who is hunted by a priest after his birth and grows up in another family. When he becomes a grown man his new father is murdered by savages and he discovers that he has the ability to communicate with the animals, which leads him on his quest for revenge against his father's killers.
7.
Exodus: Gods and Kings (2014)
2h 30m Adventure Drama Action
The defiant leader Moses rises up against the Egyptian Pharaoh Ramses, setting 400,000 slaves on a monumental journey of escape from Egypt and its terrifying cycle of deadly plagues.
8.
In the Heart of the Sea (2015)
2h 2m Thriller Drama Adventure Action History
In the winter of 1820, the New England whaling ship Essex is assaulted by something no one could believe—a whale of mammoth size and will, and an almost human sense of vengeance.
1h 43m Fantasy Action Adventure
In an ancient time when majestic fire-breathers soared through the skies, a knight named Bowen comes face to face and heart to heart with the last dragon on Earth, Draco. Taking up arms to suppress a tyrant king, Bowen soon realizes his task will be harder than he'd imagined: If he kills the king, Draco will die as well.
10.
Vertical Limit (2000)
2h 4m Action Thriller Drama Adventure
Trapped near the summit of K2, the world's second-highest mountain, Annie Garrett radios to base camp for help. Brother Peter hears Annie's message and assembles a team to save her and her group before they succumb to K2's unforgiving elements. But, as Annie lays injured in an icy cavern, the rescuers face several terrifying events that could end the rescue attempt -- and their lives.
11.
The Legend of Tarzan (2016)
1h 49m Fantasy Action Adventure Drama Romance
Tarzan, having acclimated to life in London, is called back to his former home in the jungle to investigate the activities at a mining encampment.
explore
Check out more list from our community