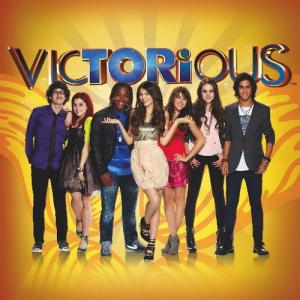 11 Best Shows Like Victorious ...
If you liked this one , you will definitely love these too! In this collection we highlight some of the best films that share a very similar mood to 'Victorious', and are worth checking out.
1h 38m Family Music Comedy Drama TV Movie Romance
When Mitchie gets a chance to attend Camp Rock, her life takes an unpredictable twist, and she learns just how important it is to be true to yourself.
23m Action & Adventure Comedy
The show follows the Jonas Brothers through fun and unusual situations as they try to live ordinary lives.
1h 30m Comedy Drama Family TV Movie
High school senior Tara is so painfully shy that she dreads speaking to anyone in the hallways or getting called on in class. But in the privacy of her bedroom with her iPod in hand, she rocks out -- doing mock broadcasts for Miami's hottest FM radio station, which happens to be owned by her stepfather. When a slot opens up at The SLAM, Tara surprises herself by blossoming behind the mike into confident, "Radio Rebel" -- and to everyone's shock, she's a hit!
1h 37m Drama Comedy Romance
In a world connected by YouTube, iTunes, and Facebook, Lola and her friends navigate the peer pressures of high school romance and friendship while dodging their sometimes overbearing and confused parents. When Lola's mom, Anne, "accidentally" reads her teenage daughter's racy journal, she realizes just how wide their communication gap has grown.
5.
Jem and the Holograms (2015)
1h 59m Drama Fantasy Music
As a small-town girl catapults from underground video sensation to global superstar, she and her three sisters begin a one-in-a-million journey of discovering that some talents are too special to keep hidden. Four aspiring musicians will take the world by storm when they see that the key to creating your own destiny lies in finding your own voice.
1h 30m Fantasy Drama Family
The story about Abby Jensen, a girl who's been eager to reach her 16th birthday and has kept a secret wish list since she was a little girl. When the Big Day actually arrives, utter disaster strikes, leaving Abby to think her birthday is ruined. But when a mysterious box of magical birthday candles arrives to turn things around, Abby's 16 Wishes start to come true. Her day gets better and better...until she makes one wish that threatens to change everything.
1h 50m Comedy Music
The popular Bratz dolls come to life in their first live-action feature film. Finding themselves being pulled further and further apart, the fashionable four band together to fight peer pressure, learn what it means to stand up for your friends, be true to oneself and live out your dreams.
1h 46m Drama Comedy
The story follows five disparate high school students - Olivia, Mo, Charlie, Stella, and Wen who meet in detention. They realize they are destined to rock, and ultimately form a band that becomes a champion for students sidelined by the high school elite.
9.
High School Musical (2006)
1h 38m Comedy Drama Family Music Romance TV Movie
Troy, the popular captain of the basketball team, and Gabriella, the brainy and beautiful member of the academic club, break all the rules of East High society when they secretly audition for the leads in the school's musical. As they reach for the stars and follow their dreams, everyone learns about acceptance, teamwork, and being yourself.
10.
A Cinderella Story: Once Upon a Song (2011)
1h 28m Comedy Family Romance
In this modern telling of the classic tale, aspiring singer Katie Gibbs falls for the new boy at her performing arts high school. But Katie's wicked stepmother and stepsister are scheming to crush her dream before she can sing her way into his heart.
23m Comedy
Sam & Cat is an American teen sitcom that premiered June 8, 2013, on Nickelodeon. It is a crossover spin-off/sequel of both iCarly and Victorious. It stars Jennette McCurdy as Sam Puckett and Ariana Grande as Cat Valentine. The girls meet by chance during a bizarre adventure and become roommates, then start a babysitting business to earn extra money.
explore
Check out more list from our community