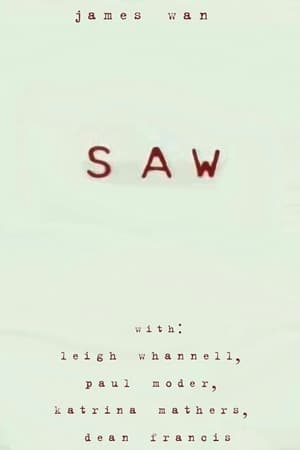 14 Best Movies Like Saw ...
If you liked this one , you will for sure love these too! In this list we highlight some of the best films that share a very similar premise to 'Saw', and are worth checking out.
1h 36m Horror Thriller Crime
Jigsaw and his apprentice Amanda are dead. Now, upon the news of Detective Kerry's murder, two seasoned FBI profilers, Agent Strahm and Agent Perez, arrive in the terrified community to assist the veteran Detective Hoffman in sifting through Jigsaw's latest grisly remains and piecing together the puzzle. However, when SWAT Commander Rigg is abducted and thrust into a game, the last officer untouched by Jigsaw has but ninety minutes to overcome a series of demented traps and save an old friend...or face the deadly consequences.
1h 46m Mystery Thriller Crime
Trainees in the FBI's psychological profiling program must put their training into practice when they discover a killer in their midst.
3.
Hostel: Part III (2011)
1h 28m Horror
Set in Las Vegas, the film centers on a man who attends his best friend's bachelor party, unaware of an insidious agenda that plays into hunting humans.
1h 29m Horror
When a new murder victim is discovered with all the signs of Jigsaw's hand, Detective Eric Matthews begins a full investigation and apprehends Jigsaw with little effort. But for Jigsaw, getting caught is just another part of his plan. Eight more of his victims are already fighting for their lives and now it's time for Matthews to join the game.
1h 30m Thriller Science Fiction Mystery
A group of strangers find themselves trapped in a maze-like prison. It soon becomes clear that each of them possesses the peculiar skills necessary to escape, if they don't wind up dead first.
1h 35m Horror Thriller Crime
Detective Hoffman is seemingly the last person alive to carry on the Jigsaw legacy. But when his secret is threatened, he must go on the hunt to eliminate all the loose ends.
1h 22m Horror Thriller
Arkin escapes with his life from the vicious grips of "The Collector" during an entrapment party where he adds beautiful Elena to his "Collection." Instead of recovering from the trauma, Arkin is suddenly abducted from the hospital by mercenaries hired by Elena's wealthy father. Arkin is blackmailed to team up with the mercenaries and track down The Collector's booby trapped warehouse and save Elena.
1h 29m Horror
Jamie returns to his hometown in search of answers to his wife's murder, which occurred after receiving a weird package containing a ventriloquist dummy named Billy, which may be linked to the legend of ventriloquist Mary Shaw. Destined to find out the truth, Jamie goes to the town of Raven's Fair, where Shaw used to perform and is buried. But Jamie is in for more than he expected.
10.
Hostel: Part II (2007)
1h 33m Horror
Three American college students studying abroad are lured to a Slovakian hostel, and discover the grim reality behind it.
1h 34m Drama Thriller Mystery
Paul is a U.S. truck driver working in Iraq. After an attack by a group of Iraqis he wakes to find he is buried alive inside a coffin. With only a lighter and a cell phone it's a race against time to escape this claustrophobic death trap.
1h 31m Horror Thriller
Eden Lake is a relentlessly tense and immaculately paced horror-thriller about modern youth gone wild. When a young couple goes to a remote wooded lake for a romantic getaway, their quiet weekend is shattered by an aggressive group of local kids. Rowdiness quickly turns to rage as the teens terrorize the couple in unimaginable ways, and a weekend outing becomes a bloody battle for survival.
14.
Friday the 13th Part 2 (1981)
1h 27m Horror Thriller
Five years after the horrible bloodbath at Camp Crystal Lake, it seems Jason Voorhees and his demented mother are in the past. Paul opens up a new camp close to the infamous site, ignoring warnings to stay away, and a sexually-charged group of counselors follow -- including child psychologist major Ginny. But Jason has been hiding out all this time, and now he's ready for revenge.
explore
Check out more list from our community