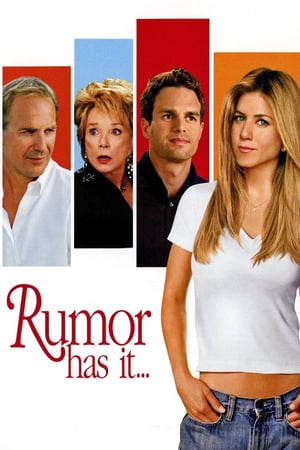 28 Best Movies Like Rumor Has It ...
If you liked this film , you will for sure love these too! In this collection we highlight some of the best films that share a very similar mood to '', and are worth checking out.
1.
She's the One (1996)
2.
Definitely, Maybe (2008)
1h 52m Comedy Romance
When Will decides to tell his daughter the story of how he met her mother, he discovers that a second look at the past might also give him a second chance at the future.
3.
He's Just Not That Into You (2009)
4.
Picture Perfect (1997)
1h 45m Comedy Romance
A young advertising executive's life becomes increasingly complicated when, in order to impress her boss, she pretends to be engaged to a man she has just met.
1h 45m Comedy Drama
The film centers on a big Polish family. Jadzia is the mother and the ruler of the Pzoniak family (she has five children). Though she's happily married to Bolek, she is also having a long-time affair with Roman. Her young daughter Hala is having an affair with neighbour cop Russell and becomes pregnant by him. Russell is pressed hard to marry Hala.
1h 37m Comedy Romance
A young woman escapes her wildly eccentric family in search for a life of normalcy.
1h 41m Comedy Romance Drama
An unmarried 40-year-old woman turns to a turkey baster in order to become pregnant. Seven years later, she reunites with her best friend, who has been living with a secret: he replaced her preferred sperm sample with his own.
8.
The Other Sister (1999)
2h 10m Comedy Drama Romance
A mentally challenged girl proves herself to be every bit as capable as her "perfect" sister when she moves into an apartment and begins going to college.
1h 31m Comedy Drama Romance
College coeds in New York City, Al, the son of a celebrity chef, and Imogen, a talented artist, become smitten the second they lay eyes on one another at a bar. However, the road to happiness is not a smooth one. Outside forces, including a predatory porn star who wants to lure Al into her bed, threaten to pull apart the young lovers before their romance has a chance to really flourish.
1h 42m Comedy Drama Romance
No sooner does Italian-American widow Loretta accept a marriage proposal from her doltish boyfriend, Johnny, than she finds herself falling for his younger brother, Ronny. She tries to resist, but Ronny lost his hand in an accident he blames on his brother, and has no scruples about aggressively pursuing her while Johnny is out of the country. As Loretta falls deeper in love, she comes to learn that she's not the only one in her family with a secret romance.
11.
Music from Another Room (1998)
1h 44m Comedy Drama Romance
Music From Another Room is a romantic comedy that follows the exploits of Danny, a young man who grew up believing he was destined to marry the girl he helped deliver as a five year old boy when his neighbor went into emergency labor. Twenty-five years later, Danny returns to his hometown and finds the irresistible Anna Swann but she finds it easy to resist him since she is already engaged to dreamboat Eric, a very practical match. In pursuit of Anna, Danny finds himself entangled with each of the eccentric Swanns including blind, sheltered Nina, cynical sister Karen, big brother Bill and dramatic mother Grace as he fights to prove that fate should never be messed with and passion should never be practical.
12.
The Jane Austen Book Club (2007)
1h 46m Comedy Romance
Six Californians start a club to discuss the works of Jane Austen. As they delve into Austen's literature, the club members find themselves dealing with life experiences that parallel the themes of the books they are reading.
13.
Playing by Heart (1998)
2h 1m Drama
Eleven articulate people work through affairs of the heart in L.A. Paul produces Hannah's TV cooking show. Mark is dying of AIDS. Men have scalded Meredith so she rebuffs Trent's charm, but he persists. The trendy, prolix Joan tries to pull the solitary Keenan into her orbit. An adulterous couple meet at hotels for evening sex. Hugh tells tall tales, usually tragic, to women in bars.
14.
The Object of My Affection (1998)
1h 51m Comedy Drama Romance
A pregnant New York social worker begins to develop romantic feelings for her gay best friend, and decides she'd rather raise her child with him, much to the dismay of her overbearing boyfriend.
15.
The Mirror Has Two Faces (1996)
2h 6m Comedy Drama Romance
Rose Morgan, who still lives with her mother, is a professor of Romantic Literature who desperately longs for passion in her life. Gregory Larkin, a mathematics professor, has been burned by passionate relationships and longs for a sexless union based on friendship and respect.
16.
Friends with Money (2006)
1h 28m Comedy Drama Romance
After she quits her lucrative job, Olivia finds herself unsure about her future and her relationships with her successful and wealthy friends.
1h 49m Comedy Romance
Two couples go to a mutual friends wedding, and end up swapping partners.
1h 47m Comedy Drama Romance
Straitlaced Princeton University admissions officer, Portia Nathan is caught off-guard when she makes a recruiting visit to an alternative high school overseen by her former college classmate, the freewheeling John Pressman. Pressman has surmised that Jeremiah, his gifted yet very unconventional student, might well be the son that Portia secretly gave up for adoption many years ago.
19.
I Could Never Be Your Woman (2007)
1h 37m Comedy Drama Romance
This movie follows a mother who falls for a younger man while her daughter falls in love for the first time. Mother Nature messes with their fates.
1h 42m Comedy Drama Romance
A career driven professional from Manhattan is wooed by a young painter, who also happens to be the son of her psychoanalyst.
21.
Something Borrowed (2011)
1h 52m Comedy Drama Romance
Though Rachel is a successful attorney and a loyal, generous friend, she is still single. After one drink too many at her 30th-birthday celebration, Rachel unexpectedly falls into bed with her longtime crush, Dex -- who happens to be engaged to her best friend, Darcy. Ramifications of the liaison threaten to destroy the women's lifelong friendship, while Ethan, Rachel's confidant, harbors a potentially explosive secret of his own.
1h 49m Drama Comedy Romance
After a one night stand with Alex, Isabel realizes that she is pregnant and they decide to get married. However, along with the marriage comes compromise of one's own cultural traditions.
1h 44m Comedy Drama Romance
Three teenage girls come of age while working at a pizza parlor in Mystic, Connecticut.
24.
How Do You Know (2010)
2h 1m Comedy Drama Romance
After being cut from the USA softball team and feeling a bit past her prime, Lisa finds herself evaluating her life and in the middle of a love triangle, as a corporate guy in crisis competes with her current, baseball-playing beau.
25.
He Said, She Said (1991)
1h 55m Comedy Drama Romance
Womanising, right-wing Dan Hanson and quiet, liberal Lorie Bryer work for the Baltimore Sun. Rivals for the job of new writer of a vacant column, the paper ends up instead printing their very different opinions alongside each other, which leads to a similarly combative local TV show. At the same time their initial indifference to each other looks like it may evolve into something more romantic.
26.
The Story of Us (1999)
1h 35m Comedy Drama Romance
Ben and Katie Jordan are a married couple who go through hard times in fifteen years of marriage.
1h 38m Drama Family Romance
Darcy, editor at her highschool paper, and her long-term boyfriend Stan are in their last months of school and already have found places in good colleges. Recently they started to sleep with each other and, surprise, surprise, Darcy gets pregnant. Neither Darcy's mother, who was left by her husband and had to bring up Darcy alone, nor Stan's catholic parents are very supportive and urge them to h
explore
Check out more list from our community