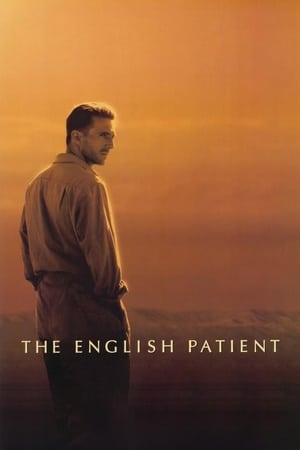 27 Best Movies Like The English Patient ...
If you liked this movie , you will probably love these too! In this list we highlight some of the best films that share a very similar mood to '', and are worth checking out.
2h 3m Drama Romance
As a 13-year-old, fledgling writer Briony Tallis irrevocably changes the course of several lives when she accuses her older sister's lover of a crime he did not commit.
2.
Suite Fran?aise (2014)
3.
The End of the Affair (1999)
1h 42m Drama
On a rainy London night in 1946, novelist Maurice Bendrix has a chance meeting with Henry Miles, husband of his ex-mistress Sarah, who abruptly ended their affair two years before. Bendrix's obsession with Sarah is rekindled; he succumbs to his own jealousy and arranges to have her followed.
4.
Wuthering Heights (1992)
1h 45m Drama Romance
Young orphan Heathcliff is adopted by the wealthy Earnshaw family and moves into their estate, Wuthering Heights. Soon, the new resident falls for his compassionate foster sister, Cathy. The two share a remarkable bond that seems unbreakable until Cathy, feeling the pressure of social convention, suppresses her feelings and marries Edgar Linton, a man of means who befits her stature. Heathcliff vows to win her back.
3h 3m War History Romance Drama
The lifelong friendship between Rafe McCawley and Danny Walker is put to the ultimate test when the two ace fighter pilots become entangled in a love triangle with beautiful Naval nurse Evelyn Johnson. But the rivalry between the friends-turned-foes is immediately put on hold when they find themselves at the center of Japan's devastating attack on Pearl Harbor on Dec. 7, 1941.
2h 4m Drama Romance
The story of Michael Berg, a German lawyer who, as a teenager in the late 1950s, had an affair with an older woman, Hanna, who then disappeared only to resurface years later as one of the defendants in a war crimes trial stemming from her actions as a concentration camp guard late in the war. He alone realizes that Hanna is illiterate and may be concealing that fact at the expense of her freedom.
7.
A Very Long Engagement (2004)
30m Documentary
We don't have an overview translated in English. Help us expand our database by adding one.
9.
Legends of the Fall (1994)
2h 13m Adventure Drama Romance War Western
An epic tale of three brothers and their father living in the remote wilderness of 1900s USA and how their lives are affected by nature, history, war, and love.
2h 34m Adventure Drama History Romance
In this classic story of love and devotion set against the backdrop of the American Civil War, a wounded Confederate soldier named W.P. Inman deserts his unit and travels across the South, aiming to return to his young wife, Ada, who he left behind to tend their farm. As Inman makes his perilous journey home, Ada struggles to keep their home intact with the assistance of Ruby, a mysterious drifter sent to help her by a kindly neighbor.
11.
Come See the Paradise (1990)
2h 13m Drama Romance History
Come See The Paradise is a deeply touching love story set against the backdrop of a dramatic and controversial period in American history, It follows the romance and eventual marriage of Jack McGurn (Dennis Quad), a hot blooded Irish American, and a beautiful Japanese American Lily Dawanura (Tamlyn Tomita), at the outset of World War II. The clash of cultures, at once painful for the two lovers, becomes insurmountable after the Japanese bomb Pearl Harbor. Lily and the Kawamuras are relocated To a bleak, outdoor internment camp in California, Jack is drafted into the Army, powerless to help the woman he loves abandoning all hope of ever winning her family's approval.
12.
The Unbearable Lightness of Being (1988)
2h 51m Comedy Romance Drama
Successful surgeon Tomas leaves Prague for an operation, meets a young photographer named Tereza, and brings her back with him. Tereza is surprised to learn that Tomas is already having an affair with the bohemian Sabina, but when the Soviet invasion occurs, all three flee to Switzerland. Sabina begins an affair, Tom continues womanizing, and Tereza, disgusted, returns to Czechoslovakia. Realizing his mistake, Tomas decides to chase after her.
13.
The Edge of Love (2008)
1h 50m Drama History Romance
When the Welsh poet Dylan Thomas and his flirtatious wife Caitlin sweep into war-torn London, the last thing they expect is to bump into Dylan's childhood sweetheart Vera. Despite her joy at seeing Dylan after so many years, Vera is swept off her feet by a dashing officer, William Killick, and finds herself torn between the open adoration of her new found beau and the wily charms of the exotic Welshman.
14.
Doctor Zhivago (1965)
3h 20m Drama Romance War
The life of a Russian physician and poet who, although married to another, falls in love with a political activist's wife and experiences hardship during World War I and then the October Revolution.
1h 51m Drama Romance
After she discovers that her boyfriend has betrayed her, Hilary O'Neil is looking for a new start and a new job. She begins to work as a private nurse for a young man suffering from blood cancer. Slowly, they fall in love, but they always know their love cannot last because he is destined to die.
16.
Brokeback Mountain (2005)
2h 14m Drama Romance
Two modern-day cowboys meet on a shepherding job in the summer of '63, the two share a raw and powerful summer together that turns into a lifelong relationship conflict
17.
The White Countess (2005)
2h 15m Drama History Family Romance
Iin 1930s Shanghai, 'The White Countess' is both Sofia—a fallen member of the Russian aristocracy—and a nightclub created by a blind American diplomat, who asks Sofia to be the centerpiece of the world he wants to create.
18.
Beyond Borders (2003)
2h 7m Drama Romance Adventure War
Beyond Borders is an epic tale of the turbulent romance between two star-crossed lovers set against the backdrop of the world's most dangerous hot spots. Academy Award winner Angelina Jolie stars as Sarah Jordan, an American living in London in 1984. She is married to Henry Bauford son of a wealthy British industrialist, when she encounters Nick Callahan a renegade doctor, whose impassioned plea for help to support his relief efforts in war-torn Africa moves her deeply. As a result, Sarah embarks upon a journey of discovery that leads to danger, heartbreak and romance in the far corners of the world.
19.
Romeo and Juliet (1968)
2h 18m Drama Romance
Director Franco Zeffirelli's beloved version of one of the most well-known love stories in the English language. Romeo Montague and Juliet Capulet fall in love against the wishes of their feuding families. Driven by their passion, the young lovers defy their destiny and elope, only to suffer the ultimate tragedy.
2h 3m Romance Drama
An epic love story centered around an older man who reads aloud to a woman with Alzheimer's. From a faded notebook, the old man's words bring to life the story about a couple who is separated by World War II, and is then passionately reunited, seven years later, after they have taken different paths.
1h 40m Drama Romance War
In 1941 America Kay and her husband are happy enough until he enlists after Pearl Harbor. Against his wishes, his wife takes a job at the local aircraft plant where she meets Hazel, the singer from across the way the two soon become firm friends and with the other girls become increasingly expert workers. As the war drags on Kay finally dates her trumpet playing foreman and life gets complicated
22.
Dark Blue World (2001)
1h 52m Action Drama War
Lt. Franta Slama is a top pilot in the Czech Air Force who is assigned to train a promising young flier, Karel Vojtisek, and they soon become friends. When Nazi Germany invades Czechoslovakia in 1939, they both reject the authority of their new leaders and escape to England where they join other Czech exiles in the RAF. While flying a mission over England, Karel crash lands and happens upon the farmhouse of Susan, a young woman whose husband is in the Navy. Karel soon falls head over heels for Susan but, while they enjoy a brief fling, in time Susan decides she prefers the company of the older and more worldly Franta. As Franta and Karel struggle to maintain their friendship despite their romantic rivalry.
23.
Map of the Human Heart (1992)
1h 44m Drama Romance
Happy young married couple Paige and Leo are, well, happy. Then a car accident puts Paige into a life-threatening coma. Upon awakening she has lost the previous five years of memories, including those of her beloved Leo, her wedding, a confusing relationship with her parents, or the ending of her relationship with her ex-fiance. Despite these complications, Leo endeavors to win her heart again and rebuild their marriage.
25.
For the Moment (1993)
1h 55m War Drama Romance Action
This Canadian film presents and old-fashioned war time romance. It is set during 1942 in Manitoba and traces the doomed affair between a young farmer's wife (Christianne Hirt) whose husband is fighting abroad and a dashing Australian pilot (Russell Crowe). The pilot has come to train in the British Commonwealth Air Training Plan of Canada. When the pilot, Lachlan, is not training, he is surreptitiously wooing Lill, the farmer's wife. At the other end of town, Betsy (Wanda Cannon) who supports her two kids by bootlegging, charges for her services. She gets involved with Zeek (Scott Kraft), an American flight instructor.
26.
The Lovers on the Bridge (1991)
2h 5m Drama Romance
Set against Paris' oldest bridge, the Pont Neuf, while it was closed for repairs, this film is a love story between two young vagrants: Alex, a would be circus performer addicted to alcohol and sedatives and Michele, a painter driven to a life on the streets because of a failed relationship and an affliction which is slowly turning her blind.
explore
Check out more list from our community