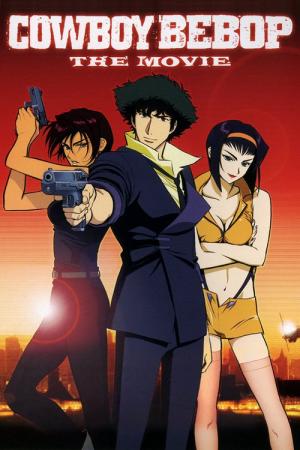 10 Best Movies Like Cowboy Bebop ...
If you liked this one , you will probably love these too! In this collection we highlight some of the best films that share a very similar premise to 'Cowboy Bebop: The Movie', and are worth checking out.
For Brandon Heat, death doesn't matter. Driven by his need for revenge, he returns from beyond the grave to cripple Milleneon, the huge mafia organization which uses undead monsters as its enforcers. His ultimate goal is to destroy Harry MacDowel, the leader of Milleneon and, at one time, Brandon's best friend...
25m
Creator: Yasuhiro Nightow
Animation Action & Adventure Crime Drama
In 2071, roughly fifty years after an accident with a hyperspace gateway made the Earth almost uninhabitable, humanity has colonized most of the rocky planets and moons of the Solar System. Amid a rising crime rate, the Inter Solar System Police (ISSP) set up a legalized contract system, in which registered bounty hunters (also referred to as "Cowboys") chase criminals and bring them in alive in return for a reward.
25m
Creator: Shinichiro Watanabe
Action & Adventure Animation Crime Drama Sci-Fi & Fantasy
A secret military project endangers Neo-Tokyo when it turns a biker gang member into a rampaging psychic psychopath that only two teenagers and a group of psychics can stop.
2h 4m
Author, Director, Screenplay: Katsuhiro Otomo
Director: Takashi Nakamura
Screenplay: Izo Hashimoto
Animation Science Fiction Action
An elite superhuman agent must stop a foreign military unit from seizing control of an ancient artifact that holds the key to ultimate power.
1h 30m
Director, Writer: Hirotsugu Kawasaki
Writer: Yasutaka Itô
Action Animation Science Fiction
5.
Ghost in the Shell 2.0 (2008)
In the year 2029, Section 9, a group of cybernetically enhanced cops, are called in to investigate and stop a highly-wanted hacker known as 'The Puppetmaster'. Ghost in the Shell 2.0 is a reproduced version of its original 1995 counterpart. Among a numerous enhancements, for the film's 2.0 release, were a number of scenes were overhauled with 3D animation, visual improvements, and soundtrack rerecorded in 6.1 surround sound.
1h 25m
Director: Mamoru Oshii
Novel: Masamune Shirow
Screenplay: Kazunori Ito
Action Animation Science Fiction
6.
Ghost in the Shell 2: Innocence (2004)
Groundbreaking director Mamoru Oshii continues to push the boundaries of art and anime with this universally acclaimed cyber thriller following cyborg detective Batou as he tries to unravel the reasons for a murderous robot revolt in the year 2032. A quest for a killer that becomes a mind bending search for the meaning of life.
1h 40m
Director, Screenplay: Mamoru Oshii
Animation Drama Science Fiction
7.
Vampire Hunter D: Bloodlust (2000)
D has been hired to track down Meier Link, a notoriously powerful vampire who has abducted a woman, Charlotte Elbourne. D's orders are strict - find Charlotte, at any cost. For the first time, D faces serious competition. The Markus Brothers, a family of Vampire Hunters, were hired for the same bounty. D Must intercept Meier and conquer hostile forces on all sides in a deadly race against time.
1h 43m
Director, Screenplay: Yoshiaki Kawajiri
Novel: Hideyuki Kikuchi
Animation Fantasy Horror Action
8.
Batman: Assault on Arkham (2014)
Batman works desperately to find a bomb planted by the Joker while Amanda Waller sends her newly-formed Suicide Squad to break into Arkham Asylum and recover vital information stolen by the Riddler.
1h 15m
Director: Ethan Spaulding
Director: Jay Oliva
Writer: Heath Corson
Thriller Animation Action Crime
Jubei is a masterless ninja who travels the land alone, lending his services to those with gold—or a worthy cause. His fearsome abilities have served him well, but a plot to overthrow the government threatens to end his wandering ways—and possibly his life.
1h 34m
Director, Screenplay: Yoshiaki Kawajiri
Fantasy Adventure Animation
10.
Batman: Year One (2011)
When Bruce Wayne and James Gordon move to Gotham City, the idealistic Wayne declares war on the city's criminals, swiftly becoming Batman in the process.
1h 4m
Characters: Bill Finger
Characters: Bob Kane
Director: Sam Liu
Director: Lauren Montgomery
Screenplay: Tab Murphy
Action Adventure Animation Crime
explore
Check out more list from our community