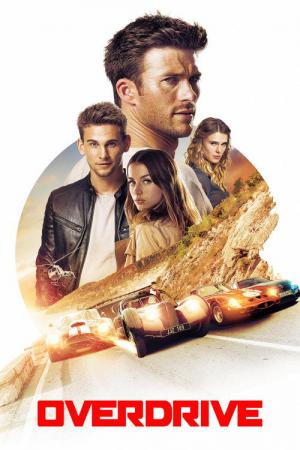 28 Best Movies Like Overdrive ...
If you liked this film , you will definitely love these too! In this selection we highlight some of the best films that share a very similar premise to '', and are worth checking out.
1h 47m Action Crime
Career criminal Youngblood Priest wants out of the Atlanta drug scene, but as he ramps up sales, one little slip up threatens to bring the whole operation down before he can make his exit.
2.
Mission: Impossible - Fallout (2018)
2h 27m Action Adventure
When an IMF mission ends badly, the world is faced with dire consequences. As Ethan Hunt takes it upon himself to fulfill his original briefing, the CIA begin to question his loyalty and his motives. The IMF team find themselves in a race against time, hunted by assassins while trying to prevent a global catastrophe.
1h 31m Action Adventure Comedy Crime Drama
Billy Wong is a New York City cop whose partner is gunned down during a robbery. Billy and his new partner, Danny Garoni, are working security at a fashion show when a wealthy man's daughter, Laura Shapiro, is kidnapped. The Federal authorities suspect that Laura's father is involved with Mr. Ko, a Hong Kong drug kingpin, so the NYC police commissioner sends the two cops to Hong Kong to investigate.
4.
The Hunter's Prayer (2017)
1h 31m Action Thriller
An assassin forges an unlikely partnership with one of his targets: a woman seeking revenge for the murder of her family.
5.
S.W.A.T.: Under Siege (2017)
1h 29m Action Crime Thriller
When a D.E.A. and S.W.A.T. cartel takedown ends in a shootout, S.W.A.T. Agent Travis Hall seizes a mysterious prisoner taking him into custody. Before long, the S.W.A.T. compound is under siege by wave-after-wave of assault teams attempting to recover the prisoner known as "The Scorpion" for the tattoo blazed across his back. When Travis discovers that his prisoner is a Secret Ops double agent planted within the cartel, it's up to him and his expert S.W.A.T. team to keep "The Scorpion" and his billion dollar secrets safe.
1h 32m Action Crime Drama Thriller
A man is out for justice after a group of corrupt police officers are unable to catch his wife's killer.
1h 34m Action Thriller
A British Special Boat Service commando tracks down an international terrorist cell.
2h 8m Action Thriller Comedy
After faking his death, a tech billionaire recruits a team of international operatives for a bold and bloody mission to take down a brutal dictator.
9.
American Assassin (2017)
1h 52m Action Thriller
Following the murder of his fiancée, Mitch Rapp trains under the instruction of Cold War veteran Stan Hurley. The pair then is enlisted to investigate a wave of apparently random attacks on military and civilian targets.
10.
Contract to Kill (2016)
1h 30m Adventure Action
Harmon is a CIA/DEA enforcer investigating Arab terrorists captured in Mexico. With his team--seductive FBI agent Zara and spy-drone pilot Sharp--he flies to Istanbul and uncovers a brutal plot: Islamic extremists plan to use Sonora drug-smuggling routes to bring deadly weapons, and leaders, into the U.S. To prevent an attack on America, Harmon must turn these two savage forces against one another before his time--and his luck--run out.
11.
Precious Cargo (2016)
1h 39m Action Crime Thriller
After a botched heist, Eddie a murderous crime boss, hunts down the seductive thief Karen who failed him. In order to win back Eddie's trust, Karen recruits her ex-lover and premier thief Jack to steal a cargo of rare precious gems. But when the job goes down, allegiances are betrayed and lines are crossed as Jack, Karen, and Eddie face off in a fateful showdown.
12.
The Condemned 2 (2015)
1h 44m Action Thriller
Forced into a deadly cat-and-mouse game, a disgraced mixed martial arts fighter is hunted through the jungles of Southeast Asia.
14.
Gone in Sixty Seconds (2000)
1h 58m Action Crime Thriller
Upon learning that he has to come out of retirement to steal 50 cars in one night to save his brother Kip's life, former car thief Randall "Memphis" Raines enlists help from a few "boost happy" pals to accomplish a seemingly impossible feat. From countless car chases to relentless cops, the high-octane excitement builds as Randall swerves around more than a few roadblocks to keep Kip alive.
1h 28m Thriller Action Drama
When the daughter of veteran 911 call center operator Pamela, and her estranged husband Jeremy, a Senior Police Officer, is kidnapped and held hostage, they are left desperate, with no choice but to follow the kidnapper's rules: send messages through dispatch for all police and fire units to scatter to remote locations throughout the city where they are met with chaos. Not knowing who or why, the one thing they do know is if they fail to discreetly collaborate with one another - they will be solely responsible for facilitating the biggest crime in the city's history. Now they must race against the clock to make the choice of their lives - save the city - or save their daughter.
1h 27m Action Crime Thriller
A mall security guard—and former federal agent—crosses paths with a drug kingpin's enforcer after the guard saves a woman from danger.
1h 26m Action Thriller
A nurse is forced to spring a wounded murder suspect from the hospital when the man's brother kidnaps his pregnant wife and wants to make a trade.
1h 56m Drama Action Thriller
Tyler Rake, a fearless mercenary who offers his services on the black market, embarks on a dangerous mission when he is hired to rescue the kidnapped son of a Mumbai crime lord.
1h 23m Action Thriller
When a former CIA operative is kidnapped by a group of terrorists, his son learns there is no plan for his father to be saved—so he launches his own rescue operation.
20.
Jack Reacher: Never Go Back (2016)
1h 58m Action
Jack Reacher must uncover the truth behind a major government conspiracy in order to clear his name. On the run as a fugitive from the law, Reacher uncovers a potential secret from his past that could change his life forever.
1h 36m Thriller Action
A crime syndicate places a hit on a billionaire's daughter, making her the target of an elite assassin squad. A small band of down-and-out mercenaries protects her, fighting tooth and nail to stop the assassins from reaching their target.
1h 36m Action Crime Thriller
When Alex, an infiltration expert with a secret past, accidentally reveals her identity during what should have been a routine heist, she quickly finds herself mixed up in a government conspiracy and entangled in a deadly game of cat-and-mouse with a master assassin and his team of killers. Armed with her own set of lethal skills, Alex looks to exact revenge for her murdered friends while uncovering the truth.
1h 38m Thriller Action Crime
Frank Penny is a disgraced cop looking for a shot at redemption. When the police chief's 11-year-old daughter is abducted, Frank goes rogue to try and save her. But to find the girl, Frank will need the help of Ava Brooks, whose live-streaming news channel is broadcasting Frank's every move.
24.
The Marine 5: Battleground (2017)
1h 31m Action
While working as an EMT back stateside Jake Carter after responding to a distress call, finds himself caught up protecting a person of interest from a biker gang ruthlessly hunting them down.
1h 38m Thriller Action
An American backpacker gets involved with a ring of drug smugglers as their driver, and winds up on the run from his employers across Munich's autobahns.
1h 35m Action Crime Thriller
Undercover Las Vegas police officer Vincent Downs, who has got a lot of enemies, is caught in a high stakes web of corrupt cops and the mob-controlled casino underground. When a heist goes wrong, a crew of homicidal gangsters gets T, Downs' teenage son. In one sleepless night, he will have to rescue his son T (who they got), evade an internal affairs investigation and bring the kidnappers to justice.
27.
The Hitman's Bodyguard (2017)
1h 58m Thriller Comedy Crime Action
The world's top bodyguard gets a new client, a hit man who must testify at the International Court of Justice. They must put their differences aside and work together to make it to the trial on time.
explore
Check out more list from our community