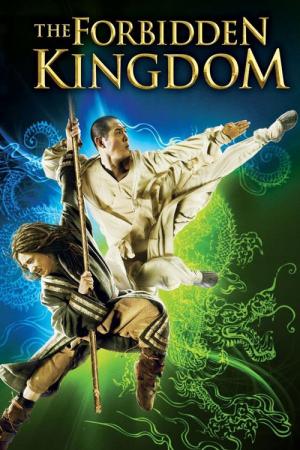 10 Best Movies Like Forbidden Kingdom ...
If you liked this one , you will probably love these too! In this selection we highlight some of the best films that share a very similar premise to 'The Forbidden Kingdom', and are worth checking out.
1.
Journey to the West (2013)
1h 50m Action Fantasy Adventure Comedy
In a world plagued by demons who cause great human suffering, young demon hunter Xuan Zang risks his all to conquer a water demon, a pig demon and the demon of all demons, Sun Wukong.
2.
The Lord of the Rings: The Fellowship of the Ring (2001)
2h 59m Adventure Fantasy Action
Young hobbit Frodo Baggins, after inheriting a mysterious ring from his uncle Bilbo, must leave his home in order to keep it from falling into the hands of its evil creator. Along the way, a fellowship is formed to protect the ringbearer and make sure that the ring arrives at its final destination: Mt. Doom, the only place where it can be destroyed.
3.
Crouching Tiger, Hidden Dragon: Sword of Destiny (2016)
1h 43m Action Adventure Drama
A story of lost love, young love, a legendary sword and one last opportunity at redemption.
4.
The Chronicles of Narnia: Prince Caspian (2008)
2h 30m Adventure Family Fantasy
One year after their incredible adventures in the Lion, the Witch and the Wardrobe, Peter, Edmund, Lucy and Susan Pevensie return to Narnia to aid a young prince whose life has been threatened by the evil King Miraz. Now, with the help of a colorful cast of new characters, including Trufflehunter the badger and Nikabrik the dwarf, the Pevensie clan embarks on an incredible quest to ensure that Narnia is returned to its rightful heir.
5.
The Monkey King 2 (2016)
2h Action Adventure Fantasy
Taking place 500 years after the Havoc in Heaven, the Tang Priest is appointed by Buddha to go to the West to fetch the sacred scriptures, only to accidentally free the Monkey King. With Lady White (Gong Li) aiming to break up the team assembled to defeat her, the Monkey King must fight in order to save his world!
6.
Percy Jackson: Sea of Monsters (2013)
1h 46m Adventure Family Fantasy
In their quest to confront the ultimate evil, Percy and his friends battle swarms of mythical creatures to find the mythical Golden Fleece and to stop an ancient evil from rising.
7.
Bulletproof Monk (2003)
1h 44m Action Comedy Fantasy
A mysterious and immortal Tibetan kung fu master, who has spent the last 60 years traveling around the world protecting the ancient Scroll of the Ultimate, mentors a selfish street kid in the ancient intricacies of kung fu.
8.
Crouching Tiger, Hidden Dragon (2000)
2h Adventure Drama Action Romance
Two warriors in pursuit of a stolen sword and a notorious fugitive are led to an impetuous, physically-skilled, teenage nobleman's daughter, who is at a crossroads in her life.
9.
Circus of the Freak (2009)
1h 49m Adventure Fantasy Action Thriller
Darren Shan is a regular teenage kid. He and his friend Steve find out about a Freak Show coming to town and work hard at trying to find tickets. They do, and together they go to "Cirque du Freak" where they see many strange acts including a wolf-man and a bearded lady
1h 42m Adventure Fantasy
John Gregory, who is a seventh son of a seventh son and also the local spook, has protected the country from witches, boggarts, ghouls and all manner of things that go bump in the night. However John is not young anymore, and has been seeking an apprentice to carry on his trade. Most have failed to survive. The last hope is a young farmer's son named Thomas Ward. Will he survive the training to become the spook that so many others couldn't?
explore
Check out more list from our community