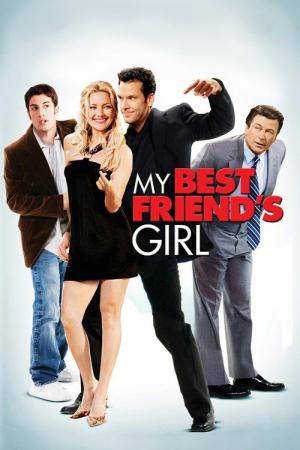 12 Best Movies Like My Best Friend ...
If you liked this movie , you will definitely love these too! In this collection we highlight some of the best films that share a very similar mood to 'My Best Friend's Girl', and are worth checking out.
1h 41m Comedy Romance
Tom and Hannah have been platonic friends for 10 years. He's a serial dater, while she wants marriage but hasn't found Mr. Right. Just as Tom is starting to think that he is relationship material after all, Hannah gets engaged. When she asks Tom to be her 'maid' of honor, he reluctantly agrees just so he can attempt to stop the wedding and woo her.
1h 51m Comedy Romance
Altruistic Jane finds herself facing her worst nightmare as her younger sister announces her engagement to the man Jane secretly adores.
1h 41m Comedy Romance
Paul Morse is a good guy. When his friends throw him a wild bachelor party, he just wants to keep his conscience clean -- which is why he's shocked when he wakes up in bed with a beautiful girl named Becky and can't remember the night before. Desperate to keep his fiancée, Karen, from finding out what may or may not be the truth, he tells her a teensy lie. Soon his lies are spiraling out of control and his life is a series of comical misunderstandings.
1h 30m Comedy Romance Drama
Although strangers Sara and Jonathan are both already in relationships, they realize they have genuine chemistry after a chance encounter – but part company soon after. Years later, they each yearn to reunite, despite being destined for the altar. But to give true love a chance, they have to find one another again.
5.
You, Me and Dupree (2006)
1h 48m Comedy Romance
After standing in as best man for his longtime friend Carl Petersen, Randy Dupree loses his job, becomes a barfly and attaches himself to the newlywed couple almost permanently -- as their houseguest. But the longer Dupree camps out on their couch, the closer he gets to Carl's bride, Molly, leaving the frustrated groom wondering when his pal will be moving out.
1h 31m Comedy Fantasy Romance
After fishing out coins from a water fountain in Italy, cynical New Yorker Beth Harper finds herself being wooed by several ardent suitors. As she deals with the attention, Beth tries to figure out whether a charming reporter really loves her.
8.
That Awkward Moment (2014)
1h 34m Comedy Romance
Best pals Jason and Daniel indulge in casual flings and revel in their carefree, unattached lives. After learning that the marriage of their friend Mikey is over, they gladly welcome him back into their circle. The three young men make a pact to have fun and avoid commitment. However, when all three find themselves involved in serious relationships, they must keep their romances secret from one another.
9.
The Heartbreak Kid (2007)
1h 56m Comedy Romance
Eddie, the 40-year-old confirmed bachelor finally says "I do" to the beautiful and sexy Lila. But during their honeymoon in Mexico, the woman of his dreams turns out to be a total nightmare, and the guy who could never pull the trigger realizes he's jumped the gun.
10.
Just Go with It (2011)
1h 57m Comedy Romance
A plastic surgeon, romancing a much younger schoolteacher, enlists his loyal assistant to pretend to be his soon to be ex-wife, in order to cover up a careless lie. When more lies backfire, the assistant's kids become involved, and everyone heads off for a weekend in Hawaii that will change all their lives.
1h 33m Comedy Romance
Lance Valenteen (David Boreanaz) makes a living as "Mr. Fix It," a man who gets hired by men that have just recently been dumped by their girlfriend. Lance dates the guys' ex-girlfriend and becomes the worst date possible, sending the girl back into her ex-boyfriends arms. But when Lance gets hired by Bill Smith (Pat Healy) to get Sophia Fiori (Alana De La Garza) back, Lance, for the first time, starts falling for one of his marks.
1h 20m Comedy Romance
Playboy Thomas Fuentes has so far been able to skate by in life on good looks and charm alone. But when his duplicitous relationships with three women -- impassioned waitress Cici, meticulous lawyer Lorena and bored socialite Patricia -- spiral out of control, he suffers a mental breakdown. His doctor recommends that he choose just one girlfriend -- but can he choose in time before they discover his deception?
explore
Check out more list from our community