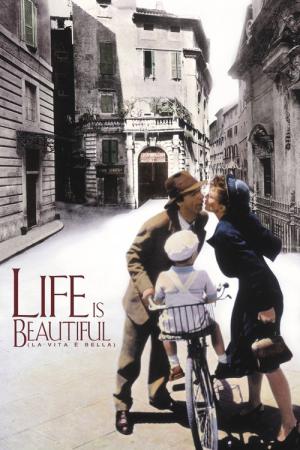 25 Best Movies Like Life Is Beautiful ...
If you liked this movie , you will definitely love these too! In this selection we highlight some of the best films that share a very similar premise to '', and are worth checking out.
1.
Schindler's List (1993)
The true story of how businessman Oskar Schindler saved over a thousand Jewish lives from the Nazis while they worked as slaves in his factory during World War II.
2.
The Boy in the Striped Pajamas (2008)
When his family moves from their home in Berlin to a strange new house in Poland, young Bruno befriends Shmuel, a boy who lives on the other side of the fence where everyone seems to be wearing striped pajamas. Unaware of Shmuel's fate as a Jewish prisoner or the role his own Nazi father plays in his imprisonment, Bruno embarks on a dangerous journey inside the camp's walls.
The true story of pianist Władysław Szpilman's experiences in Warsaw during the Nazi occupation. When the Jews of the city find themselves forced into a ghetto, Szpilman finds work playing in a café; and when his family is deported in 1942, he stays behind, works for a while as a laborer, and eventually goes into hiding in the ruins of the war-torn city.
2h 11m Drama
While subjected to the horrors of WWII Germany, young Liesel finds solace by stealing books and sharing them with others. Under the stairs in her home, a Jewish refugee is being sheltered by her adoptive parents.
In 1944 Poland, a Jewish shop keeper named Jakob is summoned to ghetto headquarters after being caught out after curfew. While waiting for the German Kommondant, Jakob overhears a German radio broadcast about Russian troop movements. Returned to the ghetto, the shopkeeper shares his information with a friend and then rumors fly that there is a secret radio within the ghetto.
7.
Out of the Ashes (2003)
8.
The Tiger and the Snow (2005)
9.
The Shop on Main Street (1965)
In a small town in Nazi-occupied Slovakia during World War II, decent but timid carpenter Tono is named "Aryan comptroller" of a button store owned by an old Jewish widow, Rozalie. Since the post comes with a salary and standing in the town's corrupt hierarchy, Tono wrestles with greed and guilt as he and Rozalie gradually befriend each other. When the authorities order all Jews in town to be rounded up, Tono faces a moral dilemma unlike any he's known before.
10.
Divided We Fall (2000)
In Nazi occupied Czechoslovakia, a childless couple agree to hide a Jewish friend at great personal risk of discovery and execution.
12.
The Devil's Arithmetic (1999)
2h 18m Drama War Romance Western
Ride with the Devil follows four people who are fighting for truth and justice amidst the turmoil of the American Civil War. Director Ang Lee takes us to a no man's land on the Missouri/Kansas border where a staunch loyalist, an immigrant's son, a freed slave, and a young widow form an unlikely friendship as they learn how to survive in an uncertain time. In a place without rules and redefine the meaning of bravery and honor.
13.
Seven Beauties (1975)
14.
The Garden of the Finzi-Continis (1970)
When Ruth's husband dies in New York, in 2000, she imposes strict Jewish mourning, which puzzles her children. A stranger comes to the house - Ruth's cousin - with a picture of Ruth, age 8, in Berlin, with a woman the cousin says helped Ruth escape. Hannah, Ruth's daughter engaged to a gentile, goes to Berlin to find the woman, Lena Fisher, now 90. Posing as a journalist investigating intermarriage, Hannah interviews Lena who tells the story of a week in 1943 when the Jewish husbands of Aryan women were detained in a building on Rosenstrasse. The women gather daily for word of their husbands. The film goes back and forth to tell Ruth and Lena's story. How will it affect Hannah?
An Hungarian youth comes of age at Buchenwald during World War II. György Köves is 14, the son of a merchant who's sent to a forced labor camp. After his father's departure, György gets a job at a brickyard; his bus is stopped and its Jewish occupants sent to camps. There, György find camaraderie, suffering, cruelty, illness, and death. He hears advice on preserving one's dignity and self-esteem. He discovers hatred. If he does survive and returns to Budapest, what will he find? What is natural; what is it to be a Jew? Sepia, black and white, and color alternate to shade the mood.
A Nazi doctor—along with the Sonderkomando, Jews who are forced to work in the crematoria of Auschwitz against their fellow Jews—find themselves in a moral grey zone.
18.
The Secret of Santa Vittoria (1969)
Lore leads her four younger siblings across a war-torn Germany in 1945. Amidst the chaos she encounters a mysterious refugee who shatters her fragile reality with hatred and desire.
21.
Tea with Mussolini (1999)
The true story of Dr. Hunter "Patch" Adams, who in the 1970s found that humor is the best medicine, and was willing to do just anything to make his patients laugh—even if it meant risking his own career.
23.
Adam Resurrected (2008)
Before the war, in Berlin, Adam was an entertainer- cabaret impresario, magician, musician-loved by all until he finds himself in a concentration camp, confronted by Commandant Klein. Adam survives the camp by becoming the Klein's "dog", entertaining him while his wife and daughter are sent off to die. "Adam Resurrected" is the story of a man who once was a dog who meets a dog who once was a boy.
explore
Check out more list from our community