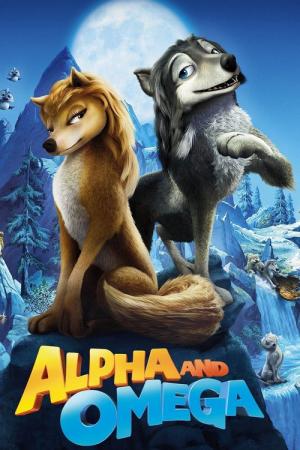 14 Best Movies Like Alpha And Omega ...
If you liked this one , you will definitely love these too! In this list we highlight some of the best films that share a very similar premise to 'Alpha and Omega', and are worth checking out.
1h 48m Animation Comedy Family
Into the world of the Emperor Penguins, who find their soul mates through song, a penguin is born who cannot sing. But he can tap dance something fierce!
2.
The Hairy Tooth Fairy 2 (2008)
1h 30m Animation Family
Eight year old Lucas would like to know how the Tooth Fairy exchanges coins for teeth without getting caught. He is determined to stay awake all night to find out. Meanwhile, a little mouse falls into a trap set by a dishonest contractor who is desperate to tell the world his secret, that the mouse is the Tooth Fairy. Lucas and his family has to do everything in their power to help the sweet little mouse with its mission, which since time immemorial, is to make children happy...
1h 23m Comedy Animation Adventure Family
Set in a bustling bird city on the edge of the majestic Victoria Falls, "Zambezia" is the story of Kai - a naïve, but high-spirited young falcon who travels to the bird city of "Zambezia" where he discovers the truth about his origins and, in defending the city, learns how to be part of a community.
1h 38m Animation Family Adventure Comedy
Bolt is the star of the biggest show in Hollywood. The only problem is, he thinks it's real. After he's accidentally shipped to New York City and separated from Penny, his beloved co-star and owner, Bolt must harness all his "super powers" to find a way home.
1h 36m Animation Adventure Comedy Family
Captured by smugglers when he was just a hatchling, a macaw named Blu never learned to fly and lives a happily domesticated life in Minnesota with his human friend, Linda. Blu is thought to be the last of his kind, but when word comes that Jewel, a lone female, lives in Rio de Janeiro, Blu and Linda go to meet her. Animal smugglers kidnap Blu and Jewel, but the pair soon escape and begin a perilous adventure back to freedom -- and Linda.
6.
The Book of Life (2014)
1h 35m Animation Adventure Comedy Family Fantasy
The journey of Manolo, a young man who is torn between fulfilling the expectations of his family and following his heart. Before choosing which path to follow, he embarks on an incredible adventure that spans three fantastical worlds where he must face his greatest fears.
1h 25m Animation Adventure Family
A half-striped zebra is blamed for the drought and leaves his herd in search of his missing stripes. He is joined on his quest by an overprotective wildebeest and a flamboyant ostrich; they defeat the tyrannical leopard and save his herd.
1h 33m Animation Family Comedy
A group of animals waiting for the annual flood they rely on for food and water discover that the humans, who have been destroying their habitats have built a dam for a leisure resort. The animals endeavour to save the delta and send a message to the humans not to interfere with nature.
9.
A Turtle's Tale: Sammy's Adventures (2010)
1h 28m Animation Family
A sea turtle who was hatched in 1959 spends the next 50 years traveling the world while it is being changed by global warming. Born on a Baja, California beach in 1959, new hatchling Sammy must do what his fellow newborn sea turtles are doing: race across the beach to the ocean before they are captured by a seagull or crab. Thus begins Sammy's incredible fifty-year ocean journey. Along the way he meets his best friend, a fellow turtle named Ray, and overcomes obstacles both natural and man-made while trying to fulfill his dream of travelling around the world. Throughout his voyage, Sammy never forgets about Shelly - the turtle he saved on his first day and loves passionately from afar. Based on the actual trajectory of a sea turtle's life, the film illustrates the dangers humans pose to the species' survival. The film combines entertainment with an important environmental message.
1h 15m Adventure Animation Family Comedy
Boog, Elliot, and their forest friends return with an all-new adventure, this time in a Big Top Circus! The comedy begins when Boog's pals choose their family obligations over the annual guy's trip, and a disappointed Boog decides to take a trip of his own, which leads him right into the middle of a circus ring...literally. When he switches places with a devious look-a-like circus grizzly and falls for an alluring Russian troupe member, he'll come to realize that maybe you don't have to choose between family and friendship after all.
11.
Snowflake, the White Gorilla (2011)
1h 26m Animation Adventure Comedy Family
Snowflake is special, he's the only white gorilla in the world. He is the zoo's main attraction, children love him, but the other gorillas don't see what's so charming about this weirdo being the center of attention. With the help of Ailur, a Buddhist black panther reincarnated into the body of a red panda, and Paula, a smart little girl, Snowflake plans a sneak visit to the witch at the circus. She can help him be a normal gorilla. But outside the safety of the zoo's walls, the three friends are in danger. Thomas, a total jinx, is convinced that the white gorilla is the amulet he needs to counter his bad luck. This cruel and superstitious man is prepared to do whatever it takes to capture Snowflake.
12.
Madagascar 3: Europe's Most Wanted (2012)
1h 33m Animation Family Comedy Adventure
Animal pals Alex, Marty, Melman, and Gloria are still trying to make it back to New York's Central Park Zoo. They are forced to take a detour to Europe to find the penguins and chimps who broke the bank at a Monte Carlo casino. When French animal-control officer Capitaine Chantel DuBois picks up their scent, Alex and company are forced to hide out in a traveling circus.
13.
Ice Age: Continental Drift (2012)
1h 28m Animation Comedy Adventure Family
Manny, Diego, and Sid embark upon another adventure after their continent is set adrift. Using an iceberg as a ship, they encounter sea creatures and battle pirates as they explore a new world.
1h 26m Animation Family Adventure Comedy
Boog, a domesticated 900lb. Grizzly bear finds himself stranded in the woods 3 days before Open Season. Forced to rely on Elliot, a fast-talking mule deer, the two form an unlikely friendship and must quickly rally other forest animals if they are to form a rag-tag army against the hunters.
explore
Check out more list from our community