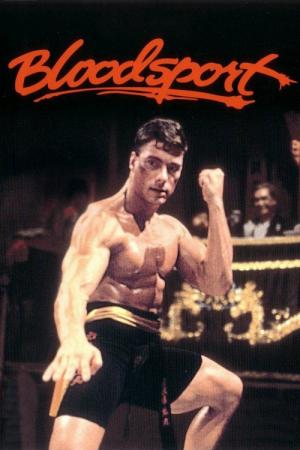 27 Best Movies Like Bloodsport ...
If you liked this one , you will probably love these too! In this collection we highlight some of the best films that share a very similar mood to '', and are worth checking out.
1h 37m Action Thriller
If your enemy refuses to be humbled... Destroy him. Accompanied by his brother Kurt (Van Damme), American kickboxing champion Eric Sloane (Dennis Alexio), arrives in Thailand to defeat the Eastern warriors at their own sport. His opponent: ruthless fighter and Thai champion, Tong Po. Tong not only defeats Eric, he paralyzes him for life. Crazed with anger, Kurt vows revenge.
1h 30m Action Thriller
After thief Alex Cardo gets caught while stealing an ancient katana in East Asia, he soon finds himself imprisoned and beaten up by the crowd there. One of the guards, Demon, feels upset by Alex appearance and tortures him as often as he gets the opportunity. Alex finds a friend and mentor in the jailhouse, Master Sun, who teaches him a superior fighting style called Iron Hand. When a 'best of the best kumite' is to take place, Demon gets an invitation. Now Master Sun and Alex need to find a way to let Alex take part in the kumite too.
4.
Enter the Dragon (1973)
1h 42m Action
A martial artist agrees to spy on a reclusive crime lord using his invitation to a tournament there as cover.
1h 45m Action
Lyon Gaultier is a deserter in the Foreign Legion arriving in the USA entirely hard up. He finds his brother between life and death and his sister-in-law without the money needed to heal her husband and to maintain her child. To earn the money needed, Gaultier decides to take part in some very dangerous clandestine fights.
6.
Best of the Best II (1993)
7.
Never Back Down: No Surrender (2016)
1h 41m Drama Action
Picking up after the events of Never Back Down 2, former MMA champion Case Walker is on the comeback trail to become champion once again.
1h 37m Action Adventure Crime Thriller Drama
When a woman's father goes missing, she enlists a local to aid in her search. The pair soon discover that her father has died at the hands of a wealthy sportsman who hunts homeless men as a form of recreation.
1h 31m Drama
After iron man Drago, a highly intimidating 6-foot-5, 261-pound Soviet athlete, kills Apollo Creed in an exhibition match, Rocky comes to the heart of Russia for 15 pile-driving boxing rounds of revenge.
1h 39m Drama
Now the world champion, Rocky Balboa is living in luxury and only fighting opponents who pose no threat to him in the ring, until Clubber Lang challenges him to a bout. After taking a pounding from Lang, the humbled champ turns to former bitter rival Apollo Creed for a rematch with Lang.
11.
Days of Thunder (1990)
1h 47m Adventure Action Romance Drama
Talented but unproven stock car driver Cole Trickle gets a break and with the guidance of veteran Harry Hogge turns heads on the track. The young hotshot develops a rivalry with a fellow racer that threatens his career when the two smash their cars. But with the help of his doctor, Cole just might overcome his injuries-- and his fear.
12.
Kickboxer: Vengeance (2016)
13.
Nowhere to Run (1993)
14.
No Retreat, No Surrender (1986)
1h 32m Crime Drama Action Thriller Science Fiction
In the year of 2039, after World Wars destroy much of the civilization as we know it, territories are no longer run by governments, but by corporations; the mightiest of which is the Mishima Zaibatsu. In order to placate the seething masses of this dystopia, Mishima sponsors Tekken, a tournament in which fighters battle until only one is left standing.
16.
Best of the Best (1989)
1h 37m Action
A team from the United States is going to compete against Korea in a Tae Kwon Do tournament. The team consists of fighters from all over the country--can they overcome their rivalry and work together to win?
17.
The Karate Kid (2010)
2h 20m Action Adventure Drama Family
Twelve-year-old Dre Parker could have been the most popular kid in Detroit, but his mother's latest career move has landed him in China. Dre immediately falls for his classmate Mei Ying but the cultural differences make such a friendship impossible. Even worse, Dre's feelings make him an enemy of the class bully, Cheng. With no friends in a strange land, Dre has nowhere to turn but maintenance man Mr. Han, who is a kung fu master. As Han teaches Dre that kung fu is not about punches and parries, but maturity and calm, Dre realizes that facing down the bullies will be the fight of his life.
18.
Blood and Bone (2009)
1h 33m Drama Action Thriller
In Los Angeles, an ex-con takes the underground fighting world by storm in his quest to fulfill a promise to a dead friend.
19.
Kickboxer 2: The Road Back (1991)
1h 29m Action Adventure
In this rousing sequel to Kickboxer, Tong Po broods about his defeat at the hands of Kurt Sloan. Po and his managers resort to drastic measures to goad Kurt into the ring for a rematch.
20.
Never Back Down (2008)
1h 55m Drama Action
Jake, full of anger after his father's death, is just starting to find a place for himself at his new Orlando high school - until Ryan, head of an underground MMA fight club, picks Jake out as a prime opponent. After being trounced by Ryan in front of the entire school, Jake begins training under the firm, moral guidance of a MMA master, where he learns how to fight... and how to avoid a fight. But it becomes obvious that a rematch will be inevitable if Jake wants to stop Ryan and his bullying, once and for all.
21.
Undisputed 2: Last Man Standing (2006)
1h 33m Action Crime Thriller
Sequel to the 2002 film. This time, Heavyweight Champ George "Iceman" Chambers (White) is sent to a Russian jail on trumped-up drug charges. In order to win his freedom he must fight against the jailhouse fighting champ Uri Boyka (Adkins) in a battle to the death. This time he is not fighting for a title, he is fighting for his life!
22.
American Kickboxer (1991)
1h 32m Action
Kickboxing champion B.J. is jailed for an accidental murder thanks to the testimony of his arch-nemesis Denard. A year later, B.J. is released and then challenged by Denard for $100,000. Will B.J. accept and get even with Denard?
2h 20m Drama Action
The youngest son of an alcoholic former boxer returns home, where he's trained by his father for competition in a mixed martial arts tournament – a path that puts the fighter on a collision course with his estranged, older brother.
24.
American Ninja 3: Blood Hunt (1989)
1h 29m Action Adventure Drama
Jackson is back, and now he has a new partner, karate champion Sean, as they must face a deadly terrorist known as "The Cobra", who has infected Sean with a virus. Sean and Jackson have no choice but to fight the Cobra and his bands of ninjas.
26.
Bloodsport III (1996)
1h 31m Action Thriller
Bloodsport III brings us back to the world of Alex Cardo. This time he must battle in a fight to end all fights - The Kumite, the most vicious warrior alive - Beast. He must not only battle for his own honor, but also avenge the death of Sun, his mentor, teacher, and spiritual "father", when Sun is spitefully killed by crime boss Duvalier. In order to defeat Beast, destroy Duvalier, and avenge Sun's death, Alex turns to Leung to whom he was indebted in Bloodsport II. Leung directs him to the great shaman, Makato "the Judge", to whom Alex must turn for guidance. The judge teaches him to fully channel the energy in his mind and body in order to rout the Beast in the Kumite...
explore
Check out more list from our community