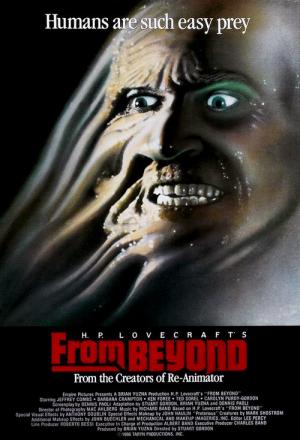 13 Best Movies Like From Beyond ...
If you liked this one , you will probably love these too! In this collection we highlight some of the best films that share a very similar premise to 'From Beyond', and are worth checking out.
1.
The Beast of Yucca Flats (1961)
1h 12m Science Fiction Horror
The year is 1998, six years after the nuke wars reduced the world to rubble and a few bands of wandering survivors. One of these groups stumbles into an abandoned government research facility, where they were working on making the body capable of creating its own amino acids, thus obviating the need for food. They are then attacked by one of the leftover experiments and begin experiencing an attrition problem.
4.
The Brain That Wouldn't Die (1962)
1h 22m Horror Science Fiction
Dr. Bill Cortner and his fiancée, Jan Compton, are driving to his lab when they get into a horrible car accident. Compton is decapitated. But Cortner is not fazed by this seemingly insurmountable hurdle. His expertise is in transplants, and he is excited to perform the first head transplant. Keeping Compton's head alive in his lab, Cortner plans the groundbreaking yet unorthodox surgery. First, however, he needs a body.
5.
The Incredible 2-Headed Transplant (1971)
6.
The Incredible Melting Man (1977)
1h 24m Horror Science Fiction
An astronaut exposed to cosmic rays outside of Saturn's rings returns to Earth and begins to melt away. Escaping from the hospital, he wanders around the backwoods looking for human flesh to eat.
7.
Hellraiser: Bloodline (1996)
1h 26m Horror Thriller Science Fiction
In the 22nd century, a scientist attempts to right the wrong his ancestor created: the puzzle box that opens the gates of Hell and unleashes Pinhead and his Cenobite legions
9.
Roger Corman's Frankenstein Unbound (1990)
1h 22m Horror Science Fiction
The ultimate weapon, claimed to be safe for mankind, produces global side-effects including time slides and disappearances. The scientist behind the project and his car are zapped from the year 2031 to 1817 in Switzerland where he meets Dr. Victor Frankenstein, Mary Shelley and others.
1h 29m Horror Science Fiction
A young boy and his friends face off against a mysterious grave robber known only as the Tall Man, who keeps a mysterious arsenal of terrible weapons with him.
1h 30m Mystery Horror Science Fiction
In the middle of a routine patrol, officer Daniel Carter happens upon a blood-soaked figure limping down a deserted stretch of road. He rushes the young man to a nearby rural hospital staffed by a skeleton crew, only to discover that patients and personnel are transforming into something inhuman. As the horror intensifies, Carter leads the other survivors on a hellish voyage into the subterranean depths of the hospital in a desperate bid to end the nightmare before it's too late.
12.
Humanoids from the Deep (1980)
1h 20m Horror Science Fiction
They're not human. But they hunt human women. Not for killing. For mating.
13.
Forbidden World (1982)
1h 17m Horror Science Fiction
In the distant future, a federation marshal arrives at a research lab on a remote planet where a genetic experiment has gotten loose and begins feeding on the dwindling scientific group.
explore
Check out more list from our community