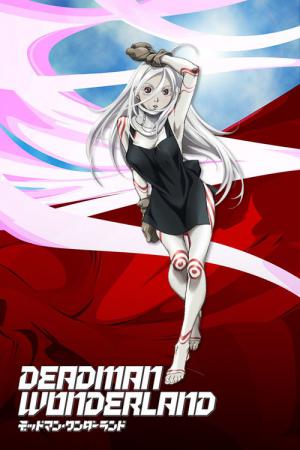 21 Best Shows Like Deadman Wonderland ...
If you liked this one , you will probably love these too! In this selection we highlight some of the best films that share a very similar premise to '', and are worth checking out.
1.
The Future Diary (2011)
24m Action & Adventure Animation Drama Mystery
Reality quickly unravels when antisocial Yukiteru is called into a death match against 11 other mentally scarred individuals. Each player has a prophetic device tuned to their personality, giving them control over their future—and the fate of their foes.
2.
Attack on Titan (2013)
25m Sci-Fi & Fantasy Animation Action & Adventure
Several hundred years ago, humans were nearly exterminated by Titans. Titans are typically several stories tall, seem to have no intelligence, devour human beings and, worst of all, seem to do it for the pleasure rather than as a food source. A small percentage of humanity survived by walling themselves in a city protected by extremely high walls, even taller than the biggest Titans. Flash forward to the present and the city has not seen a Titan in over 100 years. Teenage boy Eren and his foster sister Mikasa witness something horrific as the city walls are destroyed by a Colossal Titan that appears out of thin air. As the smaller Titans flood the city, the two kids watch in horror as their mother is eaten alive. Eren vows that he will murder every single Titan and take revenge for all of mankind.
3.
Darwin's Game (2020)
24m Animation Mystery Action & Adventure Sci-Fi & Fantasy
Sudou Kaname, an ordinary high school student, receives an invitation email to try a mysterious app called "Darwin's Game." Kaname, upon launching the app, is drawn into a game where players fight one another using superpowers called Sigils. Without knowing the reason for all this, can Kaname survive furious battles against the powerful players who attack him?
24m Action & Adventure Animation Drama Mystery
Ken Kaneki is a bookworm college student who meets a girl names Rize at a cafe he frequents. They're the same age and have the same interests, so they quickly become close. Little does Kaneki know that Rize is a ghoul - a kind of monster that lives by hunting and devouring human flesh. When part of her special organ - "the red child" - is transplanted into Kaneki, he becomes a ghoul himself, trapped in a warped world where humans are not the top of the food chain.
5.
Parasyte: The Maxim (2014)
23m Animation Drama Sci-Fi & Fantasy Action & Adventure
A species of parasitic aliens descends on Earth and quickly infiltrates humanity by entering the brains of vulnerable targets; insatiable beings that gain total control of their host and are capable of transforming themselves to feed on unsuspecting prey. High school student Shinichi Izumi falls victim to one of these parasites, but the creature fails to take over his brain and ends up in his right hand.
6.
Spirit Devourer: Zero (2008)
7.
Darker Than Black (2007)
25m Action & Adventure Animation Mystery Sci-Fi & Fantasy
Ten years ago, a mysterious spatial anomaly now known as "Heaven's Gate" appeared in South America, shortly followed by the opening of "Hell's Gate" in Tokyo altering the sky and wreaking havoc on the landscape. The real stars disappeared, replaced by false stars. During this time, people possessing various special abilities — called "Contractors" — emerged, each capable of different supernatural feats. Following the disastrous Heaven's War, the United States lost its dominant position as a superpower to a mysterious organization named the Syndicate. The story revolves around a Chinese contractor codenamed "Hei" as he undertakes various espionage and assassination missions in Tokyo.
9.
Danganronpa: The Animation (2013)
24m Action & Adventure Animation Drama Mystery
Being just a normal student without a special talent, Makoto Naegi wins a lottery to attend the prestigious Hope's Peak Academy where only the top prodigies attend. However, instead of this being the beginning of a wonderful high school life, it's a ticket to despair, because the only way to graduate from Hope's Peak Academy is to kill one of your fellow students or be one of their victims.
10.
The Promised Neverland (2019)
23m Animation Mystery Sci-Fi & Fantasy Action & Adventure Drama
Surrounded by a forest and a gated entrance, the Grace Field House is inhabited by orphans happily living together as one big family, looked after by their "Mama," Isabella. Although they are required to take tests daily, the children are free to spend their time as they see fit, usually playing outside, as long as they do not venture too far from the orphanage — a rule they are expected to follow no matter what. However, all good times must come to an end, as every few months, a child is adopted and sent to live with their new family... never to be heard from again.However, the three oldest siblings have their suspicions about what is actually happening at the orphanage, and they are about to discover the cruel fate that awaits the children living at Grace Field, including the twisted nature of their beloved Mama.
25m Animation Sci-Fi & Fantasy Drama
The Diclonius, a mutated homo sapien that is said to be selected by God and will eventually become the destruction of mankind, possesses two horns in their heads, and has a "sixth sense" which gives it telekinetic abilities. Due to this dangerous power, they have been captured and isolated in laboratories by the government. Lucy, a young and psychotic Diclonius, manages to break free of her confines and brutally murder most of the guards in the laboratory, only to get shot in the head as she makes her escape. She survives and manages to drift along to a beach, where two teenagers named Kouta and Yuka discovers her. Having lost her memories, she was named after the only thing that she can now say, "Nyuu," and the two allow her to stay at Kouta's home. However, it appears that the evil "Lucy" is not dead just yet...
24m Animation Sci-Fi & Fantasy Action & Adventure
The story revolves around Shu Ouma, a high school boy who inadvertently obtains an ability called "The Power of the Kings" that enables him to draw out items called "Voids" from other people. He is then thrown into the conflict between a resistance group called Funeral Parlor which aims to restore Japan's independence from a quasi-governmental organization known as the GHQ. In the process, Shu has to deal with the burden his ability puts on his shoulders and the horrific mystery of his past.
13.
B: The Beginning (2018)
26m Animation Sci-Fi & Fantasy
In a world powered by advanced technology, crime and action unfold in the archipelagic nation of Cremona. Genius investigator Keith Flick rejoins the royal police force just as serial killer "B" emerges. Mysterious youth Koku may be an ally, or a target.
14.
Highschool of the Dead (2010)
24m Action & Adventure Animation
When the world is struck by a deadly pandemic that turns humans into zombies, Takashi Komuro and several of his classmates at Fujimi High School try to survive the apocalypse.
15.
Demon Slayer: Kimetsu no Yaiba (2019)
1h 45m Action Animation Fantasy
Tanjiro finds his family slaughtered and the lone survivor, his sister Nezuko Kamado, turned into a Demon. To his surprise, however, Nezuko still shows signs of human emotion and thought. Thus begins Tanjiro's journey to seek out the Demon who killed their family and turn his sister human again. A recap film of Kimetsu no Yaiba, covering episodes 1-5 with extra footage.
16.
From the New World (2012)
25m Animation Sci-Fi & Fantasy
Born into a world 1000 years in our future, Saki and her friends live in utopia. Not only is their idyllic community overflowing with resources, but technology is obsolete, thanks to a magical power that grants the ability to materialize anything. However, when Saki discovers a lost artifact, the facade is shattered! Faced with a startling truth about their town, Saki and her companions face dangers they never knew existed, and their choices may change the fate of everyone.
25m Animation Action & Adventure Sci-Fi & Fantasy
If you are chosen by the bizarre black sphere known as the Gantz, you are already dead—yet you might be able to reclaim your mortality. First, the Gantz demands that you undertake brutal missions of madness, killing aliens hidden among the population. It is your only chance and you have no choice. You must play this disturbing game. And if you die again—and you likely will—it's permanent.
28m Sci-Fi & Fantasy Animation Action & Adventure
Psycho-Pass is set in a futuristic era in Japan where the Sibyl System, a powerful network of psychometric scanners, actively measures the biometrics of its citizens' minds. The resulting assessment is called a Psycho-Pass. When the calculated likelihood of an individual committing a crime, measured by the Crime Coefficient index, exceeds an accepted threshold, he or she is pursued, apprehended, and either arrested or decomposed by the field officers of the Crime Investigation Department of the Public Safety Bureau.
19.
Last Hero Inuyashiki (2017)
23m Animation Drama Sci-Fi & Fantasy Action & Adventure Crime
Inuyashiki Ichirou is down on his luck. While only 58 years old, his geriatric looks often have him written off as a pathetic old man by the world around him and he's constantly ignored and disrespected by his family despite all that he's done to support them. On top of everything else, his doctor has revealed that he has cancer and it appears that he has little time left in this world. But just when it seems things couldn't get any worse, a blinding light in the night sky strikes the earth where Ichirou stands. He later wakes up to find himself unscathed, but he soon starts to notice that there's something… different about himself. However, it turns out that these strange, new changes are just what Ichirou needs to take a new lease on life and now it seems like there's nothing to stop him from being a hero worthy of the respect that he never had before… unless, that is, there was someone else out there with these same changes…
20.
Corpse Princess: Part One - Aka (2008)
explore
Check out more list from our community