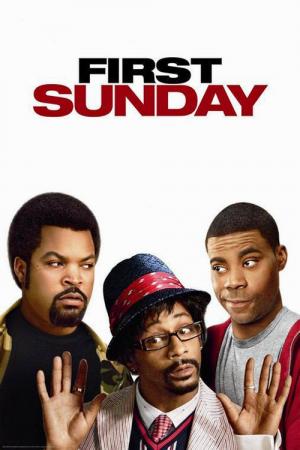 27 Best Movies Like First Sunday ...
If you liked this film , you will for sure love these too! In this selection we highlight some of the best films that share a very similar mood to '', and are worth checking out.
1.
Friday After Next (2002)
1h 25m Comedy
Craig and his cousin Day Day have finally moved out of their parents' houses and into their own crib, working nights at a local mall as security guards. When their house is robbed on Christmas Eve they set out to track down the culprit.
1h 29m Comedy Crime
With the aid of his girlfriend, Phyllis Potter, and best friend, Loomis, Grimm enters a Manhattan bank dressed as a clown, creates a hostage situation and executes a flawless robbery. The only thing left for the trio to do is make their getaway out of the city and to the airport. It sounds simple enough, but it seems that fate deserts them immediately after the bank heist. One mishap after another conspires to keep these robbers from reaching freedom.
3.
Money for Nothing (1993)
1h 40m Drama Comedy Crime
When unemployed dockworker Joey Coyle finds $1.2 million that fell off of an armored car, he decides to do the logical thing: take the money and run. After all, he says, finders keepers. He turns to his ex-girlfriend Monica, who works in an investment firm, for advice, before turning to the mob for help laundering the money. While Joey makes plans to leave the country, however, a detective is following his ever-warmer trail in order to recover the cash.
1h 21m Action Family Adventure Drama Comedy
"The Crocodiles" are celebrating the birthday of Hannes and the beginning of the best summer vacation they have ever had. Although the boys have grown and developed different interests, the band remains united against all odds. During a wild karts race that ends in a terrible accident, Frank is taken to hospital by ambulance. His life is in danger: he needs a transplant from a close relative to save his life. The only possible donor is his brother, Dennis, who was put behind bars by the Crocodiles with their teammate Kevin. Time is running out, but true friends never give up! With the help of Jenny and Hannes' mother , the band surprises us with a bold plan
1h 21m Action Comedy
A chauffeur kidnaps his rich boss's dog to hold it for ransom, but when she accidentally gets the dog back, she thinks that it's the chauffeur who's been kidnapped.
1h 35m Comedy Crime
Three mischievous employees of a bank in a small deserted town all make plans to rob it at the same time, however none of them knows about the others.
1h 31m Comedy Crime Drama
Upon his release from a mental hospital following a nervous breakdown, the directionless Anthony joins his friend Dignan, who seems far less sane than the former. Dignan has hatched a hair-brained scheme for an as-yet-unspecified crime spree that somehow involves his former boss, the (supposedly) legendary Mr. Henry.
8.
The Janky Promoters (2009)
9.
National Lampoon's Gold Diggers (2003)
1h 36m Comedy
A man decides he needs to help his younger brother lose his virginity and hires a prostitute named Dominique. But hilarious high jinks ensue when a French exchange student with the same name also shows up at his brother's dorm room.
10.
How to Beat the High Co$t of Living (1980)
11.
Stealing Harvard (2002)
1h 25m Action Comedy Drama
John and his girlfriend have vowed to marry once they save $30,000 for their dream house. But the minute they achieve their financial goal, John finds out his niece has been accepted at Harvard, and he's reminded of his promise to pay for her tuition (nearly $30,000). John's friend Duff convinces him to turn to petty crime to make the payment … but Duff's hare-brained schemes spin quickly out of control.
12.
Harry and Walter Go to New York (1976)
1h 55m Crime Comedy
Two hoplessly out of their class con-men attempt to pull off the largest bank heist of the l9th century—by gaining the enmity of the most famous bank robber in the world and the affection of a crusading newspaperwoman.
14.
I Always Wanted to Be a Gangster (2007)
15.
I'm Not Rappaport (1996)
2h 3m Comedy Crime
Two bank robbers fall in love with the girl they've kidnapped.
17.
Amos & Andrew (1993)
1h 36m Action Comedy
When Andrew Sterling, a successful black urbanite writer, buys a vacation home on a resort in New England the police mistake him for a burglar. After surrounding his home with armed men, Chief Tolliver realizes his mistake and to avoid the bad publicity offers a thief in his jail, Amos Odell a deal.
30m Documentary
Have you ever wondered how the products you use every day are made? How It's Made leads you through the process of how everyday products, such as apple juice, skateboards, engines, contact lenses, and many more objects are manufactured.
19.
Gettin' Square (2003)
20.
Horrible Bosses 2 (2014)
1h 48m Comedy
Dale, Kurt and Nick decide to start their own business but things don't go as planned because of a slick investor, prompting the trio to pull off a harebrained and misguided kidnapping scheme.
21.
Stark Raving Mad (2002)
1h 41m Comedy Crime
A crook quietly plots his revenge against the boss who murdered his brother while working for him.
22.
Holy Matrimony (1994)
23.
Hunting Elephants (2013)
24.
Barbershop 2: Back in Business (2004)
1h 42m Comedy Drama
A day in the life of a barbershop on the south side of Chicago. Calvin, who inherited the struggling business from his deceased father, views the shop as nothing but a burden and waste of his time. After selling the shop to a local loan shark, Calvin slowly begins to see his father's vision and legacy and struggles with the notion that he just sold it out.
26.
Trailer Park Boys: Countdown to Liquor Day (2009)
1h 41m Comedy Crime
Ricky, Julian and Bubbles are about to get out of jail, and this time, Julian vows to go straight, even open a legit business. Soon the Boys will all be rich. At least that's what they've told the parole board. But when they arrive back at the park, they find it's not the same old Sunnyvale - and it's not the same old Jim Lahey, Trailer Park Supervisor.
explore
Check out more list from our community