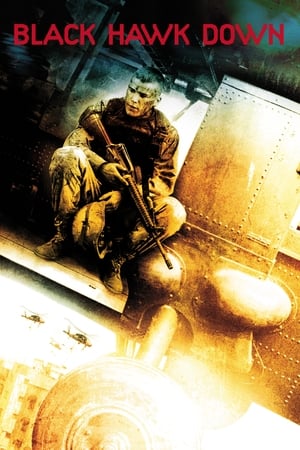 14 Best Movies Like Black Hawk Down ...
1.
Saving Private Ryan (1998)
As U.S. troops storm the beaches of Normandy, three brothers lie dead on the battlefield, with a fourth trapped behind enemy lines. Ranger captain John Miller and seven men are tasked with penetrating German-held territory and bringing the boy home.
⏱ 2h 49m
Director: Steven Spielberg
Screenplay: Robert Rodat
Drama History War
2.
Band of Brothers (2001)
Drawn from interviews with survivors of Easy Company, as well as their journals and letters, Band of Brothers chronicles the experiences of these men from paratrooper training in Georgia through the end of the war. As an elite rifle company parachuting into Normandy early on D-Day morning, participants in the Battle of the Bulge, and witness to the horrors of war, the men of Easy knew extraordinary bravery and extraordinary fear - and became the stuff of legend. Based on Stephen E. Ambrose's acclaimed book of the same name.
⏱ 1h
Drama War & Politics
3.
Full Metal Jacket (1987)
A pragmatic U.S. Marine observes the dehumanizing effects the U.S.-Vietnam War has on his fellow recruits from their brutal boot camp training to the bloody street fighting in Hue.
⏱ 1h 57m
Director, Screenplay: Stanley Kubrick
Novel, Screenplay: Gustav Hasford
Screenplay: Michael Herr
Drama War
4.
The Bridge at Remagen (1969)
In March of 1945, as the War in Europe is coming to a close, fighting erupts between German and American troops at the last remaining bridgehead across the Rhine.
⏱ 1h 57m
Director: John Guillermin
Screenplay: Richard Yates
Screenplay: William Roberts
Story: Roger O. Hirson
History War Action
A team of CIA agents and special forces head into Afghanistan in the aftermath of the September 11th attacks in an attempt to dismantle the Taliban.
⏱ 2h 10m
Director: Nicolai Fuglsig
Writer: Ted Tally
Writer: Peter Craig
War Drama Action History
On 3 April 2004, during the holiday of Ashura, Iraqi rebels loyal to Shiite leader Muktada As-Sadr, launched an insurgency in the Polish zone. The Poles, together with Bulgarian soldiers and Iraqi police, were given the task of defending City Hall, led by Lieutenant colonel Grzegorz Kaliciak. The clash developed into the biggest Polish engagement since World War II. Not a single allied soldier died, although about 80 insurgents were killed in a counter-attack.
⏱ 1h 55m
Director, Screenplay: Krzysztof Łukaszewicz
War Drama
A female Senator succeeds in enrolling a woman into Combined Reconnaissance Team training where everyone expects her to fail.
⏱ 2h 5m
Director: Ridley Scott
Screenplay: Danielle Alexandra
Screenplay: David Twohy
Action Drama
A searing portrait of war and prejudice, 'Only the Brave' takes you on a haunting journey into the hearts and minds of the forgotten heroes of WWII - the Japanese-American 100th/442nd.
⏱ 1h 39m
Director, Writer: Lane Nishikawa
Drama War
Britain, A.D. 117. Quintus Dias, the sole survivor of a Pictish raid on a Roman frontier fort, marches north with General Virilus' legendary Ninth Legion, under orders to wipe the Picts from the face of the Earth and destroy their leader, Gorlacon.
⏱ 1h 37m
Director, Writer: Neil Marshall
Adventure Action Drama
10.
The Green Berets (1968)
Col. Mike Kirby picks two teams of crack Green Berets for two missions in South Vietnam. The first is to strengthen a camp that is trying to be taken by the enemy. The second is to kidnap a North Vietnamese General.
⏱ 2h 22m
Director: John Wayne
Screenplay: James Lee Barrett
War Drama
Based on the 1836 standoff between a group of Texan and Tejano men, led by Davy Crockett and Jim Bowie, and Mexican dictator Santa Anna's forces at the Alamo in San Antonio, Texas.
⏱ 2h 17m
Director, Screenplay: John Lee Hancock
Screenplay: Leslie Bohem
Screenplay: Stephen Gaghan
Western History War
12.
Generation Kill (2008)
The first 40 days of the war in Iraq as seen through the eyes of an elite group of U.S. Marines who spearheaded the invasion along with an embedded Rolling Stone reporter. A vivid account of the soldiers and of the forces that guided them in an often-improvised initiative.
⏱ 1h 5m
War & Politics Drama Action & Adventure
The picture opens in Krasnoyarsk, Siberia, in late 1988, when military trainees Petrovsky, Ryaba, Chugun, Stas, Pinochet, Lyutev and Vorobyev are whipped into shape at a training camp by the brutal, sadistic commander, Warrant Officer Dygalo - prior to being sent off to the front lines. After several one-by-one dalliances with the local whore, Snow White, and a cautionary lecture on the history, geography and culture of Afghanistan (which most of the men sleep through), the trainees head off to battle - first to the Bagram air base, then to the Afghani province of Khost to secure supply lines. But nothing can begin to prepare them for the brutal devastation into which they are plunged, or the relentless tide of slaughter that scatters thousands of Soviet victims in its wake.
⏱ 2h 19m
Director: Fyodor Bondarchuk
Writer: Yuri Korotkov
Writer: Iskander Galiev
Drama History War Action
A small unit of U.S. soldiers, alone at the remote Combat Outpost Keating, located deep in the valley of three mountains in Afghanistan, battles to defend against an overwhelming force of Taliban fighters in a coordinated attack. The Battle of Kamdesh, as it was known, was the bloodiest American engagement of the Afghan War in 2009 and Bravo Troop 3-61 CAV became one of the most decorated units of the 19-year conflict.
⏱ 2h 3m
Director: Rod Lurie
Screenplay: Paul Tamasy
Screenplay: Eric Johnson
War Drama History Action
explore
Check out more list from our community