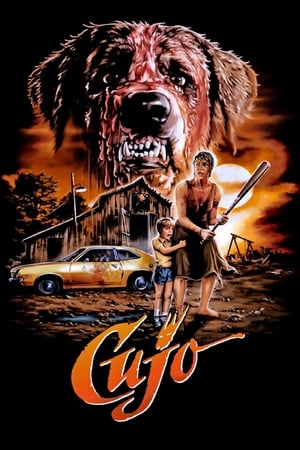 29 Best Movies Like Cujo ...
If you liked this one , you will definitely love these too! In this selection we highlight some of the best films that share a very similar mood to '', and are worth checking out.
1h 31m Horror Thriller
Eden Lake is a relentlessly tense and immaculately paced horror-thriller about modern youth gone wild. When a young couple goes to a remote wooded lake for a romantic getaway, their quiet weekend is shattered by an aggressive group of local kids. Rowdiness quickly turns to rage as the teens terrorize the couple in unimaginable ways, and a weekend outing becomes a bloody battle for survival.
1h 50m Horror
Geeky student Arnie Cunningham falls for Christine, a rusty 1958 Plymouth Fury, and becomes obsessed with restoring the classic automobile to her former glory. As the car changes, so does Arnie, whose newfound confidence turns to arrogance behind the wheel of his exotic beauty. Arnie's girlfriend Leigh and best friend Dennis reach out to him, only to be met by a Fury like no other.
1h 20m Horror
One man's struggle to contain the curse he hides within... and his last-ditch attempt to free himself with the love of family. But when it looks as if he is losing his battle, and endangering all he holds most dear, the family dog, Thor, is the last hope for his family's survival... and the end to his Werewolf curse.
1h 31m Horror Thriller Western
A group of Confederate soldiers hole up on an abandoned plantation after robbing a bank, and find themselves at the mercy of supernatural forces.
5.
Jaws: The Revenge (1987)
1h 29m Adventure Thriller Horror
After another deadly shark attack, Ellen Brody decides she has had enough of New England's Amity Island and moves to the Caribbean to join her son, Michael, and his family. But a great white shark has followed her there, hungry for more lives.
1h 34m Horror Thriller
Three short stories by shock-meister Stephen King are linked by a stray cat that roams from one tale to the next in this creepy triptych that begins as Dick (James Woods) tries to quit smoking by any means necessary. Next, we meet Johnny, an adulterous man who's forced by his lover's husband onto a building's hazardous ledge. Finally, Amanda is threatened by an evil gnome who throws suspicion on the family cat.
1h 31m Horror
After a bizarre and near fatal encounter with a serial killer, a newswoman is sent to a rehabilitation center whose inhabitants may not be what they seem.
1h 31m Horror Science Fiction
Amanda's deathbed request to her son, John, was for him to destroy all the lab notes etc. from her last experiment. She also blurts out he had a brother. At the funeral John meets Melissa, who claims to be his mothers biggest fan. Together with some of John's friends they go to Amanda's house, but none are prepared for what they find there.
1h 26m Thriller Horror Mystery
After returning from a wedding reception, a couple staying in an isolated vacation house receive a knock on the door in the mid-hours of the night. What ensues is a violent invasion by three strangers, their faces hidden behind masks. The couple find themselves in a violent struggle, in which they go beyond what either of them thought capable in order to survive.
1h 29m Horror Science Fiction
A television reporter and her cameraman are trapped inside a building quarantined by the CDC after the outbreak of a mysterious virus which turns humans into bloodthirsty killers.
11.
When a Stranger Calls (2006)
1h 27m Horror
Far away from the site of a gruesome murder, a teenager named Jill Johnson arrives at a luxurious home for a baby-sitting job. With the children fast asleep, she settles in for what she expects to be an ordinary evening. Soon, the ringing of a phone and the frightening words of a sadistic caller turn Jill's routine experience into a night of terror.
2h 2m Mystery Horror
Thad Beaumont is the author of a highly successful series of violent pulp thrillers written under the pseudonym of 'George Stark', but when he decides to 'kill-off' his alter-ego in a mock ceremony, it precipitates a string of sadistic murders matching those in his pulp novels, which are soon discovered to be the work of Stark himself. Looking like a maniacal version of his counterpart, Stark is not so willing to quit the writing game – even if it means coming after Thad's wife and their baby.
13.
Bloody Birthday (1981)
1h 25m Science Fiction Horror
In 1970, three children are born at the height of a total eclipse. Due to the sun and moon blocking Saturn, which controls emotions, they have become heartless killers ten years later, and are able to escape detection because of their youthful and innocent facades. A boy and his teenage sister become endangered when they stumble onto the bloody truth.
1h 44m Horror
Shy teenager Megan moves to a new town with her widowed mother and quickly becomes the most unpopular girl in high school. But when she starts to communicate with a mysterious mirror, her tormentors begin to meet with a horrifying series of 'accidents'. Is the mirror a reflection of Megan's own inner demons... or has she unwittingly opened the doorway of the damned?
15.
He Knows You're Alone (1980)
1h 34m Horror
A reluctant bride to be is stalked by a serial killer who only kills brides and the people around them. While her friends get whacked one by one, a hard boiled renegade cop whose bride had been killed years before tries to hunt him down before it is too late. Meanwhile, the bride has to figure out if it is all in her imagination or not, aided by her ex-boyfriend...
1h 35m Horror
The small city of Tarker's Mill is startled by a series of sadistic murders. The population fears that this is the work of a maniac. During a search a mysterious, hairy creature is observed. This strange appearance is noticed once a month. People lock themselves up at night, but there's one boy who's still outside, he's preparing the barbecue.
19.
Man's Best Friend (1993)
20.
Riding the Bullet (2004)
21.
Halloween 4: The Return of Michael Myers (1988)
1h 28m Horror Thriller
The apparently comatose Michael Myers is being transferred from one hospital to another, but he wakes up when the ambulance crew talk about his surviving niece, Jamie. After slaughtering his attendants, Myers sets out to find his one living relative who is, fortunately, being cared for by a kind and resourceful foster sister named Rachel. Meanwhile, the ever-cautious Dr. Loomis remains on the killer's path.
22.
The Hitcher II: I've Been Waiting (2003)
1h 33m Action Thriller Horror
A sadistic serial killer terrorizes a couple driving on a rural highway in Texas while killing numerous people and framing them for his killings.
23.
Graveyard Shift (1990)
1h 29m Horror
John Hall is a drifter who wanders into a small town in Maine. He needs a job and decides to seek employment at the community's top business: a large textile mill. He is hired to work the "graveyard shift" -- from around midnight to dawn -- and, along with a few others, he is charged with cleaning out the basement. This task strikes the workers as simple enough, but then, as they proceed deeper underground, they encounter an unspeakable monstrosity intent on devouring them all.
1h 35m Horror Thriller Science Fiction
Inside a darkened house looms a column of TVs littered with VHS tapes, a pagan shrine to forgotten analog gods. The screens crackle and pop endlessly with monochrome vistas of static white noise permeating the brain and fogging concentration. But you must fight the urge to relax: this is no mere movie night. Those obsolete spools contain more than just magnetic tape. They are imprinted with the very soul of evil.
25.
Leatherface: Texas Chainsaw Massacre III (1990)
1h 25m Horror
A couple encounters a perverted gas station attendant who threatens them with a shotgun. They take a deserted path in Texas to seek help, but only meet up with a cannibalistic clan interested in helping themselves to fresh meat.
1h 30m Horror Action Thriller
Kyle, a shy college student finds himself and three of his friends trapped in an old western ghost town by a pack of ferocious wolves and has to overcome his personal fears to confront the wolves and lead his friends to safety.
28.
No One Can Hear You (2001)
1h 32m Horror Thriller
Families are dying and reporter Trish (Kelly McGillis) finds herself reporting on a serial killing spree. After her daughter Lisa's (Kate Elliott) best friends are killed, she fears that her family may be on the killers list. Sheriff Webster (Barry Corbin) is not listening to her concerns, which leads Trish to wonder is he or his deputy might be involved. Then Lisa, her boyfriend Ben and her sister Amy receive threats.
explore
Check out more list from our community