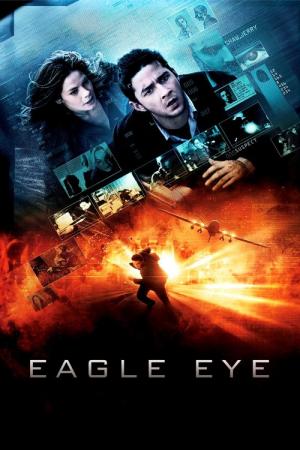 12 Best Movies Like Eagle Eye ...
If you liked this film , you will probably love these too! In this selection we highlight some of the best films that share a very similar mood to 'Eagle Eye', and are worth checking out.
1.
Angel Has Fallen (2019)
After a treacherous attack, Secret Service agent Mike Banning is charged with attempting to assassinate President Trumbull. Chased by his own colleagues and the FBI, Banning begins a race against the clock to clear his name.
2h 2m
Characters, Story: Creighton Rothenberger
Characters, Story: Katrin Benedikt
Director, Screenplay: Ric Roman Waugh
Screenplay: Robert Mark Kamen
Screenplay: Matt Cook
Action Thriller
A man awakens from a coma, only to discover that someone has taken on his identity and that no one, (not even his wife), believes him. With the help of a young woman, he sets out to prove who he is.
1h 53m
Director: Jaume Collet-Serra
Novel: Didier Van Cauwelaert
Screenplay: Oliver Butcher
Screenplay: Stephen Cornwell
Action Mystery Thriller
FBI chemical warfare expert Stanley Goodspeed is sent on an urgent mission with a former British spy, John Patrick Mason, to stop Gen. Francis X. Hummel from launching chemical weapons on Alcatraz Island into San Francisco. Gen. Hummel demands $100 million in war reparations to be paid to the families of slain servicemen who died on covert operations. After their SEAL team is wiped out, Stanley and John deal with the soldiers on their own.
2h 17m
Director: Michael Bay
Screenplay: Jonathan Hensleigh
Screenplay: Douglas Cook
Screenplay: Mark Rosner
Screenplay: David Weisberg
Action Adventure Thriller
A team of U.S. government agents is sent to investigate the bombing of an American facility in the Middle East.
1h 50m
Director: Peter Berg
Screenplay: Matthew Michael Carnahan
Thriller Action Drama
A brilliant CIA trainee must prove his worth at the Farm, the agency's secret training grounds, where he learns to watch his back and trust no one.
1h 55m
Director: Roger Donaldson
Writer: Mitch Glazer
Writer: Roger Towne
Writer: Kurt Wimmer
Action Thriller
6.
Mission: Impossible III (2006)
Retired from active duty to train new IMF agents, Ethan Hunt is called back into action to confront sadistic arms dealer, Owen Davian. Hunt must try to protect his girlfriend while working with his new team to complete the mission.
2h 6m
Director, Writer: J.J. Abrams
Writer: Alex Kurtzman
Writer: Roberto Orci
Adventure Action Thriller
7.
The November Man (2014)
An ex-CIA operative is brought back in on a very personal mission and finds himself pitted against his former pupil in a deadly game involving high level CIA officials and the Russian president-elect.
1h 48m
Director: Roger Donaldson
Novel: Bill Granger
Screenplay: Karl Gajdusek
Screenplay: Michael Finch
Crime Action Thriller
8.
Echelon Conspiracy (2009)
Mysterious cell phone messages promise a young American engineer untold wealth - then make him the target of a deadly international plot. Dangerous security operatives chase the engineer across the globe, while a powerful government official pursues a mysterious agenda that threatens the stability of the entire world.
1h 45m
Screenplay, Story: Michael Nitsberg
Director: Greg Marcks
Screenplay: Kevin Elders
Action Thriller
Michael Jennings is a genius who's hired – and paid handsomely – by high-tech firms to work on highly sensitive projects, after which his short-term memory is erased so he's incapable of breaching security. But at the end of a three-year job, he's told he isn't getting a paycheck and instead receives a mysterious envelope. In it are clues he must piece together to find out why he wasn't paid – and why he's now in hot water.
1h 59m
Director: John Woo
Screenplay: Dean Georgaris
Action Adventure Mystery Science Fiction Thriller
10.
Man on a Ledge (2012)
An ex-cop turned con threatens to jump to his death from a Manhattan hotel rooftop. The NYPD dispatch a female police psychologist to talk him down. However, unbeknownst to the police on the scene, the suicide attempt is a cover for the biggest diamond heist ever pulled.
1h 42m
Director: Asger Leth
Screenplay: Pablo F. Fenjves
Action Thriller Crime
11.
Jack Ryan: Shadow Recruit (2014)
Jack Ryan, as a young covert CIA analyst, uncovers a Russian plot to crash the U.S. economy with a terrorist attack.
1h 45m
Characters: Tom Clancy
Director: Kenneth Branagh
Screenplay: Adam Cozad
Screenplay: David Koepp
Action Drama Thriller
In 2035, where robots are commonplace and abide by the three laws of robotics, a technophobic cop investigates an apparent suicide. Suspecting that a robot may be responsible for the death, his investigation leads him to believe that humanity may be in danger.
1h 55m
Director: Alex Proyas
Novel: Isaac Asimov
Screenplay: Akiva Goldsman
Screenplay: Jeff Vintar
Action Science Fiction
explore
Check out more list from our community