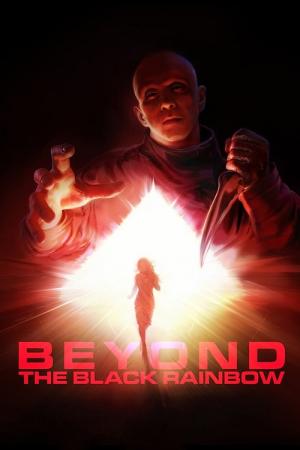 28 Best Movies Like Beyond The Black Rainbow ...
If you liked this one , you will for sure love these too! In this collection we highlight some of the best films that share a very similar mood to '', and are worth checking out.
1h 42m Horror Science Fiction Thriller
A research scientist explores the boundaries and frontiers of consciousness. Using sensory deprivation and hallucinogenic mixtures from native American shamans, he explores these altered states of consciousness and finds that memory, time, and perhaps reality itself are states of mind.
1h 28m Horror Mystery Science Fiction
As the president of a trashy TV channel, Max Renn is desperate for new programming to attract viewers. When he happens upon "Videodrome," a TV show dedicated to gratuitous torture and punishment, Max sees a potential hit and broadcasts the show on his channel. However, after his girlfriend auditions for the show and never returns, Max investigates the truth behind Videodrome and discovers that the graphic violence may not be as fake as he thought.
1h 43m Science Fiction Horror
After a man with extraordinary—and frighteningly destructive—telepathic abilities is nabbed by agents from a mysterious rogue corporation, he discovers he is far from the only possessor of such strange powers, and that some of the other "scanners" have their minds set on world domination, while others are trying to stop them.
1h 25m Horror Action Thriller Science Fiction
A psychological thriller from the writer of the original "Twilight Zone!" In a showdown of man vs. machine, Martin plunges into a chaotic nightmare trying to save his mind from the megalomaniacal corporation!
1h 26m Crime Horror Thriller
An ophthalmologist's assistant with an unhealthy interest in human eyeballs goes on a killing spree to collect eyeballs for his overbearing mother's collection. Reality soon takes a bizarre turn, both for the characters and the audience.
1h 30m Mystery Horror Science Fiction
In the middle of a routine patrol, officer Daniel Carter happens upon a blood-soaked figure limping down a deserted stretch of road. He rushes the young man to a nearby rural hospital staffed by a skeleton crew, only to discover that patients and personnel are transforming into something inhuman. As the horror intensifies, Carter leads the other survivors on a hellish voyage into the subterranean depths of the hospital in a desperate bid to end the nightmare before it's too late.
1h 47m Horror Science Fiction Thriller
A psychotherapist journeys inside a comatose serial killer in the hopes of saving his latest victim.
1h 37m Action Thriller Science Fiction Horror
A game designer on the run from assassins must play her latest virtual reality creation with a marketing trainee to determine if the game has been damaged.
1h 55m Thriller Horror
Elliot, a successful gynecologist, works at the same practice as his identical twin, Beverly. Elliot is attracted to many of his patients and has affairs with them. When he inevitably loses interest, he will give the woman over to Beverly, the meeker of the two, without the woman knowing the difference. Beverly falls hard for one of the patients, Claire, but when she inadvertently deceives him, he slips into a state of madness.
12.
Don't Look in the Basement (1973)
1h 25m Drama
Jeanne lives in Paris and believes she is the reincarnation of Don Juan. She visits a priest and tells him she has killed a man. He comes to her elegant flat - her father has died leaving her rich - and she tells the priest stories about men she has seduced. The seduction is easy, she tells him, it's destruction that takes planning. We watch her with an upright elected official, a wealthy boor, and a folk singer. She describes herself as a spider. Her friend Léporella tries to be Jeanne's conscience. What does Jeanne want?
1h 32m Horror Science Fiction
A man tries to uncover an unconventional psychologist's therapy techniques on his institutionalized wife, while a series of brutal attacks committed by a brood of mutant children coincides with the husband's investigation.
14.
X: The Man with the X-Ray Eyes (1963)
1h 19m Horror Science Fiction Thriller
A doctor uses special eye drops to give himself x-ray vision, but the new power has disastrous consequences.
15.
The Lords of Salem (2012)
1h 41m Horror Thriller
Heidi, a radio DJ, is sent a box containing a record - a "gift from the Lords". The sounds within the grooves trigger flashbacks of her town's violent past. Is Heidi going mad, or are the Lords back to take revenge on Salem, Massachusetts?
1h 39m Horror Thriller
Chelsea, a high school introvert, is abducted through a social media app and is forced to look like other girls Brad holds captive. Chelsea desperately attempts to persuade them to escape before they all become victims in his virtual reality filmed murders.
1h 58m Horror Science Fiction Thriller
A government agent is determined to come to his son's rescue, when a sinister official kidnaps him to harness his extremely powerful psychic abilities.
1h 31m Horror Science Fiction
Amanda's deathbed request to her son, John, was for him to destroy all the lab notes etc. from her last experiment. She also blurts out he had a brother. At the funeral John meets Melissa, who claims to be his mothers biggest fan. Together with some of John's friends they go to Amanda's house, but none are prepared for what they find there.
1h 36m Thriller Horror
An Australian couple take a sailing trip in the Pacific to forget about a terrible accident. While on the open sea, in dead calm weather conditions, they come across a ship with one survivor who is not at all what he seems.
1h 55m Drama Science Fiction Horror
Five medical students want to find out if there is life after death. They plan to stop one of their hearts for a few seconds, thus simulating death, and then bring the person back to life.
1h 22m Horror Thriller
When their plans for a nature trip go awry, Polly and boyfriend Seth decide to check into a motel. On their way, they're carjacked and kidnapped by low-rent crooks Dennis and Lacey, who take the victims and their SUV to a nearby gas station. Along the way, they encounter an increasingly terrifying horde of parasites, and if any of them intend to survive, they'll have to outsmart the deadly organisms.
1h 36m Horror Science Fiction Thriller
When average, law-abiding citizens suddenly turn to a life of hedonistic behavior and violent crime, Detective Tom Beck (Michael Nouri) is tasked with helping young FBI agent Lloyd Gallagher (Kyle MacLachlan) determine the cause in this tense, sci-fi thriller.
1h 38m Horror Thriller
After a car crash, a criminal psychologist regains consciousness only to find that she's a patient in the same mental institution that currently employs her. It seems she's been accused of murdering her husband—but she has no memory of committing the crime. As she tries to regain her memory and convince her co-workers of her innocence, a vengeful spirit uses her as an earthly pawn, which further convinces everyone of her guilt.
2h 6m Horror Science Fiction Thriller
After a violent storm, a dense cloud of mist envelops a small Maine town, trapping artist David Drayton and his five-year-old son in a local grocery store with other people. They soon discover that the mist conceals deadly horrors that threaten their lives, and worse, their sanity.
explore
Check out more list from our community