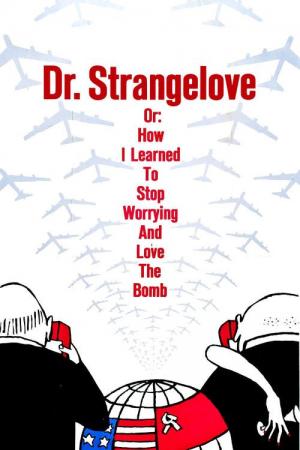 27 Best Movies Like Dr Strangelove ...
If you liked this one , you will definitely love these too! In this collection we highlight some of the best films that share a very similar premise to '', and are worth checking out.
Because of a technical defect an American bomber team mistakenly orders the destruction of Moscow. The President of the United States has but little time to prevent an atomic catastrophe from occurring.
1h 31m Comedy
The U.S. President, low in the opinion polls, gets talked into raising his popularity by trying to start a cold war with Canada.
3.
The Magic Christian (1969)
4.
One, Two, Three (1961)
1h 23m Comedy
The heroic story of a dictator who risks his life to ensure that democracy would never come to the country he so lovingly oppressed.
7.
And Now for Something Completely Different (1971)
1h 28m Comedy
A collection of Monty Python's Flying Circus skits from the first two seasons of their British TV series.
1h 46m Comedy
The US President and the UK Prime Minister are planning on launching a war in the Middle East, but—behind the scenes—government officials and advisers are either promoting the war or are trying to prevent it.
9.
The Men Who Stare at Goats (2009)
A reporter in Iraq might just have the story of a lifetime when he meets Lyn Cassady, a guy who claims to be a former member of the U.S. Army's New Earth Army, a unit that employs paranormal powers in their missions.
1h 34m Comedy
Brian Cohen is an average young Jewish man, but through a series of ridiculous events, he gains a reputation as the Messiah. When he's not dodging his followers or being scolded by his shrill mother, the hapless Brian has to contend with the pompous Pontius Pilate and acronym-obsessed members of a separatist movement. Rife with Monty Python's signature absurdity, the tale finds Brian's life paralleling Biblical lore, albeit with many more laughs.
12.
Whoops Apocalypse (1986)
A simple-minded gardener named Chance has spent all his life in the Washington D.C. house of an old man. When the man dies, Chance is put out on the street with no knowledge of the world except what he has learned from television.
14.
Will Ferrell: You're Welcome America - A Final Night with George W Bush (2009)
1h 30m Comedy
Will Ferrell stars in a stand-up comedy as George W. Bush in this take on the former President of the United States. After playing George W. Bush on Saturday Night Live for many years, funny man Will Ferrell brings his impression to Broadway to send up the 43rd President of the United States of America.
Two bumbling government employees think they are U.S. spies, only to discover that they are actually decoys for nuclear war.
18.
Looking for Comedy in the Muslim World (2005)
1h 38m Comedy
To improve its relations with Muslim countries, the United States government sends comedian Albert Brooks to south Asia to write a report on what makes followers of Islam laugh.
The army is known for churning out lean mean fighting machines intent on protecting our great nation. Sergeant Ernie Bilko is the leader of a ragtag group of the sorriest soldiers ever to enlist in the armed forces.
1h 19m Comedy
Fictional documentary about the life of human chameleon Leonard Zelig, a man who becomes a celebrity in the 1920s due to his ability to look and act like whoever is around him. Clever editing places Zelig in real newsreel footage of Woodrow Wilson, Babe Ruth, and others.
24.
What&`s New Pussycat (1965)
25.
The Discreet Charm of the Bourgeoisie (1972)
1h 36m Comedy
An uncompromising British school headmaster finds himself beset by one thing going wrong after another.
explore
Check out more list from our community