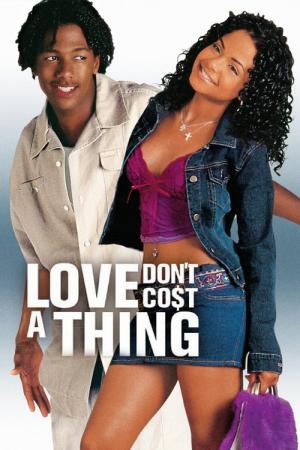 27 Best Movies Like Love Don T Cost A Thing ...
If you liked this film , you will definitely love these too! In this collection we highlight some of the best films that share a very similar premise to '', and are worth checking out.
1.
Can't Buy Me Love (1987)
2.
Deliver Us from Eva (2003)
1h 45m Comedy Romance
Eva Dandridge is a very uptight young woman who constantly meddles in the affairs of her sisters and their husbands. Her in-laws, who are tired of Eva interfering in their lives, decide to set her up with someone so she can leave them alone. They end up paying Ray, the local "playboy," $5,000 to date her. The plan goes by smoothly, but troubles comes when Ray actually falls in love with Eva.
3.
Whatever It Takes (2000)
1h 34m Drama Comedy Romance
A nerdy teen, Ryan Woodman is smitten with the popular and gorgeous Ashley Grant, who apparently has no interest in him. Meanwhile, dim star athlete Chris Campbell has his eye on Ryan's brainy and beautiful friend, Maggie Carter. The two agree to help each other in their romantic quests, but, as they come closer to their goals, both Ryan and Chris suspect that they might be pursuing the wrong girls.
4.
10 Things I Hate About You (1999)
1h 37m Comedy Romance Drama
On the first day at his new school, Cameron instantly falls for Bianca, the gorgeous girl of his dreams. The only problem is that Bianca is forbidden to date until her ill-tempered, completely un-dateable older sister Kat goes out, too. In an attempt to solve his problem, Cameron singles out the only guy who could possibly be a match for Kat: a mysterious bad boy with a nasty reputation of his own.
5.
The Jerk Theory (2009)
1h 33m Comedy
An aspiring recording artist, Adam, is burned by a bad relationship experience and decides that if women won't respond to the "nice guy" then he'll be "the jerk." This is wildly successful with meaningless relationships, but when Adam meets and falls for Molly, who doesn"t fall for his jerk routine, Adam is forced to reconsider his dating philosophy.
6.
What a Girl Wants (2003)
1h 45m Comedy Romance Drama Family
An American girl, Daphne, heads to Europe in search of the father she's never met. But instead of finding a British version of her bohemian mother, she learns the love of her mom's life is an uptight politician. The only problem now is that her long-lost dad is engaged to a fiercely territorial social climber with a daughter who makes Daphne's life miserable.
1h 31m Drama Comedy Romance Family
Nicole and Chase live next door to each other but are worlds apart. However, they plot a scheme to date each other in order to attract the interest and jealousy of their respective romantic prey. But in the mist of planning a gala centennial celebration, Nicole and Chase find that the one they always wanted was closer than they ever thought.
1h 34m Comedy Drama Romance
Ryan and Jennifer are opposites who definitely do not attract. At least that's what they always believed. When they met as twelve-year-olds, they disliked one another. When they met again as teenagers, they loathed each other. But when they meet in college, the uptight Ryan and the free-spirited Jennifer find that their differences bind them together and a rare friendship develops.
1h 39m Drama Comedy Romance
Halley is convinced true love doesn't exist based on the crazy relationships around her. Her mother is divorcing her father who is dating a younger woman Halley can't stand. Her crazed sister is planning a wedding but has second thoughts and her best friend has fallen madly in love for the first time leaving Halley to feel even more alone.
10.
Jack and Jill vs. the World (2008)
1h 29m Comedy Romance
Jack and Jill's Manifesto of Rules to Live By Rule 1 Be honest Rule 2 Believe in fairy tales Rule 3 Accept time as our friend Rule 4 Make sure the nooky is good Rule 5 Promote beauty. Wage a sustained campaign against ugliness Rule 6 Abandon the pursuit of happiness and its false promise Rule 7 Show compassion, except to pirates Rule 8 Less TV Rule 9 Always be willing to admit when you're wrong
11.
How Do You Know (2010)
2h 1m Comedy Drama Romance
After being cut from the USA softball team and feeling a bit past her prime, Lisa finds herself evaluating her life and in the middle of a love triangle, as a corporate guy in crisis competes with her current, baseball-playing beau.
12.
Say Anything... (1989)
1h 40m Comedy Drama Romance
A noble underachiever and a beautiful valedictorian fall in love the summer before she goes off to college.
13.
Slap Her, She's French! (2002)
1h 32m Comedy
Welcome to Splendona High School, Texas, where football players, cheerleaders and beauty queens rule the hallways. And Starla Grady, the most popular girl in school, is on top of it all. That is, at least until Genevieve LePlouff, a French foreign exchange student arrives and turns her life upside down.
14.
Making Mr. Right (2008)
15.
Picture Perfect (1997)
1h 45m Comedy Romance
A young advertising executive's life becomes increasingly complicated when, in order to impress her boss, she pretends to be engaged to a man she has just met.
16.
Never Been Kissed (1999)
1h 47m Romance Comedy Drama
Josie Geller, a baby-faced junior copywriter at the Chicago Sun-Times, must pose as a student at her former high school to research contemporary teenage culture. With the help of her brother, Rob, Josie infiltrates the inner circle of the most popular clique on campus. But she hits a major snag in her investigation -- not to mention her own failed love life -- when she falls for her dreamy English teacher, Sam Coulson.
1h 32m Comedy
Bookish and unpopular Mandy finds her luck finally changing when Drew, the school hottie, invites her to the year's biggest party. But with being grounded and Drew's ex-girlfriend bent on thwarting her, Mandy may be destined to remain a geek. Can a little ingenuity and some help from her friends save the day?
18.
The Other End of the Line (2008)
1h 46m Comedy Romance
An employee at an Indian call-center travels to San Francisco to be with a guy she falls for over the phone
22m Reality
Behind the scenes of Leah Remini and her family finding an interest in their local home in Los Angeles.
20.
The Battle of Shaker Heights (2003)
1h 19m Comedy Drama Romance
A quirky teen with a penchant for war reenactments, Kelly Ernswiler obsesses over military tactics with his buddy Bart. The school bully is one of Kelly's regular headaches, and he also has to deal with a frustrating situation at home, where his father is a recovering drug addict. Kelly's life gets even more complicated when he falls for Tabby, Bart's pretty and soon-to-be-wed older sister.
21.
The First Time (2012)
1h 35m Drama Comedy Romance
Dave, a high school senior, spends most of his time pining away over a girl he can't have. Aubrey, a junior with artistic aspirations, has a hot boyfriend who doesn't quite understand her or seem to care. Although they go to different schools, Dave and Aubrey find themselves at the same party. When both head outside to get some air, they meet. A casual conversation sparks an instant connection, and, over the course of a weekend, things turn magical, romantic, complicated, and funny as Aubrey and Dave discover what it's like to fall in love for the first time.
1h 49m Drama Comedy Romance
After a one night stand with Alex, Isabel realizes that she is pregnant and they decide to get married. However, along with the marriage comes compromise of one's own cultural traditions.
23.
Born Yesterday (1993)
1h 40m Romance Comedy
A businessman shows up in Washington to lobby agendas that are friendly to his construction plans. His ditsy ex-showgirl bimbo proves to be an embarrassment in social situations, so he hires a reporter to teach her how to appear more intelligent. Soon it becomes apparent to the reporter that she isn't so stupid after all, and things become more complicated as she begins questioning the papers her sugar daddy keeps getting her to sign, and the reporter begins falling in love with her.
1h 37m Comedy Romance
A young woman escapes her wildly eccentric family in search for a life of normalcy.
25.
The Four-Faced Liar (2010)
1h 27m Comedy Drama Romance
The Four Faced Liar is a story of love and lies for four twenty-somethings looking to find themselves in New York City... A story of love and lies for four twenty-somethings looking to find themselves in New York City. A pair of best friends and a seemingly perfect couple meet at a local Irish pub tucked in the winding streets of the West Village. Through their chance meeting, the four bond and over time all of their relationships with one another morph into love, betrayal and heartbreak for all.
1h 37m Comedy Romance
Shallow, rich and socially successful Cher is at the top of her Beverly Hills high school's pecking scale. Seeing herself as a matchmaker, Cher first coaxes two teachers into dating each other. Emboldened by her success, she decides to give hopelessly klutzy new student Tai a makeover. When Tai becomes more popular than she is, Cher realizes that her disapproving ex-stepbrother was right about how misguided she was -- and falls for him.
explore
Check out more list from our community