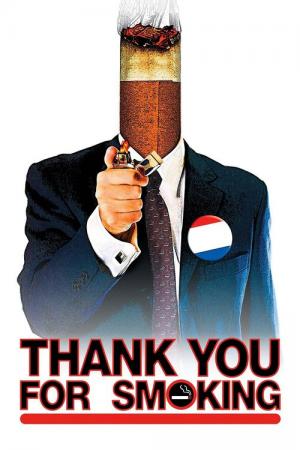 11 Best Movies Like Thank You For Smoking ...
If you liked this film , you will for sure love these too! In this list we highlight some of the best films that share a very similar premise to 'Thank You for Smoking', and are worth checking out.
1h 37m Comedy Drama
Igby Slocumb, a rebellious and sarcastic 17-year-old boy, is at war with the stifling world of old money privilege he was born into. With a schizophrenic father, a self-absorbed, distant mother, and a shark-like young Republican big brother, Igby figures there must be a better life out there -- and sets about finding it.
2h 10m Comedy Drama
A simple-minded gardener named Chance has spent all his life in the Washington D.C. house of an old man. When the man dies, Chance is put out on the street with no knowledge of the world except what he has learned from television.
4.
What Just Happened (2008)
1h 44m Comedy Drama
During the course of an ordinary week in Hollywood, movie producer Ben must navigate his way through shark-infested waters as he struggles to complete his latest projects. A demanding studio boss demands extensive changes to a movie starring Sean Penn, while another chief won't greenlight a project unless star Bruce Willis shaves his beard. Meanwhile, Ben tries to reconcile with his wife and maintain a relationship with his young daughter.
1h 39m Comedy
Jim McAllister, a well-liked high school government teacher, can't help but notice that successful student Tracy Flick uses less than ethical tactics to get what she wants. When Tracy runs for school president, Jim feels that she will be a poor influence on the student body and convinces Paul, a dim-witted but popular student athlete, to run against Tracy. When she becomes aware of Jim's secret involvement in the race, a bitter feud is sparked.
2h 12m Drama Thriller
An ambitious lobbyist faces off against the powerful gun lobby in an attempt to pass gun control legislation.
8.
The Bonfire of the Vanities (1990)
2h 5m Comedy Drama
After his mistress runs over a young teen, a Wall Street hotshot sees his life unravel in the spotlight, and attracting the interest of a down and out reporter.
1h 38m Comedy Drama
Grant Cogswell, a liberal music critic decides to run for city council against a popular black incumbent and is assisted by a reporter who recently lost his job. Initially given no chance, things turn dark when Cogswell makes it into the general election. Based on a true story.
1h 47m Comedy Drama
Werner Ernst is a young hospital resident who becomes embroiled in a legal battle between two half-sisters who are fighting over the care of their comatose father. But are they really fighting over their father's care, or over his $10 million estate? Meanwhile, Werner must contend with his nutty supervisor, who insists that he only care for patients with full insurance. Can Werner sidestep the hospital's legal team and do what's best for the patient?
11.
Primary Colors (1998)
2h 23m Drama
In this adaptation of the best-selling roman à clef about Bill Clinton's 1992 run for the White House, the young and gifted Henry Burton is tapped to oversee the presidential campaign of Governor Jack Stanton. Burton is pulled into the politician's colorful world and looks on as Stanton -- who has a wandering eye that could be his downfall -- contends with his ambitious wife, Susan, and an outspoken adviser, Richard Jemmons.
explore
Check out more list from our community