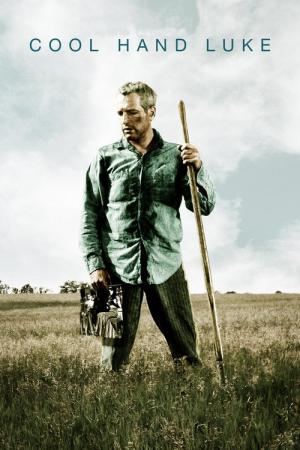 13 Best Movies Like Cool Hand Luke ...
If you liked this movie , you will probably love these too! In this list we highlight some of the best films that share a very similar mood to 'Cool Hand Luke', and are worth checking out.
1.
The Shawshank Redemption (1994)
2h 22m Drama Crime
Framed in the 1940s for the double murder of his wife and her lover, upstanding banker Andy Dufresne begins a new life at the Shawshank prison, where he puts his accounting skills to work for an amoral warden. During his long stretch in prison, Dufresne comes to be admired by the other inmates -- including an older prisoner named Red -- for his integrity and unquenchable sense of hope.
3h 9m Fantasy Drama Crime
A supernatural tale set on death row in a Southern prison, where gentle giant John Coffey possesses the mysterious power to heal people's ailments. When the cell block's head guard, Paul Edgecomb, recognizes Coffey's miraculous gift, he tries desperately to help stave off the condemned man's execution.
1h 52m Crime Drama
John McVicar was a London Bad Boy. he graduated to armed bank robbery and was Britain's "Public Enemy No. 1". He was captured and put into a high security prison. Will even the highest security prison be able to hold him? This is the true story of his life, his criminal exploits and his eventual rehabilitation.
1h 46m Drama
19-year-old Eric, arrogant and ultra-violent, is prematurely transferred to the same adult prison facility as his estranged father. As his explosive temper quickly finds him enemies in both prison authorities and fellow inmates — and his already volatile relationship with his father is pushed past breaking point — Eric is approached by a volunteer psychotherapist, who runs an anger management group for prisoners. Torn between gang politics, prison corruption, and a glimmer of something better, Eric finds himself in a fight for his own life, unsure if his own father is there to protect him or join in punishing him.
5.
Midnight Express (1978)
2h 1m Drama Crime
Billy Hayes is caught attempting to smuggle drugs out of Turkey. The Turkish courts decide to make an example of him, sentencing him to more than 30 years in prison. Hayes has two opportunities for release: the appeals made by his lawyer, his family, and the American government, or the "Midnight Express".
6.
One Flew Over the Cuckoo's Nest (1975)
2h 13m Drama
While serving time for insanity at a state mental hospital, implacable rabble-rouser, Randle Patrick McMurphy, inspires his fellow patients to rebel against the authoritarian rule of head nurse, Mildred Ratched.
2h 31m Crime Drama
A man befriends a fellow criminal as the two of them begin serving their sentence on a dreadful prison island, which inspires the man to plot his escape.
8.
Blood In, Blood Out (1993)
3h Action Crime Drama Thriller
Based on the true life experiences of poet Jimmy Santiago Baca, the film focuses on half-brothers Paco and Cruz, and their bi-racial cousin Miklo. It opens in 1972, as the three are members of an East L.A. gang known as the "Vatos Locos", and the story focuses on how a violent crime and the influence of narcotics alter their lives. Miklo is incarcerated and sent to San Quentin, where he makes a "home" for himself. Cruz becomes an exceptional artist, but a heroin addiction overcomes him with tragic results. Paco becomes a cop and an enemy to his "carnal", Miklo.
9.
The Longest Yard (1974)
2h 1m Crime Comedy Drama
In this rough-and-tumble yarn, actually filmed on-location at the Georgia State Prision, the cons are the heroes and the guards are the heavies. Eddie Albert is the sadistic warden who'll gladly make any sacrifice to push his guards' semi-pro football team to a national championship.
10.
Escape from Alcatraz (1979)
1h 53m Drama Thriller
San Francisco Bay, January 18, 1960. Frank Lee Morris is transferred to Alcatraz, a maximum security prison located on a rocky island. Although no one has ever managed to escape from there, Frank and other inmates begin to carefully prepare an escape plan.
11.
Dead Man Walking (1995)
2h 2m Drama
A justice drama based on a true story about a man on death row who, in his last days, forms a strong relationship with a nun who teaches him forgiveness and gives him spirituality, as she accompanies him to his execution.
2h 5m Crime Drama
The new warden of a small prison farm in Arkansas tries to clean it up of corruption after initially posing as an inmate.
25m Drama
R. L. Stine's The Haunting Hour is a Canadian/American original anthology horror-fantasy series, with episodes each half an hour long. The series is based on The Haunting Hour: Don't Think About It Movie, and the books The Haunting Hour and Nightmare Hour anthology by R. L. Stine.
explore
Check out more list from our community