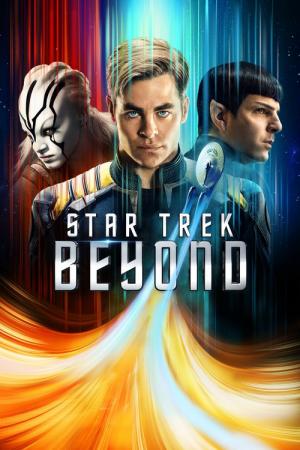 31 Best Movies Like Star Trek ...
If you liked this film , you will for sure love these too! In this list we highlight some of the best films that share a very similar mood to '', and are worth checking out.
2h 7m Science Fiction Action Adventure
The fate of the galaxy rests in the hands of bitter rivals. One, James Kirk, is a delinquent, thrill-seeking Iowa farm boy. The other, Spock, a Vulcan, was raised in a logic-based society that rejects all emotion. As fiery instinct clashes with calm reason, their unlikely but powerful partnership is the only thing capable of leading their crew through unimaginable danger, boldly going where no one has gone before. The human adventure has begun again.
2.
Valerian and the City of a Thousand Planets (2017)
2h 16m Adventure Science Fiction Action
In the 28th century, Valerian and Laureline are special operatives charged with keeping order throughout the human territories. On assignment from the Minister of Defense, the two undertake a mission to Alpha, an ever-expanding metropolis where species from across the universe have converged over centuries to share knowledge, intelligence, and cultures. At the center of Alpha is a mysterious dark force which threatens the peaceful existence of the City of a Thousand Planets, and Valerian and Laureline must race to identify the menace and safeguard not just Alpha, but the future of the universe.
3.
Star Trek Into Darkness (2013)
2h 12m Action Adventure Science Fiction
When the crew of the Enterprise is called back home, they find an unstoppable force of terror from within their own organization has detonated the fleet and everything it stands for, leaving our world in a state of crisis. With a personal score to settle, Captain Kirk leads a manhunt to a war-zone world to capture a one man weapon of mass destruction. As our heroes are propelled into an epic chess game of life and death, love will be challenged, friendships will be torn apart, and sacrifices must be made for the only family Kirk has left: his crew.
1h 59m Science Fiction Action Adventure Thriller
When the renegade crew of Serenity agrees to hide a fugitive on their ship, they find themselves in an action-packed battle between the relentless military might of a totalitarian regime who will destroy anything – or anyone – to get the girl back and the bloodthirsty creatures who roam the uncharted areas of space. But... the greatest danger of all may be on their ship.
5.
Guardians of the Galaxy Vol. 2 (2017)
2h 17m Adventure Action Science Fiction Comedy
The Guardians must fight to keep their newfound family together as they unravel the mysteries of Peter Quill's true parentage.
1h 35m Action Thriller Science Fiction
Set in the near future, Lockout follows a falsely convicted ex-government agent , whose one chance at obtaining freedom lies in the dangerous mission of rescuing the President's daughter from rioting convicts at an outer space maximum security prison.
7.
Solo: A Star Wars Story (2018)
2h 15m Science Fiction Adventure
Through a series of daring escapades deep within a dark and dangerous criminal underworld, Han Solo meets his mighty future copilot Chewbacca and encounters the notorious gambler Lando Calrissian.
8.
Star Trek: Insurrection (1998)
1h 43m Science Fiction Action Adventure Thriller
When an alien race and factions within Starfleet attempt to take over a planet that has "regenerative" properties, it falls upon Captain Picard and the crew of the Enterprise to defend the planet's people as well as the very ideals upon which the Federation itself was founded.
9.
Guardians of the Galaxy (2014)
2h 1m Action Science Fiction Adventure
Light years from Earth, 26 years after being abducted, Peter Quill finds himself the prime target of a manhunt after discovering an orb wanted by Ronan the Accuser.
10.
Star Wars: Episode IX (2019)
2h 22m Action Adventure Science Fiction
The surviving Resistance faces the First Order once again as the journey of Rey, Finn and Poe Dameron continues. With the power and knowledge of generations behind them, the final battle begins.
11.
Star Trek III: The Search for Spock (1984)
1h 45m Science Fiction Action Adventure Thriller
Admiral Kirk and his bridge crew risk their careers stealing the decommissioned Enterprise to return to the restricted Genesis planet to recover Spock's body.
12.
Star Trek II: The Wrath of Khan (1982)
1h 53m Action Adventure Science Fiction Thriller
It is the 23rd century. The Federation Starship U.S.S. Enterprise™ is on routine training maneuvers and Admiral James T. Kirk (William Shatner) seems resigned to the fact that this inspection may well be the last space mission of his career. But Khan is back. Aided by his exiled band of genetic supermen, Khan (Ricardo Montalban) - brilliant renegade of 20th century Earth - has raided Space Station Regula One, stolen a top secret device called Project Genesis, wrested control of another Federation Starship and sets out in pursuit of the Enterprise, determined to let nothing stand in the way of his mission: kill Admiral Kirk... even if it means universal Armageddon.
13.
Star Wars: Episode VIII (2017)
2h 32m Science Fiction Action Adventure
Rey develops her newly discovered abilities with the guidance of Luke Skywalker, who is unsettled by the strength of her powers. Meanwhile, the Resistance prepares to do battle with the First Order.
1h 52m Science Fiction Adventure Action
16-year-old Cassie Sullivan tries to survive in a world devastated by the waves of an alien invasion that has already decimated the population and knocked mankind back to the Stone Age.
15.
Captain America: The Winter Soldier (2014)
2h 16m Action Adventure Science Fiction
After the cataclysmic events in New York with The Avengers, Steve Rogers, aka Captain America is living quietly in Washington, D.C. and trying to adjust to the modern world. But when a S.H.I.E.L.D. colleague comes under attack, Steve becomes embroiled in a web of intrigue that threatens to put the world at risk. Joining forces with the Black Widow, Captain America struggles to expose the ever-widening conspiracy while fighting off professional assassins sent to silence him at every turn. When the full scope of the villainous plot is revealed, Captain America and the Black Widow enlist the help of a new ally, the Falcon. However, they soon find themselves up against an unexpected and formidable enemy—the Winter Soldier.
16.
G.I. Joe: The Rise of Cobra (2009)
1h 58m Adventure Action Thriller Science Fiction
From the Egyptian desert to deep below the polar ice caps, the elite G.I. JOE team uses the latest in next-generation spy and military equipment to fight the corrupt arms dealer Destro and the growing threat of the mysterious Cobra organization to prevent them from plunging the world into chaos.
17.
Beyond Skyline (2017)
1h 45m Action Science Fiction Adventure Horror
Detective Mark Corley storms his way onto an alien spaceship to rescue his estranged son. When the ship crashes in Southeast Asia, he forges an alliance with a band of survivors to take back the planet once and for all.
18.
Star Trek: Nemesis (2002)
1h 57m Science Fiction Action Adventure Thriller
En route to the honeymoon of William Riker to Deanna Troi on her home planet of Betazed, Captain Jean-Luc Picard and the crew of the U.S.S. Enterprise receives word from Starfleet that a coup has resulted in the installation of a new Romulan political leader, Shinzon, who claims to seek peace with the human-backed United Federation of Planets. Once in enemy territory, the captain and his crew make a startling discovery: Shinzon is human, a slave from the Romulan sister planet of Remus, and has a secret, shocking relationship to Picard himself.
19.
Captain Marvel (2019)
2h 4m Action Adventure Science Fiction
The story follows Carol Danvers as she becomes one of the universe's most powerful heroes when Earth is caught in the middle of a galactic war between two alien races. Set in the 1990s, Captain Marvel is an all-new adventure from a previously unseen period in the history of the Marvel Cinematic Universe.
20.
Star Trek: First Contact (1996)
1h 51m Science Fiction Action Adventure Thriller
The Borg, a relentless race of cyborgs, are on a direct course for Earth. Violating orders to stay away from the battle, Captain Picard and the crew of the newly-commissioned USS Enterprise E pursue the Borg back in time to prevent the invaders from changing Federation history and assimilating the galaxy.
21.
Jupiter Ascending (2015)
2h 7m Science Fiction Fantasy Action Adventure
In a universe where human genetic material is the most precious commodity, an impoverished young Earth woman becomes the key to strategic maneuvers and internal strife within a powerful dynasty…
22.
Star Trek V: The Final Frontier (1989)
1h 47m Science Fiction Action Adventure Thriller
The crew of the Federation starship Enterprise is called to Nimbus III, the Planet of Intergalactic Peace. They are to negotiate in a case of kidnapping only to find out that the kidnapper is a relative of Spock. This man is possessed by his life long search for the planet Shaka-Ri which is supposed to be the source of all life. Together they begin to search for this mysterious planet.
1h 48m Drama Science Fiction
A soldier from Earth crashlands on an alien world after sustaining battle damage. Eventually he encounters another survivor, but from the enemy species he was fighting; they band together to survive on this hostile world. In the end the human finds himself caring for his enemy in a completely unexpected way.
24.
Star Wars: The Force Awakens (2015)
2h 16m Action Adventure Science Fiction Fantasy
Thirty years after defeating the Galactic Empire, Han Solo and his allies face a new threat from the evil Kylo Ren and his army of Stormtroopers.
25.
Transformers: Dark of the Moon (2011)
2h 34m Action Science Fiction Adventure
The Autobots continue to work for NEST, now no longer in secret. But after discovering a strange artifact during a mission in Chernobyl, it becomes apparent to Optimus Prime that the United States government has been less than forthright with them.
1h 54m Action Adventure Science Fiction
On the run in the year 1987, Bumblebee finds refuge in a junkyard in a small Californian beach town. Charlie, on the cusp of turning 18 and trying to find her place in the world, discovers Bumblebee, battle-scarred and broken. When Charlie revives him, she quickly learns this is no ordinary yellow VW bug.
27.
Rogue One: A Star Wars Story (2016)
2h 13m Action Adventure Science Fiction
A rogue band of resistance fighters unite for a mission to steal the Death Star plans and bring a new hope to the galaxy.
1h 47m Science Fiction Action Thriller
A mercenary reluctantly leads a motley crew of warriors who soon come to realize they've been captured and deposited on an alien planet by an unknown nemesis. With the exception of a peculiar physician, they are all cold-blooded killers, convicts, death squad members... hunters who have now become the hunted.
29.
Star Trek: Generations (1994)
1h 58m Science Fiction Action Adventure Thriller
Captain Jean-Luc Picard and the crew of the Enterprise-D find themselves at odds with the renegade scientist Soran who is destroying entire star systems. Only one man can help Picard stop Soran's scheme...and he's been dead for seventy-eight years.
1h 53m Science Fiction Action
When a virus threatens to turn the now earth-dwelling friendly alien hybrids against humans, Captain Rose Corley must lead a team of elite mercenaries on a mission to the alien world in order to save what's left of humanity.
explore
Check out more list from our community