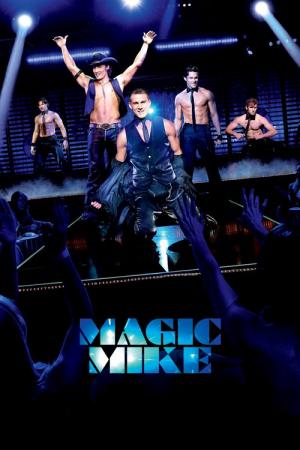 28 Best Movie Like Magic Mike ...
If you liked this movie , you will probably love these too! In this collection we highlight some of the best films that share a very similar mood to '', and are worth checking out.
1h 55m Comedy Drama
Three years after Mike bowed out of the stripper life at the top of his game, he and the remaining Kings of Tampa hit the road to Myrtle Beach to put on one last blow-out performance.
1h 59m Drama Romance
The Burlesque Lounge has its best days behind it. Tess, a retired dancer and owner of the venue, struggles to keep the aging theater alive, facing all kinds of financial and artistic challenges. With the Lounge's troupe members becoming increasingly distracted by personal problems and a threat coming from a wealthy businessman's quest to buy the spot from Tess, the good fortune seems to have abandoned the club altogether. Meanwhile, the life of Ali, a small-town girl from Iowa, is about to change dramatically. Hired by Tess as a waitress at the Lounge, Ali escapes a hollow past and quickly falls in love with the art of burlesque. Backed by newfound friends amongst the theater's crew, she manages to fulfill her dreams of being on stage herself. Things take a dramatic turn though when Ali's big voice makes her become the main attraction of the venue.
1h 30m Romance Comedy Drama
A New Jersey guy dedicated to his family, friends, and church, develops unrealistic expectations from watching porn and works to find happiness and intimacy with his potential true love.
5.
Stripper Academy (2007)
1h 37m Comedy
The owner of a strip club decide to create a stripper academy, where anyone can enter and learn to dance like a pro, but only a few will be selected as strippers.
1h 36m Comedy
After 6 years together, Mike's girlfriend leaves him, so he travels to LA to be a star. Six months on, he's still not doing very well— so a few of his friends try to reconnect him to the social scene and hopefully help him forget his failed relationship.
1h 40m Comedy Drama Music Romance
Graced with a velvet voice, 21-year-old Violet Sanford heads to New York to pursue her dream of becoming a songwriter only to find her aspirations sidelined by the accolades and notoriety she receives at her "day" job as a barmaid at Coyote Ugly. The "Coyotes" as they are affectionately called tantalize customers and the media alike with their outrageous antics, making Coyote Ugly the watering hole for guys on the prowl.
1h 46m Comedy Drama Romance
This is the story of four African-American "yuppies" (a banker, a doctor, a lawyer, and a "playboy") who call themselves "The Brothers". When the playboy gets engaged, the other three friends find themselves having to come to terms with their own issues of commitment and honesty...
10.
Love & Other Drugs (2010)
50m Crime Drama
Modern-day underworld characters Nidge and John Boy wrestle for control of Dublin's illicit drug trade in this forceful crime drama.
1h 35m Comedy Drama
After "hooking up" with a series of guys at a house party, April is the talk of her high school.
1h 48m Comedy
A struggling actress in New York City takes a job as a phone sex operator.
1h 34m Comedy
Imagine your life is somewhat complete with a house, job, and wife but then your best friend from college comes knocking at your door at 2 AM. During a pot-induced hedonistic party, a plan is hatched between the two friends to create an Art Film of "two really straight men having sex." If they only knew how much this would affect all of their lives.
14.
Employee of the Month (2004)
1h 37m Action Comedy
"Employee of the Month" is about a guy whose day spirals from bad to worse when he gets fired from his dream job at the bank and is dumped by his fiancée Sara. David's best friend Jack tries to convince him it's for the best, but the opposite occurs when bank robberies and millions of dollars become part of his day from hell.
1h 47m Comedy
Amy, a naive college graduate who believes she's destined to be a great poet, begrudgingly accepts a job at a sex shop while she pursues a mentorship with reclusive writer Rat Billings.
16.
Barbershop 2: Back in Business (2004)
1h 55m Drama Thriller Crime
Bounced from her job, Erin Grant needs money if she's to have any chance of winning back custody of her child. But, eventually, she must confront the naked truth: to take on the system, she'll have to take it all off. Erin strips to conquer, but she faces unintended circumstances when a hound dog of a Congressman zeroes in on her and sharpens the shady tools at his fingertips, including blackmail and murder.
18.
Staten Island Summer (2015)
1h 48m Comedy
Pals Danny and Frank spend the summer after high school working as lifeguards while figuring out their future.
1h 35m Comedy Drama
Ellie Parker, an aspiring actress from Australia, lives a hectic Hollywood lifestyle, perpetually trying to land the role that will elevate her career. Living with her lothario musician boyfriend, Justin, Ellie is far from happy, finding support primarily from her friend Sam. But when Ellie meets Chris after a minor traffic accident, she sees new potential for both romance and her life in general.
2h 11m Drama
A young drifter named Nomi arrives in Las Vegas to become a dancer and soon sets about clawing and pushing her way to become a top showgirl.
1h 28m Drama Comedy
Sexy. Style-conscious. Extreme love affairs. Complicated friendships. Life happens all too quickly when Cloey is reluctantly plucked from her comfort zone and complete reliance on others is overturned – a secure relationship with her boyfriend unravels, her childhood best friend is moving away and daddy's (Daniel Baldwin) checkbook closes. City Baby comments on the ladder-climbing mentality of always reaching for the next bigger, better thing – relationship, city, job – when sometimes what's right in front of us is just fine. Scattered with cameos from Portland musicians like Stephen Malkmus of Pavement, live musical performances by Glass Candy and Starfucker, and a thoughtful soundtrack featuring all Portland bands and musicians, City Baby depicts a playground for semi-adults, revolving through the lives of cool kids.
1h 35m Comedy
Vince has carefully planned out every aspect of his seemingly successful life until his plans come crashing down around him just one day after his wedding, leaving his three under-qualified friends to pick up the pieces. As they head to Atlantic City for the wildest and most spontaneous weekend of their lives they'll be sure that this Mancation will be one that will never be forgotten!
1h 44m Comedy
Movie star Vincent Chase, together with his boys, Eric, Turtle and Johnny, are back…and back in business with super agent-turned-studio head Ari Gold. Some of their ambitions have changed, but the bond between them remains strong as they navigate the capricious and often cutthroat world of Hollywood.
2h 2m Comedy Drama
Based on a play by David Rabe, Hurlyburly is about the intersecting lives of several Hollywood players and wannabes, whose dysfunctional personal lives are more interesting than anything they're peddling to the studios.
25.
The Upside of Anger (2005)
1h 58m Comedy Drama
After her husband runs off with his secretary, Terry Wolfmeyer is left to fend for herself -- and her four daughters. As she hits rock bottom, Terry finds a friend and drinking buddy in next-door neighbor Denny, a former baseball player. As the two grow closer, and her daughters increasingly rely on Denny, Terry starts to have reservations about where their relationship is headed.
1h 46m Drama Romance
The Los Angeles club scene is a place of booze-fueled decadence and debauchery. In a night full of possibilities, eight 20-somethings take to the clubs seeking good times, companionship and maybe a little sex. But in the harsh light of the morning after, their worlds are thrown into a spin of confusion when hungover Sara accuses hard-partying Mike of date rape. Loyalties are tested as each among them is forced to take sides.
1h 30m Comedy Drama
Like many adolescent boys, Roy Darpinian had the hots for movie divas, and one in particular was his wet dream as half of America's in the 1950s: Marilyn Monroe. The difference is, one summer holiday he actually decided to enlist his spineless buddies, Scott Foreman and Ned Bleuer, to actually drive all the way to Hollywood and make as many desperate attempts as it takes to meet her or get arrested trying, and no setback or embarrassment (even publicly bare-ass) can stop or distract him. Against all odds, he finally even got a chance to help her...
explore
Check out more list from our community