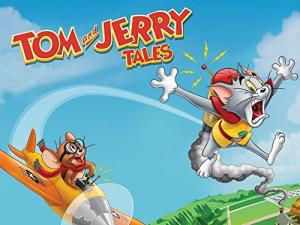 11 Best Cartoons Like Tom And Jerry ...
If you liked this one , you will definitely love these too! In this selection we highlight some of the best films that share a very similar premise to 'Tom and Jerry Tales', and are worth checking out.
11m Animation Family Sci-Fi & Fantasy Kids
Classic Saturday-morning cartoon series featuring magical blue elf-like creatures called Smurfs. The Smurfs, named for their personalities, inhabit a village of mushroom houses in an enchanted forest. These loveable creatures are led by Papa Smurf and live carefree... except for one major threat to their existance: Gargamel, an evil but inept wizard who lives in a stone-built house in the forest; and his feline companion, the equally nasty Azrael.
2.
Tom and Jerry: A Nutcracker Tale (2007)
46m Family Animation Comedy
A holiday themed animated direct-to-video film starring Academy Award-winners, Tom and Jerry. It uses a good deal of Tchaikovsky's famous ballet The Nutcracker as background music. This film would be the last animated production for Tom and Jerry co-creator, Joseph Barbera, who would die on December 18, 2006. The film features all of the exaggerated violence usually found in Tom and Jerry.
3.
All Hail King Julien (2014)
23m Family Animation Comedy Kids
King Julien is back and shaking his booty harder than ever! Discover the wild world of Madagascar as the king takes on the jungle's craziest adventures in this comedy series. With his loyal sidekicks Maurice and Mort, they meet a whole new cast of colorful animals, including ambitious head of security Clover and the villainous Foosa. No one can stop this king from ruling with an iron fist...in the air...wavin' like he just doesn't care.
4.
Baby Looney Tunes (2002)
30m Animation
The world's most beloved animated characters as precocious preschoolers, discovering the world one baby step at a time.
5.
Tom and Jerry's Giant Adventure (2013)
1h 6m Animation Family
Tom And Jerry are among the last animals living in Storybook Town, a fairy tale-inspired theme park "where dreams come true, if you believe."
6.
Tom and Jerry: The Fast and the Furry (2005)
1h 15m Family Animation Comedy Action Adventure
After being evicted from their old house by Tom's owner for causing major damage, cat and mouse Tom and Jerry enter a race entitled the "Fabulous Super Race" to win a mansion.
7.
Tom and Jerry: The Magic Ring (2001)
8.
Timon & Pumbaa (1995)
22m Family Animation Comedy
Set after the events of the "The Lion King," follow Timon and Pumbaa as they go on misadventures in the jungle, as well as across the globe in various.
9.
The Tom and Jerry Show (2014)
25m Family Animation Comedy
The iconic cat and mouse rivals are back in The Tom and Jerry Show, a fresh take on the classic series. Preserving the look, characters and sensibility of the original, the all-new series shines a brightly colored, high-definition lens on the madcap slapstick and never-ending battle that has made Tom and Jerry two of the most beloved characters of all time.
10.
Shaun the Sheep (2007)
7m Animation Comedy Kids
Shaun the Sheep thinks and acts like a person in a barnyard, which usually gets him into trouble. The farmer's sheepdog, Bitzer, tries to keep Shaun and his friends out of trouble. The farmer is oblivious to the humanlike features of his flock, who are like one big, happy family.
11.
The Penguins of Madagascar (2008)
1h 30m Animation
The Penguins are back with more episodes of action-packed high jinx and capers. From a buzzing bee invasion, to an escapee elephant, this DVD is full of plans and schemes that will keep everyone busy at the zoo! Episodes included are: What Goes Around, Jungle Law, Mort Unbound, Sting Operation, Misfortune Cookie, Tagged, An Elephant Never Forgets and Otter Things Have Happened.
explore
Check out more list from our community