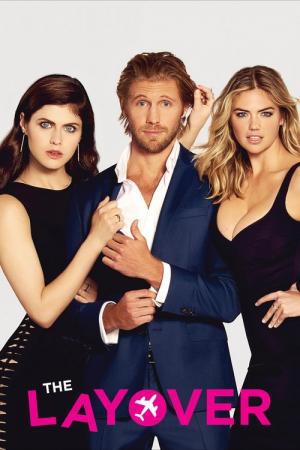 13 Best Movies Like The Layover ...
If you liked this one , you will definitely love these too! In this collection we highlight some of the best films that share a very similar mood to 'The Layover', and are worth checking out.
1.
Can You Keep a Secret? (2019)
Emma Corrigan, a girl with a few secrets on a turbulent plane ride, thinks she's about to die, Emma spills them all to the handsome stranger sitting next to her. At least, she thought he was a stranger. But then, her company's young and elusive CEO, arrives at the office. It's him. And he knows every single humiliating detail about Emma.
1h 34m
Director: Elise Duran
Novel: Sophie Kinsella
Screenplay: Peter Hutchings
Romance Comedy
2.
Win a Date with Tad Hamilton! (2004)
A small-town girl wins a date with a Hollywood star through a contest. When the date goes better than expected, a love triangle forms between the girl, the celebrity, and the girl's best friend.
1h 35m
Director: Robert Luketic
Writer: Victor Levin
Comedy Romance
4.
There's a Girl in My Soup (1970)
6.
Cooking with Love (2018)
Optimistic and cheerful TV producer, Kelly, doesn't have time for love. Bad boy celebrity chef, Stephen, doesn't have time for anything besides cooking. Fun with a side of love ensues as Kelly and Stephen are paired on a children's cooking show.
1h 24m
Director: Jem Garrard
Writer: Justine Cogan Gunn
Writer: Marcy Holland
Comedy TV Movie Romance
The loyal, committed and very decent Elvis (Kenneth Nkosi) leaves Johannesburg en route to pick up his best friend and best man Tumi (Rapulana Seiphemo) in Durban. The two will then journey on to Cape Town to begin rehearsals for Elvis's wedding to the beautiful Ayanda (Zandile Msutwana).But things don't go according to plan. As Tumi and Elvis struggle to find their way through the Eastern Cape they are picked up by Rose (Jodie Whittaker), a young English doctor. Now there's an unlikely trio on the road, with romantic sparks igniting.Who knows if they'll make it on time, whether the wedding will be delayed or cancelled or come perilously close to not even happening.
1h 33m
Comedy Romance
8.
The Other Woman (2014)
After discovering her boyfriend is married, Carly soon meets the wife he's been cheating on. And when yet another affair is discovered, all three women team up to plot mutual revenge on the three-timing SOB.
1h 49m
Director: Nick Cassavetes
Screenplay: Melissa Stack
Comedy Romance
9.
My Best Friend's Girl (2008)
Three-part documentary series about the importance and nature of friendship among children, told from their point of view. Shot over eight months and told entirely from their perspective, it is an intimate and moving insight into how children think and feel as they journey into a new world.
1h
Documentary
A high school senior drives cross-country with his best friends to hook up with a babe he met online.
1h 49m
Director, Screenplay: Sean Anders
Novel: Andy Behrens
Screenplay: John Morris
Comedy Adventure Romance
11.
The Heartbreak Kid (2007)
Eddie, the 40-year-old confirmed bachelor finally says "I do" to the beautiful and sexy Lila. But during their honeymoon in Mexico, the woman of his dreams turns out to be a total nightmare, and the guy who could never pull the trigger realizes he's jumped the gun.
1h 56m
Director, Screenplay: Bobby Farrelly
Director: Peter Farrelly
Screenplay: Leslie Dixon
Screenplay: Scot Armstrong
Screenplay: Kevin Barnett
Comedy Romance
Kathy is married to Peter. Now she can't help but wonder how things could have been if she got together with her old boyfriend, Tom. Being married prevents from doing that so she asks her friend, Emily to go to him and see if she can sleep with him then tell Kathy how it was. When Emily tells Kathy that things were awesome, their friendship suffers, at the same so does Kathy's marriage. Things get even more complicated when Emily learns she's pregnant, and she's not certain if it's Tom's or her boyfriend, Elliot.
1h 37m
Director: Donald Petrie
Writer: Josann McGibbon
Writer: Sara Parriott
Comedy Romance
13.
When We First Met (2018)
explore
Check out more list from our community