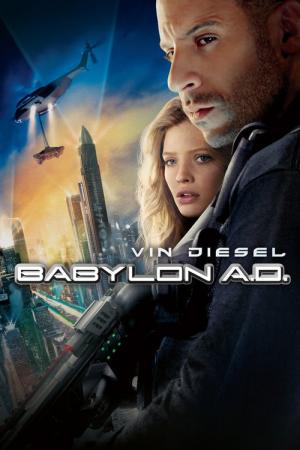 13 Best Movies Like Babylon Ad ...
If you liked this movie , you will for sure love these too! In this list we highlight some of the best films that share a very similar premise to 'Babylon A.D.', and are worth checking out.
1h 49m Action Thriller Science Fiction
In the not-too-distant future the aging gene has been switched off. To avoid overpopulation, time has become the currency and the way people pay for luxuries and necessities. The rich can live forever, while the rest try to negotiate for their immortality. A poor young man who comes into a fortune of time, though too late to help his mother from dying. He ends up on the run from a corrupt police force known as 'time keepers'.
2.
The Book of Eli (2010)
1h 58m Action Thriller Science Fiction
A post-apocalyptic tale, in which a lone man fights his way across America in order to protect a sacred book that holds the secrets to saving humankind.
1h 47m Action Science Fiction Thriller
In a dystopian future, a totalitarian regime maintains peace by subduing the populace with a drug, and displays of emotion are punishable by death. A man in charge of enforcing the law rises to overthrow the system.
1h 26m Science Fiction Action
A martial artist hunts a killer in a plague-infested urban dump of the future.
5.
The Chronicles of Riddick (2004)
1h 59m Action Science Fiction
After years of outrunning ruthless bounty hunters, escaped convict Riddick suddenly finds himself caught between opposing forces in a fight for the future of the human race. Now, waging incredible battles on fantastic and deadly worlds, this lone, reluctant hero will emerge as humanity's champion - and the last hope for a universe on the edge of annihilation.
6.
Mad Max: Fury Road (2015)
2h 1m Action Adventure Science Fiction
An apocalyptic story set in the furthest reaches of our planet, in a stark desert landscape where humanity is broken, and most everyone is crazed fighting for the necessities of life. Within this world exist two rebels on the run who just might be able to restore order.
2h 4m Action Science Fiction Adventure Mystery
Jack Harper is one of the last few drone repairmen stationed on Earth. Part of a massive operation to extract vital resources after decades of war with a terrifying threat known as the Scavs, Jack's mission is nearly complete. His existence is brought crashing down when he rescues a beautiful stranger from a downed spacecraft. Her arrival triggers a chain of events that forces him to question everything he knows and puts the fate of humanity in his hands.
1h 59m Science Fiction Action Thriller
Betrayed by his own kind and left for dead on a desolate planet, Riddick fights for survival against alien predators and becomes more powerful and dangerous than ever before. Soon bounty hunters from throughout the galaxy descend on Riddick only to find themselves pawns in his greater scheme for revenge. With his enemies right where he wants them, Riddick unleashes a vicious attack of vengeance before returning to his home planet of Furya to save it from destruction.
1h 35m Action Thriller Science Fiction
Mind-control technology has taken society by a storm, a multiplayer on-line game called "Slayers" allows players to control human prisoners in mass-scale. Simon controls Kable, the online champion of the game. Kable's ultimate challenge becomes regaining his identity and independence by defeating the game's mastermind.
1h 51m Action Science Fiction Thriller Crime
In the future, medical technology has advanced to the point where people can buy artificial organs to extend their lives. But if they default on payments, an organization known as the Union sends agents to repossess the organs. Remy is one of the best agents in the business, but when he becomes the recipient of an artificial heart, he finds himself in the same dire straits as his many victims.
1h 59m Action Adventure Science Fiction Thriller
Beatrice Prior must confront her inner demons and continue her fight against a powerful alliance which threatens to tear her society apart.
1h 48m Action Thriller Science Fiction
The lethal Reaper virus spreads throughout Britain—infecting millions and killing hundreds of thousands. Authorities brutally and successfully quarantine the country but, three decades later, the virus resurfaces in a major city. An elite group of specialists is urgently dispatched into the still-quarantined country to retrieve a cure by any means necessary. Shut off from the rest of the world, the unit must battle through a landscape that has become a waking nightmare.
13.
The Running Man (1987)
1h 41m Science Fiction Action Thriller
By 2017, the global economy has collapsed and U.S. society has become a totalitarian police state, censoring all cultural activity. The government pacifies the populace by broadcasting a number of game shows in which convicted criminals fight for their lives, including the gladiator-style The Running Man, hosted by the ruthless Damon Killian, where "runners" attempt to evade "stalkers" and certain death for a chance to be pardoned and set free.
explore
Check out more list from our community