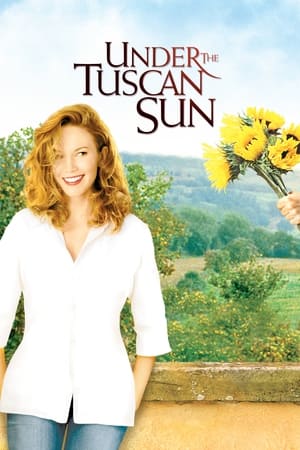 10 Best Movies Like Under The Tuscan Sun ...
If you liked this movie , you will definitely love these too! In this collection we highlight some of the best films that share a very similar mood to 'Under the Tuscan Sun', and are worth checking out.
2h 13m Drama Romance
Liz Gilbert had everything a modern woman is supposed to dream of having – a husband, a house and a successful career – yet like so many others, she found herself lost, confused and searching for what she really wanted in life. Newly divorced and at a crossroads, Gilbert steps out of her comfort zone, risking everything to change her life, embarking on a journey around the world that becomes a quest for self-discovery. In her travels, she discovers the true pleasure of nourishment by eating in Italy, the power of prayer in India and, finally and unexpectedly, the inner peace and balance of true love in Bali.
2.
The Best Exotic Marigold Hotel (2011)
2h 4m Drama Comedy
British retirees travel to India to take up residence in what they believe is a newly restored hotel. Less luxurious than its advertisements, the Marigold Hotel nevertheless slowly begins to charm in unexpected ways as the residents find new purpose in their old age.
3.
The Story of Us (1999)
1h 35m Comedy Drama Romance
Ben and Katie Jordan are a married couple who go through hard times in fifteen years of marriage.
1h 57m Comedy Drama Romance
Failed London banker Max Skinner inherits his uncle's vineyard in Provence, where he spent many childhood holidays. Upon his arrival, he meets a woman from California who tells Max she is his long-lost cousin and that the property is hers.
5.
Letters to Juliet (2010)
1h 45m Comedy Drama Romance
An American girl on vacation in Italy finds an unanswered "letter to Juliet" -- one of thousands of missives left at the fictional lover's Verona courtyard, which are typically answered by the "secretaries of Juliet" -- and she goes on a quest to find the lovers referenced in the letter.
6.
Definitely, Maybe (2008)
1h 52m Comedy Romance
When Will decides to tell his daughter the story of how he met her mother, he discovers that a second look at the past might also give him a second chance at the future.
1h 44m Comedy Drama Romance
Three teenage girls come of age while working at a pizza parlor in Mystic, Connecticut.
1h 48m Comedy Romance Drama
When she learns she's in danger of losing her visa status and being deported, overbearing book editor Margaret Tate forces her put-upon assistant, Andrew Paxton, to marry her.
9.
The Family Stone (2005)
1h 43m Comedy Drama Romance
An uptight, conservative businesswoman accompanies her boyfriend to his eccentric and outgoing family's annual Christmas celebration and finds that she's a fish out of water in their free-spirited way of life.
1h 30m Comedy Romance Drama
Although strangers Sara and Jonathan are both already in relationships, they realize they have genuine chemistry after a chance encounter – but part company soon after. Years later, they each yearn to reunite, despite being destined for the altar. But to give true love a chance, they have to find one another again.
explore
Check out more list from our community