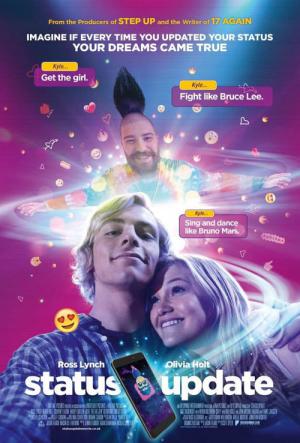 13 Best Camp Virginovich ...
If you liked this film , you will definitely love these too! In this list we highlight some of the best films that share a very similar mood to 'Status Update', and are worth checking out.
1.
Corvette Summer (1978)
2.
It's a Boy Girl Thing (2006)
1h 45m Comedy Drama
Haley is a naturally gifted athlete but, with her social behavior, the teen seems intent on squandering her abilities. After a final brush with the law, a judge sentences her to an elite gymnastics academy run by a legendary, hard-nosed coach. Once there, Haley's rebellious attitude wins her both friends and enemies.
3.
Just One of the Guys (1985)
1h 40m Comedy Romance
When Terry Griffith loses her high school's writing competition, she's convinced that it's because she's a girl. So Terry decides to change high schools and pose as a boy to prove her point. Her brother, Buddy, helps her pass as a guy so well that she is soon making friends with the boys at school, including the attractive Rick, who becomes her new best friend. But her gender-swapping makes things difficult when she falls in love with him.
1h 30m Romance Comedy
High school kid, Thorvald, embarks on an effort to change the name of his school's sports and academic teams from the "Vikings", to something less offensive to Norwegians. It's a love story.
1h 37m Comedy Romance
Shallow, rich and socially successful Cher is at the top of her Beverly Hills high school's pecking scale. Seeing herself as a matchmaker, Cher first coaxes two teachers into dating each other. Emboldened by her success, she decides to give hopelessly klutzy new student Tai a makeover. When Tai becomes more popular than she is, Cher realizes that her disapproving ex-stepbrother was right about how misguided she was -- and falls for him.
6.
The Battle of Shaker Heights (2003)
1h 19m Comedy Drama Romance
A quirky teen with a penchant for war reenactments, Kelly Ernswiler obsesses over military tactics with his buddy Bart. The school bully is one of Kelly's regular headaches, and he also has to deal with a frustrating situation at home, where his father is a recovering drug addict. Kelly's life gets even more complicated when he falls for Tabby, Bart's pretty and soon-to-be-wed older sister.
1h 38m Comedy Drama Romance
Sixteen-year-old Poppy has everything her unlimited credit cards can buy, and a spoiled attitude to match. After a final thoughtless prank, her exasperated father ships her off to boarding school in England. There, Poppy meets her match in a stern headmistress and a class full of girls who will not tolerate her selfishness.
1h 31m Comedy Fantasy Romance
When a shy teenager's new-found powers help him score at basketball - and with the popular girls - he has some pretty hairy decisions to make.
10.
Eight Days a Week (1997)
11.
The Boy with the X-Ray Eyes (1999)
1h 40m Romance Comedy
Bianca's universe turns upside down when she learns that her high school refers to her as a 'DUFF' (Designated Ugly Fat Friend). Hoping to erase that label, she enlists the help of a charming jock and her favorite teacher. Together they'll face the school's mean girl and remind everyone that we are all someone's DUFF… and that's totally fine.
explore
Check out more list from our community