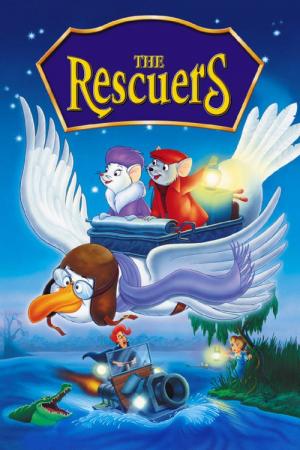 11 Best Willy The Sparrow Movie ...
If you liked this film , you will for sure love these too! In this selection we highlight some of the best films that share a very similar mood to 'The Rescuers', and are worth checking out.
1.
Bedknobs and Broomsticks (1971)
1h 57m Adventure Fantasy Comedy Family Music Mystery
Three children evacuated from London during World War II are forced to stay with an eccentric spinster (Eglantine Price). The children's initial fears disappear when they find out she is in fact a trainee witch.
2.
The Phantom Tollbooth (1970)
1h 30m Fantasy Animation Adventure
The Phantom Tollbooth, based upon the children's adventure novel by Norton Juster, tells the story of a bored young boy named Milo. Unexpectedly receiving a magic tollbooth and, having nothing better to do, Milo drives through it and enters a kingdom in turmoil following the loss of its princesses, Rhyme and Reason.
3.
A Wizard's Tale (2018)
4.
Tom and Jerry: The Lost Dragon (2014)
57m Family Animation Comedy
Tom and Jerry find a dragon egg, and help the baby dragon find its mother.
5.
Horton Hears a Who! (2008)
1h 26m Animation Comedy Family Adventure Fantasy
One day, Horton the elephant hears a cry from help coming from a speck of dust. Even though he can't see anyone on the speck, he decides to help it. As it turns out, the speck of dust is home to the Whos, who live in their city of Whoville. Horton agrees to help protect the Whos and their home.
1h 35m Adventure Animation Comedy Family
On behalf of "oppressed bugs everywhere," an inventive ant named Flik hires a troupe of warrior bugs to defend his bustling colony from a horde of freeloading grasshoppers led by the evil-minded Hopper.
7.
Mary and the Witch's Flower (2017)
1h 43m Fantasy Adventure Animation
Mary Smith, a young girl who lives with her great-aunt in the countryside, follows a mysterious cat into the nearby forest where she finds a strange flower and an old broom, none of which is as ordinary as it seems.
8.
Shrek the Third (2007)
1h 33m Fantasy Adventure Animation Comedy Family
The King of Far Far Away has died and Shrek and Fiona are to become King & Queen. However, Shrek wants to return to his cozy swamp and live in peace and quiet, so when he finds out there is another heir to the throne, they set off to bring him back to rule the kingdom.
1h 20m Fantasy Science Fiction Family Animation
Tyler knows a lot about accidents. So much so, he is scared to do anything that might endanger him, like riding his bike, or climbing into his treehouse. While in an old library, he is mystically transported into the unknown world of books, and he has to try and get home again.
10.
The Snow Queen 2: Refreeze (2014)
1h 18m Fantasy Family Animation Adventure
After the trolls' victory over the Snow Queen, Orm claims that he is destined to marry the princess and inherit great power.
1h 30m Animation Comedy Fantasy Adventure
It ain't easy bein' green -- especially if you're a likable (albeit smelly) ogre named Shrek. On a mission to retrieve a gorgeous princess from the clutches of a fire-breathing dragon, Shrek teams up with an unlikely compatriot -- a wisecracking donkey.
explore
Check out more list from our community