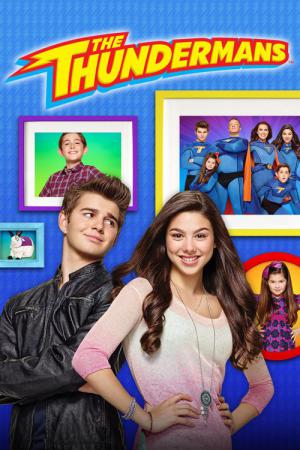 14 Best Tv Shows Like The Thundermans ...
If you liked this film , you will for sure love these too! In this list we highlight some of the best films that share a very similar mood to '', and are worth checking out.
22m Comedy Family Action & Adventure Sci-Fi & Fantasy Mystery Drama
When 13-year-old Henry Hart lands a job as Danger, the sidekick-in-training to superhero Captain Man, he must learn to navigate a double life balancing the challenges of 8th grade with the crazy adventures of a real-life crime fighter!
2.
K.C. Undercover (2015)
K.C. Cooper, a high school math whiz and karate black-belt, learns that her parents are spies when they recruit her to join them in the secret government agency, The Organization. While she now has the latest spy gadgets at her disposal, K.C. has a lot to learn about being a spy, including keeping her new gig a secret from her best friend Marisa. Together, K.C. and her parents, Craig and Kira, and her younger siblings, Ernie and Judy (a humanoid robot), try to balance everyday family life while on undercover missions, near and far, to save the world.
3.
No Ordinary Family (2010)
After their plane crashes into the Amazon River, each member of the Powell family starts to show signs of new, unique and distinct super powers.
1h 40m Adventure Comedy Family
Set in a world where superheroes are commonly known and accepted, young Will Stronghold, the son of the Commander and Jetstream, tries to find a balance between being a normal teenager and an extraordinary being.
42m Drama Sci-Fi & Fantasy Action & Adventure
Twenty-four-year-old Kara Zor-El, who was taken in by the Danvers family when she was 13 after being sent away from Krypton, must learn to embrace her powers after previously hiding them. The Danvers teach her to be careful with her powers, until she has to reveal them during an unexpected disaster, setting her on her journey of heroism.
27m Family Kids Sci-Fi & Fantasy
Kelly Quinn and her two BFF's, Darbie and Hannah, stumble upon her grandmother's mysterious cookbook in the attic and discover some far from ordinary recipes. When the Shut'em Up Shortcake silences Kelly's pesky little brother and the Healing Hazelnut Tart heals Darbie's ankle, the girls discover they have the power of magic. A single-camera live-action pilot based on the popular book.
7.
The Tomorrow People (2013)
The story of several young people from around the world who represent the next stage in human evolution, possessing special powers, including the ability to teleport and communicate with each other telepathically. Together they work to defeat the forces of evil.
Two homicide detectives, Christian Walker and Deena Pilgrim, are assigned to investigate cases involving people with superhuman abilities, referred to as "Powers." Set amidst today's paparazzi culture, Powers asks the questions, what if the world was full of superheroes who aren't actually heroic at all? What if all that power was just one more excuse for mischief, mayhem, murder, and endorsement deals?
9.
Spy Kids: All the Time in the World in 4D (2011)
Eight years after the third film, the OSS has become the world's top spy agency, while the Spy Kids department has since become defunct. A retired spy Marissa is thrown back into the action along with her stepchildren when a maniacal Timekeeper attempts to take over the world. In order to save the world, Rebecca and Cecil must team up with their hated stepmother. Carmen and Juni have since also grown up and will provide gadgets to them.
10.
Wendell and Vinnie (2013)
The series follows Vinnie Bassett, proprietor of a pop culture memorabilia store who only takes breaks to read comic books and play video games. His bachelor life comes to a halt when he assumes guardianship of his incredibly intelligent and mature nephew, Wendell. They soon find that 12-year-old Wendell may be just the parent Vinnie needs.
After a particle accelerator causes a freak storm, CSI Investigator Barry Allen is struck by lightning and falls into a coma. Months later he awakens with the power of super speed, granting him the ability to move through Central City like an unseen guardian angel. Though initially excited by his newfound powers, Barry is shocked to discover he is not the only "meta-human" who was created in the wake of the accelerator explosion -- and not everyone is using their new powers for good. Barry partners with S.T.A.R. Labs and dedicates his life to protect the innocent. For now, only a few close friends and associates know that Barry is literally the fastest man alive, but it won't be long before the world learns what Barry Allen has become...The Flash.
1h 30m Action Science Fiction
A pizzeria employee who is shot during a robbery, acquires self-healing powers when he eats a genetically-altered tomato and must prevent corporate villains from stealing the formula.
1h 23m Family Comedy Adventure Action Science Fiction
Jack Shepard is an out-of-shape auto shop owner, far removed from the man who once protected the world's freedom. Reluctantly called back into action by the government, Jack is tasked with turning a ragtag group of kids with special powers into a new generation of superheroes to save the world from certain destruction.
explore
Check out more list from our community