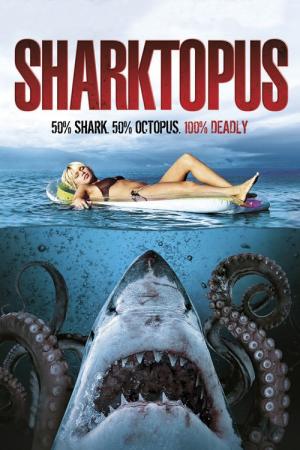 30 Best Movies Like Sharktopus ...
If you liked this one , you will for sure love these too! In this selection we highlight some of the best films that share a very similar mood to '', and are worth checking out.
1.
2-Headed Shark Attack (2012)
1h 30m Horror Action Thriller Science Fiction
A Semester at Sea ship is attacked and sunk by a mutated two-headed shark, and the survivors seek refuge on a deserted atoll. The coeds, however, are no longer safe when the atoll starts flooding.
2.
Jersey Shore Shark Attack (2012)
1h 26m TV Movie Action Science Fiction Comedy Drama Horror
Many years ago, hundreds of locals and tourists were massacred by giant man-eating sharks in the infamous 1916 Jersey Shore attacks. But that's just a legend... or is it? It's a holiday weekend on the Jersey Shore and, unbeknownst to anyone, underwater drills have attracted dozens of albino bull sharks to the pier. When a man goes missing, TC (The Complication), Nookie and friends fear the worst and plead with the police chief to close down the beach. It isn't until a famous singer is eaten alive during a performance on the pier that the shark hunt begins. Now, the Preppies must work together with the Guidos in order to save the Jersey Shore and its inhabitants from another vicious slaughter.
1h 27m Science Fiction Action Comedy Adventure
An offshore drilling accident triggers the release of a giant prehistoric shark. When marine biologist Kat Carmichael arrives, she runs up against corporate front man Roger Wade, who plots with Stewart to disrupt her investigation. With the help of Skipper Chuck and disc jockey Dynamite Stevens, Kat tries to find a way to defeat the monster which has evolved to a state where it can walk on dry land and fly...it's the SUPER SHARK!
1h 26m Science Fiction TV Movie Action Adventure Comedy Horror
A freak hurricane hits Los Angeles, causing man-eating sharks to be scooped up in tornadoes and flooding the city with shark-infested seawater. Surfer and bar-owner Fin sets out with his friends Baz and Nova to rescue his estranged wife April and teenage daughter Claudia.
5.
6-Headed Shark Attack (2018)
1h 29m Horror Action Science Fiction TV Movie
What is supposed to be a marriage boot camp on a remote island turns into the ultimate test for survival when a 6-headed shark starts attacking the beach. Trapped with minimal weapons they try to fight off the shark, but quickly discover that no one is safe in the water or on land.
1h 23m Horror Science Fiction Thriller
Giant lava breathing tarantulas – Lavalantulas – erupt out of ancient volcanos in the Santa Monica Mountains, raining death and destruction upon Los Angeles. With the City of Angels on the verge of incineration, only a washed up '90s action hero actor stands in the way of this monstrous swarm of bloodthirsty creatures who burn their victims alive.
10.
Mega Shark vs. Giant Octopus (2009)
1h 30m Horror Science Fiction
The California coast is terrorized by two enormous prehistoric sea creatures as they battle each other for supremacy of the sea.
11.
Sharktopus vs. Pteracuda (2014)
12.
Snow Shark: Ancient Snow Beast (2011)
1h 20m Science Fiction Horror
12 years ago during a scientific expedition 3 animal biologists stumbled upon a great discovery that ended in tragedy. Whatever killed them has awoken and now the legend of the Ancient Snow Beast could prove to be more than just a legend.
1h 24m Horror
When the body of a man is found completely destroyed in the swamps in Louisiana, the medical investigator Sam Rivers is assigned to investigate the murder. He travels with the biologist Mary Callahan to the location where the victim lived in a floating house and he meets his family and friends. They find that Chinese snake-heads genetically engineered that belong to a wealthy hunter are attacking and killing the locals. While the group fights to survive, the hunter Jeff arrives with his team to hunt the predators.
20.
Scorpius Gigantus (2006)
1h 29m Horror
The widow, Deputy Sheriff Jane Kozik, moves from Manhattan to Black Stone, New York, with her daughter Kelsey Kozik. There she expects to find a safe place to live. The day after moving, a homeless man is found dead in the tool shed of Jane's blind friend Beverly Rowe. Devin Hall and the entomologist Katherine Randell are summoned to help with the investigation. Devin is Jane's brother-in-law and former boyfriend, and Jane still has a crush on him. Meanwhile, Kelsey befriends the scientist Eli Giles, who has developed genetically modified wasps to the army as a weapon, and now he is trying to revert the process. When the wasps attack Black Stone, Jane, Devin and Eli team-up to attempt to destroy the swarm.
23.
Dinocroc vs. Supergator (2010)
1h 30m Action Horror Science Fiction Thriller
In the midst of a tropical storm, the crew of an offshore oil rig must survive the rampage of a creature after invading its undersea habitat.
25.
Shark Attack 2 (2000)
27.
5-Headed Shark Attack (2017)
1h 30m Horror Science Fiction
A beautiful island is home to thousands of species of aquatic life. Now there is a new species: the 5-Headed Shark is all heads and teeth. Shaped like a demented starfish, this monster terrorizes the open ocean before invading the beaches of Puerto Rico, endangering the once peaceful island paradise.
28.
Shark Attack 3: Megalodon (2002)
1h 30m Horror Science Fiction Thriller Action Adventure Comedy
When a young ski team training for the Olympics arrives at the remote and isolated Lost Mountain Ski Resort to focus on training, they're thrilled to find a retired Olympic skier is there to help them train. But their plans are halted when a scientist working at a nearby government lab arrives with the horrifying news that a top secret Government project has produced giant spiders and they have escaped, killing and eating everything in sight.
explore
Check out more list from our community