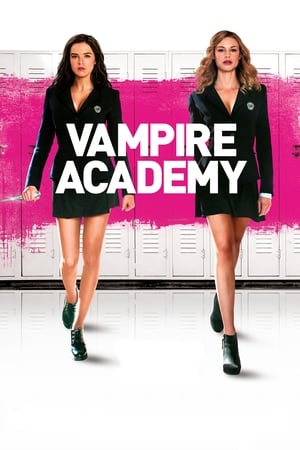 29 Best Movies Similar To Vampire Academy ...
If you liked this one , you will for sure love these too! In this selection we highlight some of the best films that share a very similar mood to '', and are worth checking out.
1.
The Mortal Instruments: City of Bones (2013)
2h 10m Fantasy Action Mystery
In New York City, Clary Fray, a seemingly ordinary teenager, learns that she is descended from a line of Shadowhunters — half-angel warriors who protect humanity from evil forces. After her mother disappears, Clary joins forces with a group of Shadowhunters and enters Downworld, an alternate realm filled with demons, vampires, and a host of other creatures. Clary and her companions must find and protect an ancient cup that holds the key to her mother's future.
2h 2m Fantasy Drama Romance
When Bella Swan moves to a small town in the Pacific Northwest, she falls in love with Edward Cullen, a mysterious classmate who reveals himself to be a 108-year-old vampire. Despite Edward's repeated cautions, Bella can't stay away from him, a fatal move that endangers her own life.
3.
The Vampire Diaries (2009)
43m Drama Sci-Fi & Fantasy
The story of two vampire brothers obsessed with the same girl, who bears a striking resemblance to the beautiful but ruthless vampire they knew and loved in 1864.
1h 37m Fantasy Horror
Four young men who belong to a supernatural legacy are forced to battle a fifth power long thought to have died out. Another great force they must contend with is the jealousy and suspicion that threatens to tear them apart.
5.
The Twilight Saga: Eclipse (2010)
2h 4m Adventure Fantasy Drama Romance
Bella once again finds herself surrounded by danger as Seattle is ravaged by a string of mysterious killings and a malicious vampire continues her quest for revenge. In the midst of it all, she is forced to choose between her love for Edward and her friendship with Jacob, knowing that her decision has the potential to ignite the ageless struggle between vampire and werewolf. With her graduation quickly approaching, Bella is confronted with the most important decision of her life.
6.
The Twilight Saga: New Moon (2009)
2h 11m Adventure Fantasy Drama Romance
Forks, Washington resident Bella Swan is reeling from the departure of her vampire love, Edward Cullen, and finds comfort in her friendship with Jacob Black, a werewolf. But before she knows it, she's thrust into a centuries-old conflict, and her desire to be with Edward at any cost leads her to take greater and greater risks.
43m Sci-Fi & Fantasy Drama
Scott McCall, a high school student living in the town of Beacon Hills has his life drastically changed when he's bitten by a werewolf, becoming one himself. He must henceforth learn to balance his problematic new identity with his day-to-day teenage life. The following characters are instrumental to his struggle: Stiles, his best friend; Allison, his love interest who comes from a family of werewolf hunters; and Derek, a mysterious werewolf with a dark past. Throughout the series, he strives to keep his loved ones safe while maintaining normal relationships with them.
8.
The Twilight Saga: Breaking Dawn - Part 2 (2012)
1h 55m Adventure Fantasy Drama Romance
After the birth of Renesmee, the Cullens gather other vampire clans in order to protect the child from a false allegation that puts the family in front of the Volturi.
9.
Percy Jackson & the Olympians: The Lightning Thief (2010)
1h 58m Adventure Fantasy Family
Accident prone teenager, Percy discovers he's actually a demi-God, the son of Poseidon, and he is needed when Zeus' lightning is stolen. Percy must master his new found skills in order to prevent a war between the Gods that could devastate the entire world.
10.
My Babysitter's a Vampire (2011)
25m Comedy Action & Adventure Sci-Fi & Fantasy Mystery Kids Family
Ethan, Benny and fledgling vampire Sarah battle zombies, demons and the other supernatural beasties that regularly threaten their school.
11.
I Am Number Four (2011)
1h 49m Action Thriller Science Fiction Adventure
A teenage fugitive with an incredible secret races to stay one step ahead of the mysterious forces seeking destroy him in this sci-fi action thriller. With three dead and one on the run, the race to find the elusive Number Four begins. Outwardly normal teen John Smith never gets too comfortable in the same identity, and along with his guardian, Henri, he is constantly moving from town to town. With each passing day, John gains a stronger grasp on his extraordinary new powers, and his bond to the beings that share his fantastic fate grows stronger.
12.
The Twilight Saga: Breaking Dawn - Part 1 (2011)
1h 57m Adventure Fantasy Romance
The new found married bliss of Bella Swan and vampire Edward Cullen is cut short when a series of betrayals and misfortunes threatens to destroy their world.
13.
Harry Potter and the Goblet of Fire (2005)
2h 37m Adventure Fantasy Family
When Harry Potter's name emerges from the Goblet of Fire, he becomes a competitor in a grueling battle for glory among three wizarding schools — the Triwizard Tournament. But since Harry never submitted his name for the Tournament, who did? Now Harry must confront a deadly dragon, fierce water demons and an enchanted maze only to find himself in the cruel grasp of He Who Must Not Be Named. In this fourth film adaptation of J.K. Rowling's Harry Potter series, everything changes as Harry, Ron and Hermione leave childhood forever and take on challenges greater than anything they could have imagined.
42m Action & Adventure Drama Sci-Fi & Fantasy
When Clary Fray's mother has disappeared, Clary joins a band of Shadowhunters; demon killing hunters, and gets caught up in a plan to save the world.
15.
Harry Potter and the Deathly Hallows: Part 2 (2011)
2h 10m Fantasy Adventure
Harry, Ron and Hermione continue their quest to vanquish the evil Voldemort once and for all. Just as things begin to look hopeless for the young wizards, Harry discovers a trio of magical objects that endow him with powers to rival Voldemort's formidable skills.
16.
Harry Potter and the Half-Blood Prince (2009)
2h 33m Adventure Fantasy
As Lord Voldemort tightens his grip on both the Muggle and wizarding worlds, Hogwarts is no longer a safe haven. Harry suspects perils may even lie within the castle, but Dumbledore is more intent upon preparing him for the final battle fast approaching. Together they work to find the key to unlock Voldemorts defenses and to this end, Dumbledore recruits his old friend and colleague Horace Slughorn, whom he believes holds crucial information. Even as the decisive showdown looms, romance blossoms for Harry, Ron, Hermione and their classmates. Love is in the air, but danger lies ahead and Hogwarts may never be the same again.
43m Sci-Fi & Fantasy Drama
In a place where young witches, vampires, and werewolves are nurtured to be their best selves in spite of their worst impulses, Klaus Mikaelson's daughter, 17-year-old Hope Mikaelson, Alaric Saltzman's twins, Lizzie and Josie Saltzman, among others, come of age into heroes and villains at The Salvatore School for the Young and Gifted.
2h 2m Fantasy Adventure Family Drama Science Fiction Romance
Gwendolyn Shepherd is a normal 16-year-old, but her family holds a secret: A time-travel gene is expressed in the clan inherited, but not every member of the family is blessed with. Everyone is certain that Gwen's cousin Charlotte has the gene. However, someday Gwendolyn suddenly finds herself in London at the end of the 19th century and realizes that it her, who was born a time traveler. While she is not very enthusiastic about it she will do everything possible to solve the ancient mysteries of the red ruby.
19.
Underworld: Awakening (2012)
1h 28m Fantasy Action Horror
Having escaped years of imprisonment, vampire warrioress Selene finds herself in a changed world where humans have discovered the existence of both Vampire and Lycan clans and are conducting an all-out war to eradicate both immortal species. Now Selene must battle the humans and a frightening new breed of super Lycans to ensure the death dealers' survival.
20.
Circus of the Freak (2009)
1h 49m Adventure Fantasy Action Thriller
Darren Shan is a regular teenage kid. He and his friend Steve find out about a Freak Show coming to town and work hard at trying to find tickets. They do, and together they go to "Cirque du Freak" where they see many strange acts including a wolf-man and a bearded lady
21.
Buffy the Vampire Slayer (1997)
43m Sci-Fi & Fantasy Comedy Drama Action & Adventure
Into every generation a slayer is born: one girl in all the world, a chosen one. She alone will wield the strength and skill to fight the vampires, demons, and the forces of darkness; to stop the spread of their evil and the swell of their number. She is the Slayer.
22.
My Babysitter's a Vampire (2010)
1h 20m Adventure Comedy Family Fantasy TV Movie Horror
Geeky 14-year old Ethan is left to babysit his younger sister, Jane, with his best friend Benny but after Ethan inadvertently puts Jane in harm's way, his parents hire a professional babysitter, the beautiful yet mysterious 17-year-old Sarah who, unbeknownst to them, is actually a fledgling vampire.
1h 36m Adventure Comedy Action Romance
A 16-year-old international assassin yearning for a "normal" adolescence fakes her own death and enrolls as a senior in a suburban high school. She quickly learns that being popular can be more painful than getting water-boarded.
1h 42m Adventure Fantasy
John Gregory, who is a seventh son of a seventh son and also the local spook, has protected the country from witches, boggarts, ghouls and all manner of things that go bump in the night. However John is not young anymore, and has been seeking an apprentice to carry on his trade. Most have failed to survive. The last hope is a young farmer's son named Thomas Ward. Will he survive the training to become the spook that so many others couldn't?
2h 2m Fantasy Action Thriller
Vampires and werewolves have waged a nocturnal war against each other for centuries. But all bets are off when a female vampire warrior named Selene, who's famous for her strength and werewolf-hunting prowess, becomes smitten with a peace-loving male werewolf, Michael, who wants to end the war.
27.
Vampire Sisters (2012)
1h 37m Family Fantasy
Keeping secrets can be difficult, especially when you're a twelve-year-old half-vampire moving from Transylvania to a new life in Germany. Going to school, making new friends and fitting in — it's all tough when you can't just be yourself. With a vampire father and a human mother, sisters Dakaria (Daka) and Silvania don't live in your typical blended family. Each girl embraces a different side of her genetic makeup: Daka wishes she was 100% vampire; Silvania wishes she was 100% human; and both believe they can finally realize their hearts' desires when the opportunity to change presents itself. Will Daka and Silvania realize that, sometimes, your uniqueness is your greatest strength?
30m Action & Adventure Sci-Fi & Fantasy
Four teenage boys get lost in the forest and discover, when they return home, that they are in an alternate world identical to theirs except for one startling difference - they were never born.
explore
Check out more list from our community