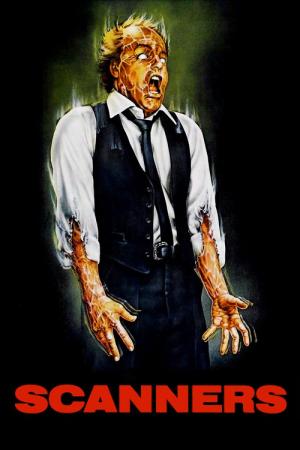 31 Best Movies Like Scanners ...
If you liked this film , you will for sure love these too! In this collection we highlight some of the best films that share a very similar mood to '', and are worth checking out.
1h 34m Science Fiction Action
Nada, a wanderer without meaning in his life, discovers a pair of sunglasses capable of showing the world the way it truly is. As he walks the streets of Los Angeles, Nada notices that both the media and the government are comprised of subliminal messages meant to keep the population subdued, and that most of the social elite are skull-faced aliens bent on world domination. With this shocking discovery, Nada fights to free humanity from the mind-controlling aliens.
1h 54m Thriller Science Fiction Horror
As youths, Andy McGee and his future wife, Vicky, participated in secret experiments, allowing themselves to be subjected to mysterious medical tests. Years later, the couple's daughter, Charlie, begins to exhibit the ability of setting fires solely with her mind. This volatile talent makes the youngster extremely dangerous and soon she becomes a target for the enigmatic agency known as "The Shop."
3.
Village of the Damned (1995)
1h 39m Thriller Horror Science Fiction
An American village is visited by some unknown life form which leaves the women of the village pregnant. Nine months later, the babies are born, and they all look normal, but it doesn't take the "parents" long to realize that the kids are not human or humane.
1h 28m Horror Mystery Science Fiction
As the president of a trashy TV channel, Max Renn is desperate for new programming to attract viewers. When he happens upon "Videodrome," a TV show dedicated to gratuitous torture and punishment, Max sees a potential hit and broadcasts the show on his channel. However, after his girlfriend auditions for the show and never returns, Max investigates the truth behind Videodrome and discovers that the graphic violence may not be as fake as he thought.
1h 36m Horror Science Fiction Thriller
When average, law-abiding citizens suddenly turn to a life of hedonistic behavior and violent crime, Detective Tom Beck (Michael Nouri) is tasked with helping young FBI agent Lloyd Gallagher (Kyle MacLachlan) determine the cause in this tense, sci-fi thriller.
6.
Scanners II: The New Order (1991)
1h 58m Horror Science Fiction Thriller
A government agent is determined to come to his son's rescue, when a sinister official kidnaps him to harness his extremely powerful psychic abilities.
1h 50m Horror
Geeky student Arnie Cunningham falls for Christine, a rusty 1958 Plymouth Fury, and becomes obsessed with restoring the classic automobile to her former glory. As the car changes, so does Arnie, whose newfound confidence turns to arrogance behind the wheel of his exotic beauty. Arnie's girlfriend Leigh and best friend Dennis reach out to him, only to be met by a Fury like no other.
1h 37m Action Thriller Science Fiction Horror
A game designer on the run from assassins must play her latest virtual reality creation with a marketing trainee to determine if the game has been damaged.
1h 32m Horror Science Fiction
A man tries to uncover an unconventional psychologist's therapy techniques on his institutionalized wife, while a series of brutal attacks committed by a brood of mutant children coincides with the husband's investigation.
11.
Scanner Cop II (1995)
12.
Spontaneous Combustion (1990)
1h 37m Drama Horror Science Fiction Thriller
A young man finds out that his parents had been used in an atomic-weapons experiment shortly before he was born, and that the results have had some unexpected effects on him.
1h 31m Horror Science Fiction
After undergoing radical surgery for injuries from a motorcycle accident, a young woman develops a strange phallic growth on her body and a thirst for human blood—the only nourishment that will now sustain her.
1h 28m Horror
The residents of a suburban high-rise apartment building are being infected by a strain of parasites that turn them into mindless, sex-crazed fiends out to infect others by the slightest sexual contact.
1h 43m Thriller Horror Science Fiction
Johnny Smith is a schoolteacher with his whole life ahead of him but, after leaving his fiancee's home one night, is involved in a car crash which leaves him in a coma for 5 years. When he wakes, he discovers he has an ability to see into the past, present and future life of anyone with whom he comes into physical contact.
16.
Beyond the Black Rainbow (2010)
1h 50m Fantasy Science Fiction Horror
Deep within the mysterious Arboria Institute, a disturbed and beautiful girl is held captive by a doctor in search of inner peace. Her mind controlled by a sinister technology. Silently, she waits for her next session with deranged therapist Dr. Barry Nyle. If she hopes to escape, she must journey through the darkest reaches of The Institute, but Nyle won't easily part with his most gifted and dangerous creation.
18.
The Puppet Masters (1994)
1h 49m Horror Science Fiction Thriller
The Earth is invaded by alien parasites—aka 'slugs'—that ride on people's backs and control their minds
1h 31m Horror Science Fiction
In the peaceful town of Snowfield, Colorado something evil has wiped out the community. And now, its up to a group of people to stop it, or at least get out of Snowfield alive.
1h 50m Horror Science Fiction Thriller
A search and rescue team are transported through deep space to a distant mining colony to save the sole survivor of a biological outbreak. During their mission, they find a lethal weapon which is set to arrive on Earth within the hour.
21.
X: The Man with the X-Ray Eyes (1963)
1h 19m Horror Science Fiction Thriller
A doctor uses special eye drops to give himself x-ray vision, but the new power has disastrous consequences.
1h 34m Horror
An unfaithful wife encounters the zombie of her dead lover while the demonic cenobites are pursuing him after he escaped their sadomasochistic underworld.
1h 43m Horror Science Fiction Thriller
A horror film told in three parts, from three perspectives, in which a mysterious transmission that turns people into killers invades every cell phone, radio, and television.
1h 31m Action Horror Science Fiction Thriller
A boy takes in a stray dog, later finding out that its an ultra-intelligent runaway from a genetic research lab. Unknow to him, the dog is being stalked by another escaped creature thats not quite so friendly.
1h 35m Horror Thriller Science Fiction
Inside a darkened house looms a column of TVs littered with VHS tapes, a pagan shrine to forgotten analog gods. The screens crackle and pop endlessly with monochrome vistas of static white noise permeating the brain and fogging concentration. But you must fight the urge to relax: this is no mere movie night. Those obsolete spools contain more than just magnetic tape. They are imprinted with the very soul of evil.
1h 31m Horror Science Fiction
Amanda's deathbed request to her son, John, was for him to destroy all the lab notes etc. from her last experiment. She also blurts out he had a brother. At the funeral John meets Melissa, who claims to be his mothers biggest fan. Together with some of John's friends they go to Amanda's house, but none are prepared for what they find there.
27.
The Terminal Man (1974)
1h 47m Horror Science Fiction Thriller
As the result of a head injury, brilliant computer scientist Harry Benson begins to experience violent seizures. In an attempt to control the seizures, Benson undergoes a new surgical procedure in which a microcomputer is inserted into his brain. The procedure is not entirely successful.
1h 31m Horror Science Fiction
In the year 2455, Old Earth is now a contaminated planet abandoned for centuries -- a brown world of violent storms, toxic landmasses and poisonous seas. Yet humans have returned to the deadly place that they once fled, not to live, but to research the ancient, rusting artifacts of the long-gone civilizations. But it's not the harmful environment that could prove fatal to the intrepid, young explorers who have just landed on Old Earth. For them, it's Friday the 13th, and Jason lives!
1h 35m Adventure Science Fiction Horror
A former astronaut helps a government agent and a police detective track the source of mysterious alien pod spores, filled with lethal flesh-dissolving acid, to a South American coffee plantation controlled by alien pod clones.
30.
Ghost in the Machine (1993)
explore
Check out more list from our community