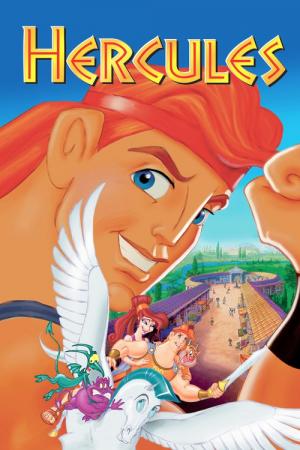 14 Best The Amazing Feats Of Young Hercules ...
If you liked this film , you will definitely love these too! In this list we highlight some of the best films that share a very similar premise to 'Hercules', and are worth checking out.
1.
Dragons: Rescue Riders: Hunt for the Golden Dragon (2020)
46m Family Animation
It's the treasure hunt of a lifetime for the Rescue Riders, who must race to find a precious golden dragon egg and protect it from evil pirates.
1h 18m Family Animation
Inspired by the true story of the first giraffe to visit France, Zarafa is a sumptuously animated and stirring adventure, and a throwback to a bygone era of hand-drawn animation and epic storytelling set among sweeping CinemaScope vistas of parched desert, wind-swept mountains and open skies. Under the cover of darkness a small boy, Maki, loosens the shackles that bind him and escapes into the desert night. Pursued by slavers across the moon-lit savannah, Maki meets Zarafa, a baby giraffe – and an orphan, just like him – as well as the nomad Hassan, Prince of the Desert. Hassan takes them to Alexandria for an audience with the Pasha of Egypt, who orders him to deliver the exotic animal as a gift to King Charles of France.
3.
Tarzan & Jane (2002)
4.
The Flight of Dragons (1982)
1h 36m Animation Family Fantasy
The realm of magic is being threatened by the realm of logic, so Carolinus, the green wizard decides to shield it for all time. Ommadon, the evil red wizard, stands in his way. Carolinus then calls for a quest that is to be led by a man named Peter Dickinson, who is the first man of both the realms of science and magic. It is Peter's job to defeat Ommadon.
5.
Hercules and Xena - The Animated Movie: The Battle for Mount Olympus (1998)
1h 20m Fantasy Adventure Animation
Mighty Zeus brings Hercules' mother, Alcmene, to Mount Olympus, and Hercules, believing she has been kidnapped, leads a rescue mission to save her. Zeus' jealous wife, Hera, decides that it should now be her time to rule the universe. Hera steals the Chronos Stone, source of the God's power, and unleashes the four Titans from their eons of imprisonment. With these angry behemoths on the loose, only the combined forces of Hercules and Xena, together with their trusty sidekicks Iolaus and Gabrielle, can save Mount Olympus.
6.
The Land Before Time X: The Great Longneck Migration (2003)
1h 24m Adventure Animation Family
A bedtime story leads Littlefoot and his grandparents on a journey to a new land, where Littlefoot discovers someone who vanished before he was born: his father! Now Littlefoot must decide between two worlds. Will he leave to be with his friends in the Great Valley, or stay behind and start a new life with his father?
7.
How to Train Your Dragon (2010)
1h 38m Fantasy Adventure Animation Family
As the son of a Viking leader on the cusp of manhood, shy Hiccup Horrendous Haddock III faces a rite of passage: he must kill a dragon to prove his warrior mettle. But after downing a feared dragon, he realizes that he no longer wants to destroy it, and instead befriends the beast – which he names Toothless – much to the chagrin of his warrior father
8.
Sinbad: Legend of the Seven Seas (2003)
1h 30m Family Animation Adventure Comedy Fantasy Action
The sailor of legend is framed by the goddess Eris for the theft of the Book of Peace, and must travel to her realm at the end of the world to retrieve it and save the life of his childhood friend Prince Proteus.
9.
Justin and the Knights of Valour (2013)
10.
Ilya and the Robber (2007)
11.
The Black Cauldron (1985)
1h 20m Animation Adventure Family
Taran is an assistant pigkeeper with boyish dreams of becoming a great warrior. However, he has to put the daydreaming aside when his charge, an oracular pig named Hen Wen, is kidnapped by an evil lord known as the Horned King. The villain hopes Hen will show him the way to The Black Cauldron, which has the power to create a giant army of unstoppable soldiers.
12.
How to Train Your Dragon: The Hidden World (2019)
1h 44m Animation Family Adventure
As Hiccup fulfills his dream of creating a peaceful dragon utopia, Toothless' discovery of an untamed, elusive mate draws the Night Fury away. When danger mounts at home and Hiccup's reign as village chief is tested, both dragon and rider must make impossible decisions to save their kind.
13.
Son of the White Mare (1981)
1h 21m Adventure Animation Fantasy
The story's main character is Fehérlófia, who is a man with superhuman power. He is born as the third son of a horse. He listened to old tales, mostly about the Forefather and the end of his reign, caused by evil dragons.
14.
The Magic Sword: Quest for Camelot (1998)
1h 26m Fantasy Animation Drama Romance Family
During the times of King Arthur, Kayley is a brave girl who dreams of following her late father as a Knight of the Round Table. The evil Ruber wants to invade Camelot and take the throne of King Arthur, and Kayley has to stop him.
explore
Check out more list from our community