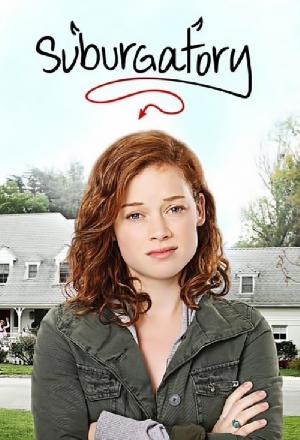 10 Best Shows Like Suburgatory ...
If you liked this movie , you will definitely love these too! In this list we highlight some of the best films that share a very similar premise to 'Suburgatory', and are worth checking out.
1.
Grounded for Life (2001)
22m Comedy
Right out of high school, Sean Finnerty got his girlfriend Claudia pregnant. Now she's his wife, and at just 32, he's somehow found himself with 14-year-old daughter Lily, two little boys, and a constant struggle between his need to be responsible and his desperate desire to be irresponsible. His judgmental father Walt and devil-may-care brother Eddie are no help at all. When they all get together, stories always start to fly. Of course, Sean's family will never let him finish a story; they interrupt, they debate, they derail, they defend themselves; just like any good family would.
2.
Zach Stone Is Gonna Be Famous (2013)
21m Comedy
Zach hires a camera crew to film him throughout his daily life as a part of his quest to become an over-night celebrity - even though he possesses no real talent. From Zach's attempts to become a celebrity chef or a ring-tone recording artist to purposefully going missing, he'll try any avenue to get noticed and stop at nothing until he reaches fame.
3.
General Education (2012)
1h 34m Comedy
Levi Collins is set to go to the local University on a tennis scholarship, but he forgot to tell his parents one thing - he didn't graduate. As a result, he must take summer school before his mom and dad discover he's failed senior science. At school, Levi falls in love with his classmate, Katie, and learns that he has to make a choice between playing tennis and receiving a proper education. General Education is a quirky comedy about a family learning to grow together.
22m Comedy Family
The third time's the charm, they say, and reformed party girl Kate is hoping that's true when she becomes the third wife of a slightly older man, Pete. They fell into each others' arms (literally) at a karaoke bar, and flash forward a year later, Kate finds herself with an instafamily complete with three stepchildren and two ex-wives. But Kate is determined to make this work and become a part of the family no matter what.
5.
Better With You (2010)
22m Comedy
Maddie and Ben have been dating for nine years and they know each other inside and out. Maddie's younger sister, Mia, has been dating Casey for seven weeks. With a shared c'est la vie attitude, Mia and Casey announce they're getting married and having a baby. It's news that throws Maddie for a loop. Surprisingly, the girls' parents, who have recently adopted a carpe diem sort of philosophy, couldn't be more pleased.
1h 35m Comedy
After falling victim to a humiliating prank by the high school Queen Bee, best friends and world-class geeks, Mindy and Jodi, decide to get their revenge by uniting the outcasts of the school against her and her circle of friends.
23m Comedy
A family man struggles to gain a sense of cultural identity while raising his kids in a predominantly white, upper-middle-class neighborhood.
22m Comedy
The daily mishaps of a married woman and her semi-dysfunctional family and their attempts to survive life in general in the city of Orson, Indiana.
9.
I Hate My Teenage Daughter (2011)
22m Comedy
I Hate My Teenage Daughter is an American sitcom that ran on Fox from November 30, 2011 to March 20, 2012. It aired at the 9:30 pm /8:30 pm timeslot after The X Factor. The series stars Jaime Pressly and Katie Finneran. On May 10, 2012, Fox canceled the series. The six remaining episodes subsequently aired in Australia and New Zealand.
22m Comedy Drama
An irreverent look at the conflict, chaos and humor that defines teenage life through the eyes of 15-year-old Jenna Hamilton whose life begins to change when a simple accident becomes an epic misunderstanding and is blown way out of proportion. Narration in the first-person voice of Jenna's blog posts captures the humor within the struggles and experiences everyone can relate to from their formative years.
explore
Check out more list from our community