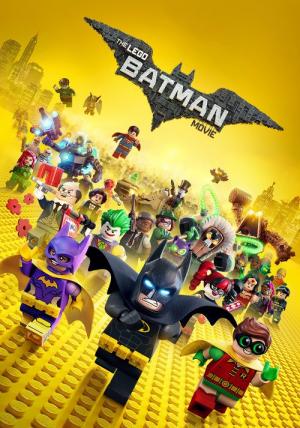 31 Best Lego Batman Movies List ...
If you liked this one , you will definitely love these too! In this list we highlight some of the best films that share a very similar mood to '', and are worth checking out.
1h 40m Adventure Animation Comedy Family Fantasy
An ordinary Lego mini-figure, mistakenly thought to be the extraordinary MasterBuilder, is recruited to join a quest to stop an evil Lego tyrant from gluing the universe together.
2.
The Lego Ninjago Movie (2017)
3.
The Lego Movie 2: The Second Part (2019)
1h 46m Action Adventure Animation Comedy Family
It's been five years since everything was awesome and the citizens are facing a huge new threat: LEGO DUPLO® invaders from outer space, wrecking everything faster than they can rebuild.
4.
Lego DC Comics Super Heroes: Justice League – Attack of the Legion of Doom! (2015)
5.
Justice League vs. Teen Titans (2016)
6.
LEGO Batman: The Movie - DC Super Heroes Unite (2013)
1h 11m Animation Adventure Family
Joker teams up with Lex Luthor to destroy the world one brick at a time. It's up to Batman, Superman and the rest of the Justice League to stop them.
7.
LEGO DC Comics Super Heroes: Justice League: Cosmic Clash (2016)
1h 18m Action Adventure Animation Comedy Family
Earth, a shiny jewel floating in the blackness of space... and for the robot known as Brainiac, the last piece to capture for his collection of planets. Not if the Justice League has anything to say about it!
8.
LEGO DC Super Hero Girls: Super-Villain High (2018)
1h 18m Animation Action Family
After a mysterious school opens across the street, the students of Super Hero High find themselves up against a new threat. Now, Wonder Woman, Supergirl, Batgirl and the rest of the DC Super Hero Girls not only have to worry about the well-being of their grades, but the safety and security of friends, family and the rest of civilization. The girls must figure out how to put a stop to this evil, new cross-town rival and save the world once again
9.
LEGO DC Comics Super Heroes: Justice League - Gotham City Breakout (2016)
10.
LEGO DC Super Heroes - Aquaman: Rage Of Atlantis (2018)
11.
Justice League: Throne of Atlantis (2015)
12.
The Powerpuff Girls Movie (2002)
1h 17m Animation Action Family
Based on the hit animated television series, this feature film adaptation tells the story of how Blossom, Bubbles and Buttercup - three exuberant young girls - obtain their unique powers, become superheroes and join forces to foil evil mutant monkey Mojo Jojo's plan to take over the world.
13.
Batman vs. Robin (2015)
14.
Scooby-Doo! & Batman: The Brave and the Bold (2018)
15.
The Incredibles (2004)
1h 55m Action Adventure Animation Family
Bob Parr has given up his superhero days to log in time as an insurance adjuster and raise his three children with his formerly heroic wife in suburbia. But when he receives a mysterious assignment, it's time to get back into costume.
16.
The Batman Superman Movie: World's Finest (1997)
17.
LEGO DC: Batman - Family Matters (2019)
18.
Batman vs. Two-Face (2017)
19.
Kung Fu Panda 3 (2016)
1h 35m Action Adventure Animation Comedy Family
Continuing his "legendary adventures of awesomeness", Po must face two hugely epic, but different threats: one supernatural and the other a little closer to his home.
1h 36m Animation Action Comedy Family Science Fiction
Bumbling supervillain Megamind finally defeats his nemesis, the superhero Metro Man. But without a hero, he loses all purpose and must find new meaning to his life.
21.
The Angry Birds Movie (2016)
1h 37m Animation Adventure Comedy
An island populated entirely by happy, flightless birds or almost entirely. In this paradise, Red, a bird with a temper problem, speedy Chuck, and the volatile Bomb have always been outsiders. But when the island is visited by mysterious green piggies, it's up to these unlikely outcasts to figure out what the pigs are up to.
1h 25m Animation Comedy Family Adventure
Surly, a curmudgeon, independent squirrel is banished from his park and forced to survive in the city. Lucky for him, he stumbles on the one thing that may be able to save his life, and the rest of park community, as they gear up for winter - Maury's Nut Store.
23.
Lego DC Comics Super Heroes: The Flash (2018)
24.
Teen Titans GO! to the Movies (2018)
25.
Batman and Harley Quinn (2017)
1h 35m Family Animation Comedy
Villainous Gru lives up to his reputation as a despicable, deplorable and downright unlikable guy when he hatches a plan to steal the moon from the sky. But he has a tough time staying on task after three orphans land in his care.
1h 34m Animation Action Family Science Fiction
Set in the futuristic Metro City, Astro Boy (Atom) is a young robot with incredible powers created by a brilliant scientist in the image of the son he had lost. Unable to fulfill his creator's expectations, Astro embarks on a journey in search of acceptance, experiencing betrayal and a netherworld of robot gladiators, before returning to save Metro City and reconcile with the father who rejected him.
28.
The SpongeBob Movie: Sponge Out of Water (2015)
1h 32m Adventure Comedy Family Fantasy Animation
Burger Beard is a pirate who is in search of the final page of a magical book that makes any evil plan he writes in it come true, which happens to be the Krabby Patty secret formula. When the entire city of Bikini Bottom is put in danger, SpongeBob, Patrick, Mr. Krabs, Squidward, Sandy, and Plankton need to go on a quest that takes them to the surface. In order to get back the recipe and save their city, the gang must retrieve the book and transform themselves into superheroes.
1h 28m Family Fantasy Action Adventure Comedy
A team of trained secret agent animals, guinea pigs Darwin, Juarez, Blaster, mole Speckles, and fly Mooch takes on a mission for the US government to stop evil Leonard Saber, who plans to destroy the world with household appliances. But the government shuts them down and they are sentenced to a pet shop. Can they escape to defeat the villain and save the world?
30.
Justice League Dark (2017)
1h 15m Action Animation Fantasy Science Fiction Thriller
Beings with supernatural powers join together to fight against supernatural villains.
explore
Check out more list from our community