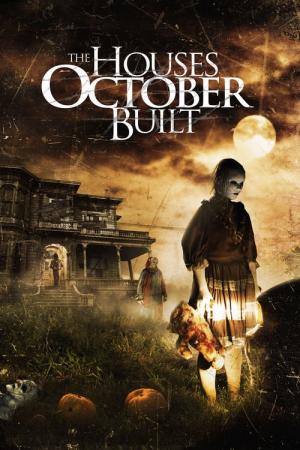 24 Best Movies Like The Houses October Built ...
If you liked this one , you will for sure love these too! In this list we highlight some of the best films that share a very similar premise to '', and are worth checking out.
1h 33m Horror Mystery Thriller
Five years after an unexplained malfunction causes the death of 15 tour-goers and staff on the opening night of a Halloween haunted house tour, a documentary crew travels back to the scene of the tragedy to find out what really happened.
1h 31m Horror Thriller
Fifteen years after murdering his sister on Halloween night 1963, Michael Myers escapes from a mental hospital and returns to the small town of Haddonfield, Illinois to kill again.
1h 23m Horror Thriller Mystery
When Simon, Rich, and Eva head out on an eagerly anticipated road trip, they bring along a video camera to record their journey. What starts out as a carefree adventure slowly becomes a descent into the ominous as unexplained events threaten to disrupt the balance between the three close friends. Each one of them must struggle with personal demons and paranoia as friendships are tested and gruesome realities are revealed...and recorded.
4.
100 Ghost Street: The Return of Richard Speck (2012)
1h 24m Horror
A group of paranormal investigators sojourned to the Chicago walk-up where deranged drifter Richard Speck systematically slew eight student nurses back in '66, looking for restless spirits. Their unfortunate success gets shockingly documented in this fear-filled found-footage foray featuring a bright young cast.
1h 26m Horror Mystery Thriller
It's Miriam's 21st Birthday. As a birthday gift, Miriam's aunt Gail has decided to lend Miriam her beautiful country house for an entire weekend. Aunt Gail's country house is amazing. It's a four bedroom house surrounded by breathtaking mountains and miles and miles of woods. Miriam invites her young college friends Cassy, Mark, Tanya and Leo to join her at the country house for what looks to be the most amazing weekend ever. Of course they all jump at the chance to spend a free weekend in the country, in the middle of nowhere. Miriam's friends are totally in the mood for a big time party weekend. They're also anxious to escape the dark and gloomy concrete jungle known as Manhattan. Miriam, Cassy and Tanya bring the food. Mark brings the beer and Leo, the aspiring filmmaker, brings his new video camera. Leo hopes to produce a short movie by documenting every amazing moment of this weekend getaway...
1h 26m Horror Thriller
The night before a local haunted house opens for Halloween, six friends sneak in for a few hours of fun. Soon after entering, they find themselves trapped inside with no way out.
8.
The Amityville Haunting (2011)
1h 26m Horror
This movie is a 'found-footage' film about the Benson family who move in to the infamous house where the DeFeo family were murdered in the 1970s over 30 years earlier. Things start happening to anyone who visits this house, and whoever lives there. This is the footage retrieved from the camera.
1h 25m Horror Thriller
After a family moves into an old Victorian home, they discover a chest in the attic containing antiques tainted by a malevolent spirit. As the antiques slowly possess each family member, the spirit grows stronger, hellbent on kidnapping the children.
10.
The Bake Street Hauntings (2011)
1h 28m Horror
A young couple accept an offer for $2 million to stay in a haunted house for a week. Based on real footage and events.
1h 36m Thriller Horror
A man recently released from a mental institute inherits a mansion after his parents die. After a series of disturbing events, he comes to believe it is haunted.
12.
8213: Gacy House (2010)
1h 25m Horror Mystery Crime
A group of paranormal investigators enter the abandoned home of paedophile and serial killer John Gacy, hoping to find evidence of paranormal activity. Upon entering the house they set-up cameras throughout the abandoned house while going room to room with hand-held cameras, performing séance's and asking for John Gacy to come forward. As the evening progresses it seems the investigators are not prepared for the horror still within the house.
13.
7 Nights Of Darkness (2011)
1h 30m Horror
In 2010 six reality television show contestants spent seven nights in an abandoned and haunted asylum. The show never aired but an editor for the network was able to piece together some footage. The prize for staying all seven nights was a share of one million dollars that was to be split amongst any contestants that didn't leave. No prize money was ever awarded.
1h 20m Science Fiction Horror
Two men went searching for ghosts, but they found themselves instead...
1h 46m Thriller Horror
A detective tries to track down a masked killer who reappears every Halloween to wreak bloody havoc.
17.
Chasing the Devil (2014)
1h 24m Horror
Patrick McCord doesn't accept the explanation of his sister's mysterious death as suicide, and instead teams up with a team of paranormal investigators to delve deeper into the inexplicable circumstances that surround what he believes to be murder. The team's investigation leads them from one bizarre and frightening clue to another, at the center of which seems to exist something evil and terrifying, a presence well beyond their wildest imaginations and experiences. Before long, they realize this deadly entity has now targeted each of them, and they are confronted with the impossible challenge of defeating it and saving their own lives. In the end, what survives, and is presented here, is the disturbing footage that Patrick and his team shot, footage that if seen by others, likely endangers the viewer, marking them as the next victim of this powerful and evil force. Be careful what you chase - you just might end up catching it.
1h 32m Horror Thriller
On Halloween, a group of friends encounter an "extreme" haunted house that promises to feed on their darkest fears. The night turns deadly as they come to the horrifying realization that some nightmares are real.
1h 30m Horror Thriller
I Am ZoZo is a psychological thriller about five young people who play with a Ouija board on Halloween and attract the attention of a malevolent demon. The film is based on real experiences with an ancient and malevolent spirit called ZoZo that attaches itself to people exclusively through Ouija boards. I Am ZoZo was shot on location on San Juan Island, WA and Seattle entirely on Kodak Super 8mm negative film stock.
20.
Halloween Kills (2021)
21.
The Collingswood Story (2002)
1h 20m Thriller Horror Mystery
My name is Rebecca. When I left for college my ex John thought web cams would help us keep in touch. It does however it also leads us to a dark secret when we meet and cam with Vera Madeline, an on-line psychic, who initiates a deadly reign of terror.
1h 24m Thriller Horror
A maniacal clown named Art terrorizes three young women and everyone else who stands in his way on Halloween night.
25m Sci-Fi & Fantasy Mystery
A masked figure known as "The Curious" collects tales of dark magic, otherworldly encounters and twisted technology in this kids anthology series.
explore
Check out more list from our community